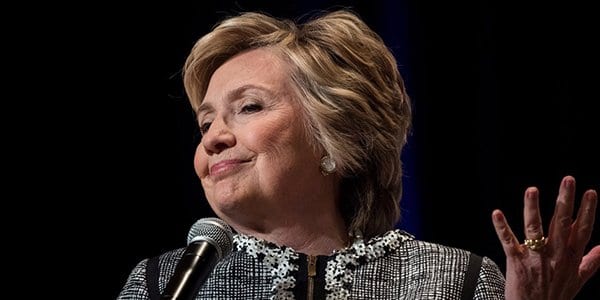 Editor: Philip Ragner | Tactical Investor
Hillary Clinton claims she did not know about the dossier
Containing unproven allegations about collusion between President Donald Trump and Russia until BuzzFeed News published the document, although recent reports say her campaign funded it.
Clinton was annoyed that the controversial report had not been shared with the public until the final days of the 2016 presidential election, two Clinton associates said, The New York Times reported Wednesday.
Former Clinton spokesman Brian Fallon and the Clinton campaign lawyer Marc Elias denied Clinton's involvement in the anti-Trump research that has made up the substance of the Russian collusion allegations.
Elias' denial appears to be intentional misleading in light of new reporting from The Washington Post that Elias hired opposition research firm Fusion GPS on behalf of the Clinton campaign and the Democratic National Committee. Full Story
https://www.youtube.com/watch?v=aZUE5_6GKLA
All of Washington is waiting with bated breath to find out whether the Mueller investigation will provide evidence proving that the Trump campaign colluded with Russia. So far, Exhibit A against President Trump is the meeting Donald Trump Jr., Jared Kushner and Paul Manafort had with a group of Russians claiming to have dirt on Hillary Clinton. That meeting should never have happened. When you get an email offering to provide "very high level and sensitive information" from the "Crown prosecutor of Russia" that could "incriminate Hillary" Clinton and is part of "Russia and its government's support for Mr. Trump" you don't reply by saying "I love it." You call the FBI.
The president claims he did not know about the meeting.
His former lawyer Michael Cohen says he did. Whether he knew is beside the point. Senior officials of his campaign were willing to accept help from Vladimir Putin; they were saved only because the meeting was a bust. The Russians didn't end up providing any dirt.
But as bad as the Trump Tower meeting was, it took place at the request of the Russians. They were the ones who approached the Trump campaign, not the other way around.
By contrast, the Clinton campaign proactively sought dirt on Trump from Russian government sources. They did it through cutouts. In April 2016, Clinton campaign lawyer Marc Elias retained opposition research firm Fusion GPS to compile incriminating information on Trump. Fusion GPS, in turn, hired Christopher Steele, a former British MI6 operative with sources among Russian government officials. The result was the salacious dossier, whose sources included "a senior Russian Foreign Ministry figure" and "a former top-level intelligence officer still active in the Kremlin." Steele's work was paid for by Clinton's presidential campaign and the Democratic National Committee. That means a paid agent of the Clinton campaign approached Russian officials for damaging material on Trump. Full Story
Other Articles of Interest
1987 stock market crash anniversary discussions- nothing but rubbish ( Oct 24)
Dow 22K Predicted In July 2017; Next Target Dow 30k? (Oct 15)
Anxiety and Greed Index Don't Support Stock Market Crash  (Oct 14)
Fed States Inflation is not an issue?  (Oct 13)
Is Bitcoin a Bubble or Good Investment?  (Oct 9)
Stock market crash; best time to buy stocks   (Oct 6)
Nasdaq's Achievement Topples Stock Market Crash Argument  (Oct 5)
Stock Market Crash 2018; Another Buying Opportunity  (Oct 5)
Masses Trained to fear Market Crashes; why not embrace them?  (Sept 27)
Buy When the Blood in the Streets is flowing Freely  (Sept 13)
Dow 21K Predicted In August 2016 (Sept  9)
Minimum wage hike ignores impact of AI; companies will opt for Robots  (Sept 8)
Should You Be Worried About Inflation Rate In 2017? (Sept 6)
Wage Deflation here to stay: Robots Replacing Workers (Sept 5)
Price of Copper Signalling Inflation or higher Stock Market Prices (Sept 4)
Rate of Inflation, not an issue according to Bond Market (Sept 2)