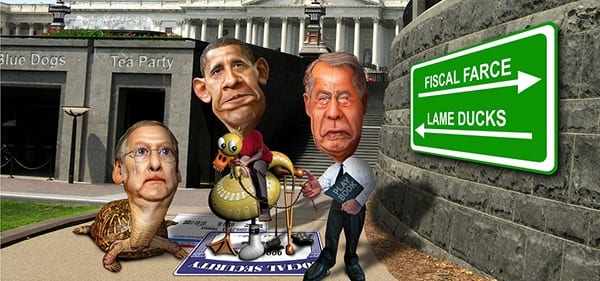 Editor: Philip Ragner | Tactical Investor
Before we get to the article at hand many might ask why we cover political and health issues when our main focus in the stock markets and the financial arena.  The short and simple answer is that all these fields are connected; we don't have free market forces anymore. Everything is manipulated; from the food you eat to data you are provided.  If you are aware of this you can plan accordingly. Identifying the problem is over 80% of the solution and this is why most people don't know what to do because they don't really understand the problem. Now you know why we are the only financial website that covers such a wide array of topics that on the surface appear to be unrelated but are in fact, deeply interwoven.  Mass psychology is a very powerful tool and if employed correctly can help you spot the grotesque levels of manipulation the masses are subjected to. We strongly suggest that you view or read or view Plato's allegory of the cave.  You might also find the following article to be of interest:
Since the markets bottomed in 2009, one naysayer after another has penned many an obituary for this market. Alas, all those obituaries were based on fantasy and false perceptions; the bull is alive and kicking while many of those experts are either bankrupt or have bankrupted their clients several times over. We repeatedly stated over the years that the era of low interest fostered an environment that favoured speculation over hard work. This is why so may companies have opted to be boosts EPS via share buyback programs. Why work, when through the magic of accounting you can create the impression of growth when there is none. All is well, and when it ends, only the workers and the masses will lose for the corporate wenches will walk away with bloated accounts. Stock Market Bulls-Stock Market fools-Market Crash next or is this just an Illusion
Washington (CNN)The United States, European Union countries, Canada and Ukraine expelled more than 100 Russian diplomats on Monday in response to Russia's alleged use of a nerve agent to poison a former Russian spy living in the United Kingdom.
President Donald Trump on Monday ordered the expulsion of 60 Russian diplomats the US identified as intelligence agents and the closure of the Russian consulate in Seattle, the most forceful action Trump has taken against Russia to date. Of those being expelled, 48 of the alleged intelligence agents work at the Russian embassy in Washington and 12 are posted at the United Nations in New York, senior administration officials said.
Russia and the United Kingdom have been embroiled in a bitter diplomatic fight since Russian former double agent Sergei Skripal, 66, and his daughter, 33-year-old Yulia Skripal, were poisoned in the English cathedral city of Salisbury on March 4.
British Prime Minister Theresa May called the broad move "the largest collective expulsion of Russian intelligence officers in history."
"We have no disagreement with the Russian people who have achieved so much through their country's great history. But President Putin's regime is carrying out acts of aggression against our shared values," she said Monday. "The United Kingdom will stand shoulder to shoulder with the EU and NATO to face down these threats."
During a debate in the UK parliament on national security and Russia, May gave new details on the Skripal case. Full Story
The US has expelled 35 Russian diplomats as punishment for alleged interference into last month's presidential elections, giving them 72 hours to leave the country.
It will also close two compounds used for Russian intelligence-gathering.
President Barack Obama had vowed action against Russia amid US accusations it directed hacks against the Democratic Party and Hillary Clinton's campaign.
Russia has denied any involvement and called the decision "ungrounded".
The US state department declared the 35 Russian diplomats from the Washington DC embassy and the consulate in San Francisco "persona non grata", and gave them and their families 72 hours to leave the US.
The move follows calls from senior US senators to sanction Russian officials who are believed to have played a role in the hacking, which some lawmakers referred to as America's "political Pearl Harbor".
Republican senators John McCain and Lindsey Graham, who led the calls for sanctions, said they "intend to lead the effort in the new Congress to impose stronger sanctions on Russia".
A Kremlin spokesman told journalists in Moscow that President Vladimir Putin would consider retaliatory measures.
Dmitry Peskov said the actions were "a manifestation of unpredictable and aggressive foreign policy", and called them "ungrounded and not legal".
And the Russian embassy in the UK tweeted a visual gag calling the Obama presidency a lame duck. Full Story
Other Stories of Interest
Feds Interest Rate stance equates to Rubbish-Economic recovery is illusory  (Dec 24)
Stock Market Bulls, Stock Market fools-Market Crash next or is this just an Illusion  (Dec 21)
Trump Effect Rally-Useless Dow Theory and Stock Market Crash  (Dec 17)
Gold fools-dollar bulls and the long-term outlook for both Markets (Dec 9)
Inflation the Silent Killer Tax that's destroying Middle-Class America (Dec 5)
Dominant Stock Market Trends under President Trump (Nov 22)
Bears State Crude Oil Destined to Crash-Utter Rubbish (Nov 18)
50 Trillion in Cash illustrates Mass Anxiety-Dow Industrials will soar not Crash  (Nov 16)
Trump's victory Does not Sink Global Markets Proving Experts are Jackasses (Nov 10)
Trump-The New Stock Market vix Factor (Nov 6)
Crude Oil Market-Higher prices or Market Crash (Oct 28)
American's fear the Stock Market-Understanding Market Sentiment key to winning  (Oct 24)
Foreign banks Dump whopping 356 billion in US Debt  (Oct 20)
Corporate Americas Share buyback Binge only force Keeping Stock Market Bull Alive (Oct 13)
Stock Market Earnings Recession Nothing to Fear-Market Still Trending higher (Oct 7)
Fed Directly limiting Market Downside Action-Expect Stock Market rally not Crash (Oct 6)
Dow theory no longer relevant-Better Alternative exists  (Sept 30)
Mass Psychology states Trump win Equals stock market buying opportunity (Sept 29)
Information warfare-brainwashing tricks Government Employs (Sept 28)