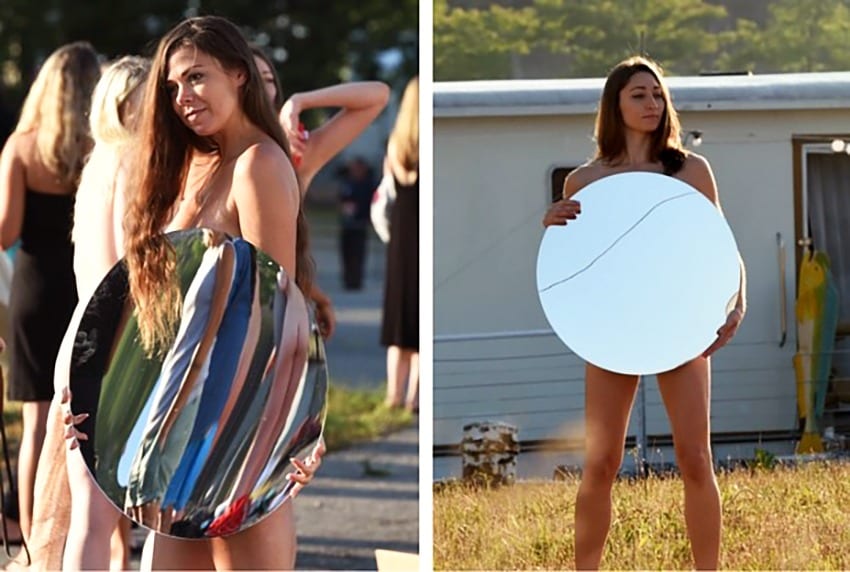 what is third wave feminism? The Story Below is a Good Example
Insanity in action, if you are protesting the way Trump treats women, start by having a little self-respect for yourself. Why the need to expose your naked bodies to the public, how does that help women in general?  It does not and all this does is cement the viewpoint that women are sexual objects.
Publications like Essence don't help the situation when idiotic writers come up with storylines like this:
Joining forces for a project titled "Everything She Says Means Everything," 100 women of various races, sizes and political affiliations took it all off in the name of equality to protest against The Donald's increasingly discriminatory rhetoric that often takes aim at women and minorities. According to the art project's organizer and photographer Spencer Tunick, over 1,800 women signed up to claim one of the 100 slots available and he hopes the courageous gesture will play a part in paving the way for a society where women are regarded as equals on every level. "I have two daughters—9 and 11—and I want them to grow up in a progressive world with equal rights and equal pay and better treatment for women," he told Esquire. "And I feel like the 100 women lighting up the sky of Cleveland will send this ray of knowledge onto the cityscape." Essence
This video illustrates clearly what is third wave feminism is all about
Here is another video that illustrates third wave feminism is destroying women; the movement has changed from empowering women to degrading them.  Respect is earned and it's not earned by howling and screaming like a bunch of naked peacocks.  Hopefully, this insanity will end in the near future.
The women, members of the feminist activist group Fuerza Artística de Choque Comunicativo (Artistic Force of Communicative Shock, or FACC), staged the demonstration outside the president's palace in Buenos Aires to raise awareness of the problem of femicide in the country.
A beautiful black and white video of the protest, which you can watch below, shows the women standing motionless before a sign reading "Femicidid es Genocidio" ("Femicide is Genocide") in front of the Palace of Courts in the Plaza de Mayo.
As an all-female orchestra plays, the women slowly and silently remove their clothes, placing them in neat piles on the pavement, before climbing on top of one another to form an unsettling pile of naked female bodies.
They then get to their feet and begin to scream – a primal, furious moment that lasts almost a minute Stylist
Youtube deleted the video so we have to post another video
Other Articles of Interest
Ron Paul- Biggest Stock Market Bubble in History  (July 20)
Stock Market Bull 2018 Still In Play; Buy The Dip (July 15)
Stock Market Crash 2018 Revisited  (July 12)
Uranium Bull Market 2018; The Crowd psychology Outlook   Updated (July 2018)
Stock Market 2018 Playbook; Follow The Trend (June 29)
Bear Market Fears-are they overblown? (May 28)
Stock Market Crash: Imminent or does this Stock Market Bull still have legs? (Apr 25)
Good Time To Buy IBM or Should You Wait? (Mar 15)
Is the Bitcoin Bull Market dead or just taking a breather? (Mar 8)
Is this the end for Bitcoin or is this a buying opportunity? (Jan 24)