February 24, 2023
Article overview
In this market analysis, a stock market bottom is a crucial factor in determining the future trend of the market. It is suggested that a long-term stock market bottom will not be in place until one of the three sentiment measures experiences a sharp move and the market reaches the hysteria zone. Despite a robust market rally, the failure of bullish sentiment to meet its historical average is surprising, leading to two plausible explanations. One explanation is that investors remain shell-shocked and fearful, indicating a possible stock market bottom. The other explanation is that traders are awaiting better prices, but the issue is that the prices they were expecting have already been reached. The article also discusses the possibility of achieving FOAB or MOAB, depending on the fulfilment of certain criteria. Overall, understanding the stock market bottom is critical for making an informed investment decision.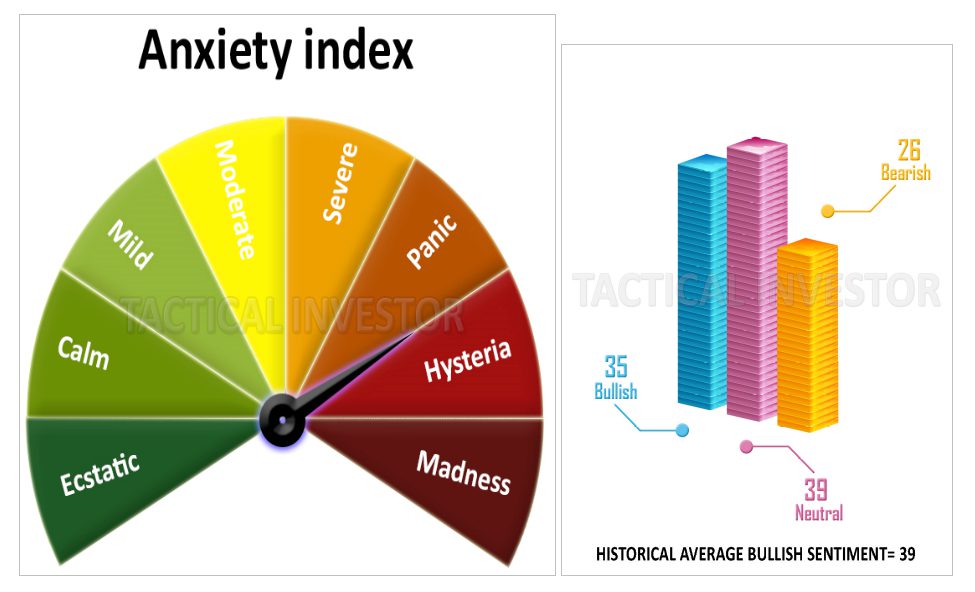 It takes a significant shift in one of three sentiment measures to propel the gauge into the hysteria zone, such as a sharp drop in bullish readings to the 10-12 range or a surge in neutral readings to 55. This observation was made in the latest market update issued on January 30th, 2023. Without such a shift, it is improbable that a long-term stock market bottom will be established.
Despite a strong market rally since October 2022, it is rather surprising that bullish sentiment has not yet reached its historical average, remaining below 39 persistently. One would have expected it to at least be in the 45 range by now. Two possible explanations come to mind. Firstly, the crowd may be shell-shocked and may stay in this zone for years, as suggested by subscriber data indicating fear and worry levels comparable to those seen in October 2008.
Sentiment and Stock Market Bottoms: Anxiety as a Signal
As past experiences suggest, high anxiety levels are usually associated with a stock market bottom. As a matter of fact, the fear and uncertainty levels among subscribers are now almost on par with those readings of October 2008. What happened next, you might ask? There was one final downward spike, and then the markets bottomed out, but investors remained shell-shocked for almost ten years.
Should the fear level among T.I. subscribers reach an all-time high, it will be added to the criteria for FOAB (Father of All Buys). Additionally, we have three more conditions to fulfil, and if these are met, we will achieve the highly elusive FOAB. In such a scenario, almost everyone at T.I. would invest everything we have and more (via leverage) into the Market. However, we strongly advise against using leverage/margin unless you are willing and able to take on additional risk. Two criteria are dangerously close to being met; should they indeed materialize, it will trigger a MOAB (Mother of All Buys) by default.
The second possible explanation for the failure of bullish sentiment to reach its historical average is that traders are waiting for better prices. The problem is that the prices they were hoping for have already been reached. If the Market pulls back again, it remains uncertain whether traders will jump in or continue to wait, assuming that even better prices will follow.
---
References
Here are some articles that discuss sentiment measures and their impact on the stock market:
"Investor Sentiment and the Stock Market" by Malcolm Baker and Jeffrey Wurgler, Journal of Economic Perspectives, 2006: https://www.jstor.org/stable/30033742
Surviving and Maybe Thriving as a Contrarian
https://www.psychologytoday.com/ca/blog/how-do-life/202008/surviving-and-maybe-thriving-contrarian
How to Exploit Luck to Gain a Competitive Advantag
https://www.psychologytoday.com/ca/blog/decisions-defined/201812/how-to-exploit-luck-to-gain-a-competitive-advantage
---
Other Articles of Interest