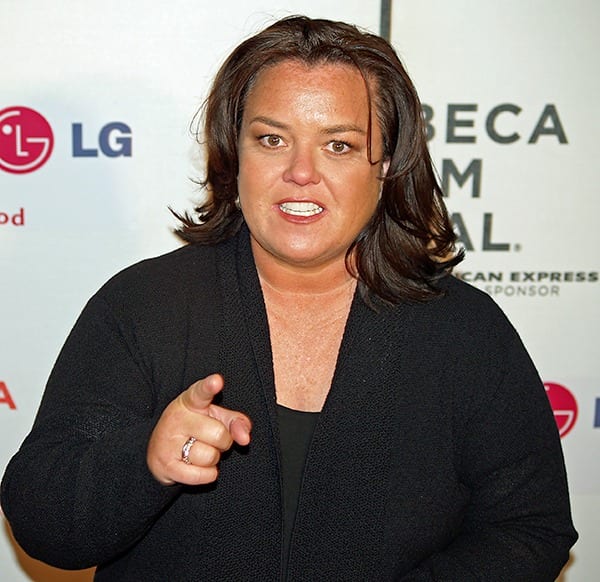 Editor: Draco Cooper | Tactical Investor
O'Donnell Calls Trump mentally unstable
The new year may be off to a fresh start, but actress Rosie O'Donnell is still going at it with her offensive tweets about President-elect Donald Trump.
DONALD TRUMP IS MENTALLY UNSTABLE – https://t.co/6AvhoPq1du

LESS THAN 3 WEEKS TO STOP HIM AMERICA

— ROSIE (@Rosie) January 1, 2017
On Sunday, O'Donnell took to Twitter to call Trump "mentally unstable," "mentally ill," "a sick man," "a criminal" and "the world's worst human" in her latest round of tweets.
In her tweet calling Trump "mentally unstable," O'Donnell linked to a CNN article of how an author said that Trump told him to leave one of his golf courses.
With just 18 days until Trump's inauguration, O'Donnell tweeted, "LESS THAN 3 WEEKS TO STOP HIM AMERICA."
In November, O'Donnell tweeted and asked if Trump's son Barron had autism. In the tweet (that has since been removed), O'Donnell wrote, "Barron Trump Autistic? if so – what an amazing opportunity to bring attention to the AUTISM epidemic." During the first presidential debate in September, Trump fired off and verbally attacked O'Donnell.
O'Donnell isn't the only celebrity tweeting about her hatred for Donald Trump, as Charlie Sheen wished for Donald Trump to be the next celebrity to die on Wednesday. Full Story
O'Donnell Calls Trump mentally unstable
Rosie O'Donnell reignited her long-running feud with Donald Trump on Twitter over the weekend, posting a series of tweets, many of which were written in all caps, lashing out at him and calling for "resistance" to the president-elect.
On Dec. 31, she tweeted a link to a Huffington Post article about emails that revealed that the head of the U.S. Office of Government Ethics personally ordered a number of tweets praising Trump's announcement that he planned to sever ties to his businesses to avoid conflicts of interest.
"We told your counsel that we'd sing your praises if you divested and we meant it!" one of the tweets read. O'Donnell tweeted with the link, "Donald Trump is a sick man."
She went on to call him, "mentally unstable," and warning, "less than three weeks to stop him, America," along with a link to a CNN story in which the author of a decades-old biography critical of Trump claimed the president-elect had him kicked off of his golf course.
She also posted "DT is mentally ill" along with a Buzzfeed post on a photo series showing Trump's quotes about women written on models' bodies.
And she accompanied a link to an MSNBC column about Trump taking "credit for others' work," like bringing back jobs, with the assertion, "Trump is a criminal." Full Story
Other Articles of Interest
Feds Interest Rate stance equates to Rubbish-Economic recovery is illusory  (Dec 24)
Stock Market Bulls, Stock Market fools-Market Crash next or is this just an Illusion  (Dec 21)
Trump Effect Rally-Useless Dow Theory and Stock Market Crash  (Dec 17)
Gold fools-dollar bulls and the long-term outlook for both Markets (Dec 9)
Inflation the Silent Killer Tax that's destroying Middle-Class America (Dec 5)
Dominant Stock Market Trends under President Trump (Nov 22)
Bears State Crude Oil Destined to Crash-Utter Rubbish (Nov 18)
50 Trillion in Cash illustrates Mass Anxiety-Dow Industrials will soar not Crash  (Nov 16)
Trump's victory Does not Sink Global Markets Proving Experts are Jackasses (Nov 10)
Trump-The New Stock Market vix Factor (Nov 6)
Crude Oil Market-Higher prices or Market Crash (Oct 28)
American's fear the Stock Market-Understanding Market Sentiment key to winning  (Oct 24)
Foreign banks Dump whopping 356 billion in US Debt  (Oct 20)
Corporate Americas Share buyback Binge only force Keeping Stock Market Bull Alive (Oct 13)
Stock Market Earnings Recession Nothing to Fear-Market Still Trending higher (Oct 7)
Fed Directly limiting Market Downside Action-Expect Stock Market rally not Crash (Oct 6)
Dow theory no longer relevant-Better Alternative exists (Sept 30)