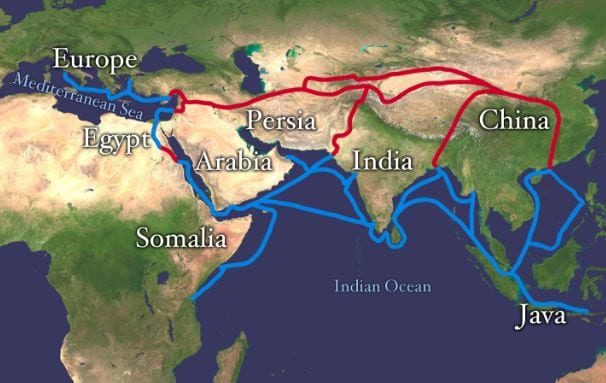 By Tom McGregor, CNTV Commentator
The headquarters of the think tank, Center for Strategic & International Studies, is located on Rhode Island Ave. in Washington D.C., costing more than $100 million to build it. Wealthy donors have given hundreds of millions of dollars more to CSIS, since its founding in the 1960s.
According to the University of Pennsylvania's 2013 Global Go To Think Tanks Report, CSIS is ranked as number one in the world for security and international affairs, 4th overall in the world and "one of the most respected of Washington's think tanks."
Compelling Read: How will Gold fare in a negative interest environment (April 14)
With such an illustrious background and a megadollar budget to fund research papers, you might think its 44-paged report on Chinese President's Belt & Road Initiative, authored by former CIA (Central Intelligence Agency) operative Charles Johnson, which was published last month, would provide readers with amazing insights, shocking new information and a blueprint on how Beijing would move forward on the New Silk Road.
Reading copy-and-paste research and analysis
However if you have set such high expectations before reading the report, sponsored by the CSIS Freeman Chair in China, you will be disappointed. There's no background analysis that has not already been mentioned in a public sphere.
A reader gets the feeling the author simply logged on to the Google search engine, typed, "Xi Jinping One Belt, One Road" and wrote his study on related excerpts, while assuming the Chinese government has ulterior motives for embarking on the New Silk Road.
Nearly half the report, does not mention the Belt & Road, but goes in different directions, such as disclosing China's military modernization and foreign policy strategies that are not related to the initiative.
Singing the China Threat siren
The Western media and Washington D.C.-based think tanks have grown accustomed to hailing the so-called 'China Threat' theory.
The CSIS calls for more US interference in the New Silk Road project. Johnson wrote twice in his report: "The new United States administration that takes office in January 2017 would be well served in thinking about new approaches and manage a process that if President Xi Jinping gets his way will be a force to be reckoned with for the next decade and beyond."
In the minds of CSIS, the Belt & Road does not deserve to succeed unless the US will "manage" the global initiative. For CSIS, the New Silk Road is not about upgrading logistics, telecommunications, infrastructure to boost cross-border trade and investments in Asia, the Middle East, Eurasia, Africa and Europe.
CSIS views Beijing's economic diplomacy as scheming, rather than acting as "mutually beneficial, seeking win-win cooperation for a common destiny."
Asia needs more infrastructure 
Countries in Asia have continued to enjoy rapid economic growth and meanwhile there's strong demand "for modern roads, railways, ports, electricity." according to CSIS. "Telecommunications and other kinds of basic infrastructure are set to create sustained long-term demand for substantial investment."
By engaging in more cooperation with Beijing on the Belt & Road initiative, the US can play it's part too, but so long as it does not intend to interfere in a malicious manner.
Other Stories of Interest:
Negative rates fantastic for speculators but terrible for global economy (April 16)
Electric Vehicles set to wreck havoc on Crude oil market (April 13)
Negative Rates are God send for the Greedy, unscrupulous corporate world (13 April)
Oops we are doing it again; Subprime Auto Loan Crisis party has begun (12 April)
Federal Reserve's Game plan; create a new class of slaves (12 April)