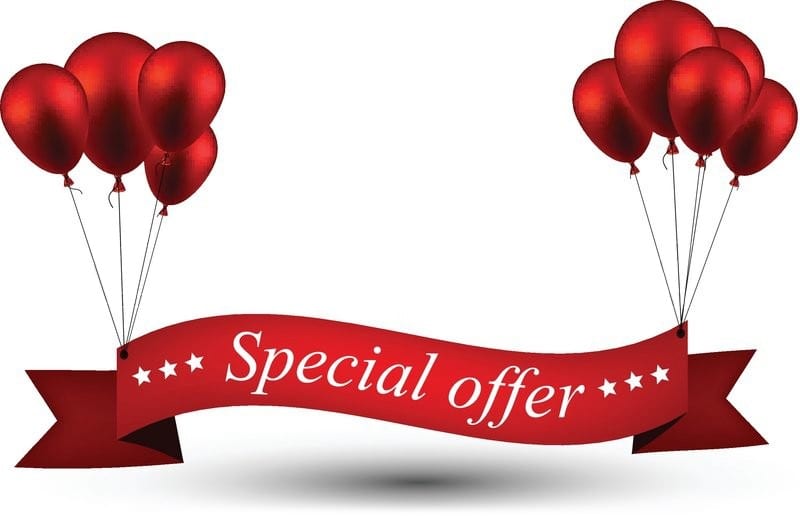 Special Trial Offer: Limited Availability
You have the chance to save 80% of our Normal Subscription rates. Ironically Americans spend more on coffee than they put towards their retirements.  Americans spend $1200 a year or $3.28 per day on a cup of coffee.   For just a fraction of this cost, you can access the Market Update service plus bonuses that add up to over $400. We are one of the few services that told our clients not to panic during the COVID-19 Hysteria-based crash, and our indicators flashed the Mother of all buys signal. At that point, we backed the truck up and locked in spectacular gains.  We took the same stance in Aug of 2016 and November 2016 before Trump was declared the winner.  Our Trend Indicator predicted the markets would trend higher, and that's precisely what they did.
An extensive list of past calls
Recent Calls Highlighting The Accuracy Of The TI System
Most investors react to disasters by panicking and throwing the baby out with the bathwater. In recent times, they have thrown the babysitter and the entire family out too.  Disaster is the code word for opportunity, especially in the financial markets. Lastly, remember how far the Dow has rallied off its low in March; the naysayers only focus on the pullbacks but not on the big upward moves the market experienced before the pullback, for if they did, it would shatter their already pathetic record.  Market Update Nov 13, 2020 
Neutral readings have more or less remained constant since the markets bottomed. What is worse than fear? Uncertainty. At least when you are fearful, you have something to focus on. When you are uncertain, you are like a Yo-Yo swinging from one side of the fence to the other. The longer the crowd remains sceptical, the higher this market will run. If we had to make what is sometimes referred to as an educated guess, it is all but certain that the Nasdaq will trade to and past 15K. Market Update Sept 30, 2020 
A sharp pullback is still an outcome we view through a very bullish lens. The ideal setup calls for the Dow to trade to the 28,800 to 29,000 ranges, with a possible overshoot to 29,300. After that, a nice sharp pullback would set the bedrock for a surge to and possibly well past 30k.  Market Update Dec 29, 2019
We have a stunning development the combined score of netural and bearish sentiment has surged to 80 and that is extremely telling. Consider that we are trading several 100 percentage points away from the 2009 lows and the masses are almost as scared as they were back in 2009. If the markets were to crash it would be the first time in history a bull market ended on a note of uncertainty.  History is never kind to the crowd and we don't think that picture will change in the near future. Market Update Oct 10, 2019
When the trend is positive (UP) train yourself to view strong pullbacks, corrections and other negative developments through a bullish lens. Anyone can panic in the face of trouble, but only the astute individual can stand still and direct their energy to spotting opportunities. Don't do what the masses are trained to do, for, after all these years of panic; they have nothing to show for it. Market Update Sept 15, 2019

The Dow has now dipped below 27K (on a monthly basis).  We see no reason to worry; investors should continue with their daily lives and focus on the things that make you smile or leave you in a peaceful state. Remember, today's news is nothing but weaponised propaganda, and weaponized news is here to stay.    Tactical Investing Market update July 31, 2019
61% of Americans prefer to spend over $1200 on coffee a year which comes to $3.28 a day per cup of Java, instead of investing in the markets. $3.28 can grow to a sizeable sum if invested properly.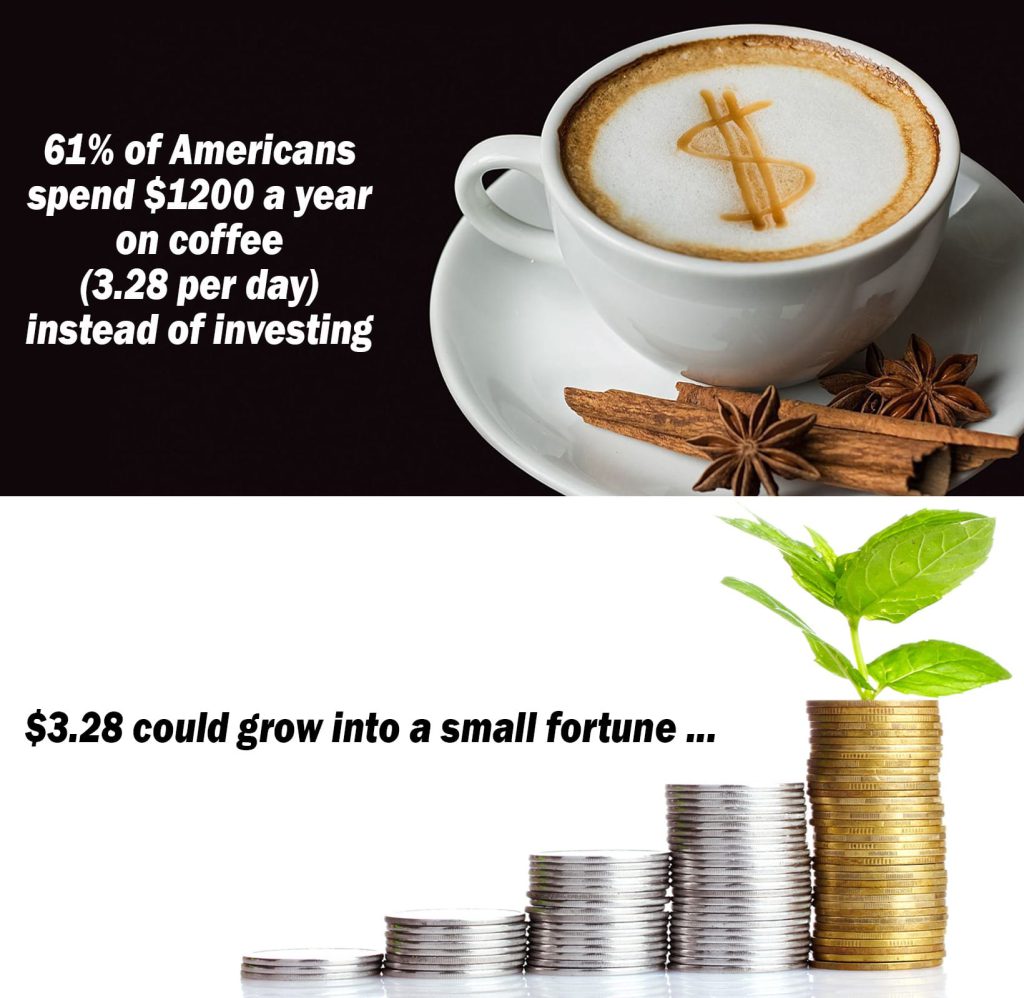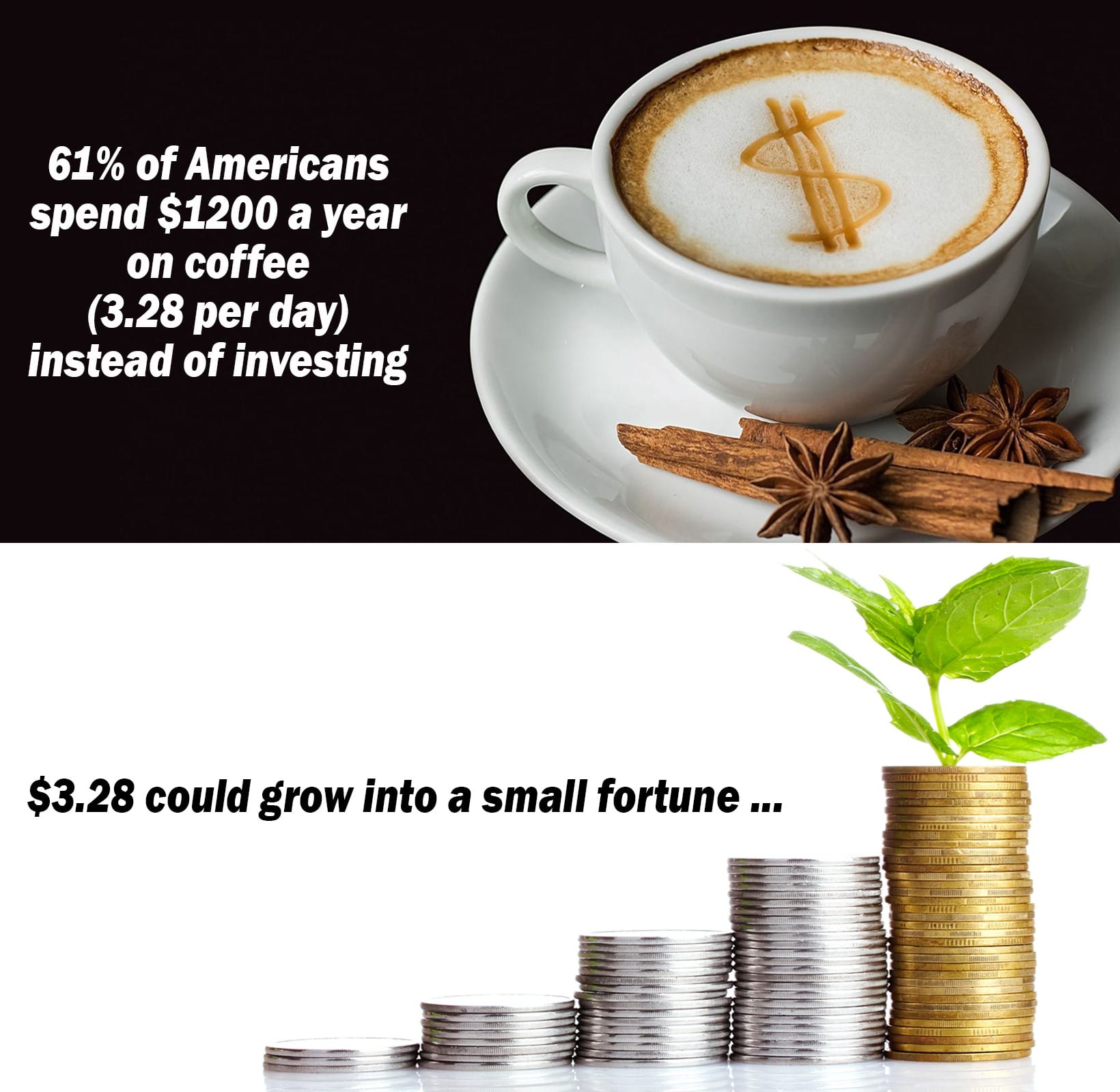 Furthermore, over 50% of Americans will retire broke. Investing small amounts of money into the right stocks at the right time could prevent you from following this path and potentially turning a small stake into a small fortune.  Today we are offering the market update for just $1.16 a day.  This translates to a  whopping  30% of the list price, something we have never done before. We will sweeten it even more by providing another 50% off your first month's subscription.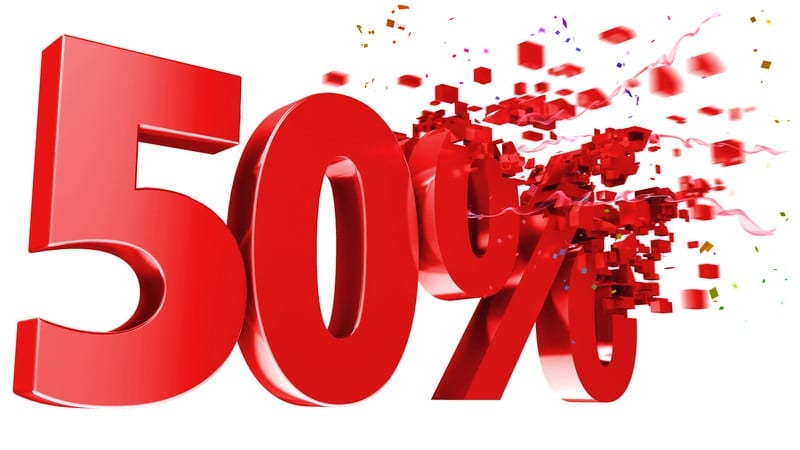 But that's not all!
An exclusive bonus for a limited time only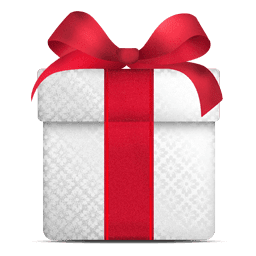 We are offering the ETF Trend Trader service, priced at $25 a month for free to market Update subscribers, a limited-time offer.  Market Update Subscribers were asking us to launch a separate service, but instead of charging for it, we decided to offer it for free to subscribers for free. In 2018, this offer will be discontinued. When you add this offer to the bundle, your savings surge to 80%.  
Special Trial Offer: An Even Sweeter Deal!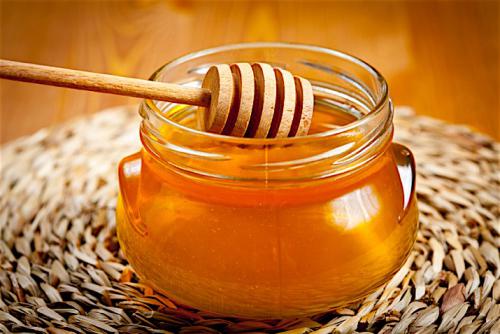 Tactical Investor Trading Manual valued at over $49.99 for free during Special Trial Offer.
When used with our trend indicator, the results were compelling. The manual will provide step-by-step instructions in an easy-to-understand format.  Even a child would find it easy to implement the system contained in this manual.  For the best part, you won't have to pay for data or charting services.  Everything you need to put this system to use is free.  And all future updates to this manual will be provided for free.
I am ready to take advantage of this Special Trial Offer
A 30-day trial for $19.99 and, after that, a discounted annual subscription rate of 470 for a saving of $130 per year. If you add the free  ETF trend trader service (priced at $29.99 a month),  plus the Tactical Investor Trading manual, you get this package for over 80% of our normal rates.
If service is cancelled before the year ends,  the rate will revert to the normal monthly rate and any sum left over after that will be refunded.
Other articles
Canadian pension plan shell game
Netherlands to Ban Gasoline-Powered Cars
Dow Jones Industrial Average Today: Is It Set To Crash
Unlocking Insights: Data For Deeper Understanding