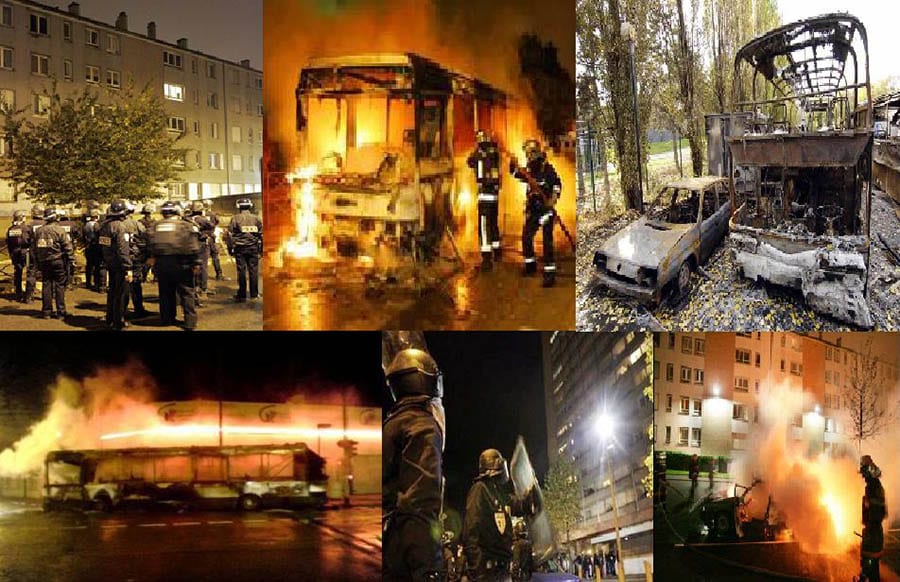 Editor: Vladimir Bajic | Tactical Investor
Muslims Burn Bus in France
How about a great, random article to start the mood before jumping into the topic?
Focusing on the Fear Factor Will Always Lead To Losses. Therefore, do not focus on the fear factor, but try to direct your attention to the "opportunity factor" if another shock-type event hits the markets. The trend is up and showing no signs of weakening. Therefore we must treat anything the media attempts to market as a disaster as an opportunity factor. The media is an extension of the mass mindset. For any con, you need at least two elements, a con artist and many idiots.  An observer is not part of this equation, for he/she does not equate with the conman or the idiot; the observer's function is to observe and then use the data to plot the most favourable path.
Take this as an early warning that should the media jackasses start pushing another B.S story, instead of panicking, one should break out of a bottle of champagne, and as the masses panic, calmly sip on that champagne and build a list of strong stocks one always wanted to purchase. The option for those allergic to work is simple; sit back and relax, for we always view stock market crashes as opportune moments when the trend is positive.
CLICHY-SOUS-BOIS, France — Marauding youths torched hundreds of vehicles overnight and on Saturday in renewed violence coinciding with the first anniversary of riots that exposed a deep schism between poor North African immigrants and mainstream France.
A group of teenagers set one bus on fire Saturday in the southern French port city of Marseille, seriously wounding a passenger. Three others suffered from smoke inhalation, police said. Two other public buses and 277 vehicles around the country were burned overnight, police said.
Six police were injured and 47 people were arrested, ministry officials said. Still the Interior Ministry described the night as "relative calm," noting that up to 100 cars are torched by youths in troubled neighborhoods on an average night.
Police had braced for a bigger replay of violence in the poor suburbs predominantly made up of Muslims from former French colonies in Africa. Friday marked the one-year anniversary of the deaths of two teens that ignited three weeks of riots in 2005.
The rioting was fueled by anger at France's failure to offer equal opportunities to many minorities — especially Arabs and blacks — and France's 5 million-strong Muslim population.
France's trouble integrating minorities and the suburban unrest are becoming hot political issues in the next year's presidential and parliamentary elections campaign. The government passed an equal opportunities law this spring and has poured funds into "sensitive" areas, but disenchantment is still pervasive. Full Story
Other Stories of Interest
Despite Investor Angst Most hated stock market keeps trending higher (July 30)
False Information, Mass Psychology & this Hated Stock Market Bull (July 29)
Zero Percent Mortgage Debuts setting next stage for Stock Market Bull  (July 27)
Long Term Stock Market Bears Always Lose  (July 27)
Information overkill & trading markets utilising Mass Psychology  (July 27)
Simple Common Sense Fix Ends Student Debt Problem (July 27)
Tactical Investor Anxiety Index; Best Market Sentiment Gauge  (July 26)
Brexit Hidden Theme Continuation of Currency War Game (July 26)
Stock Market Bears Smashed Jan & Feb 2016 as Predicted (July 25)
Another reason this bull market will not buckle soon (July 22)
Americans favour Coffee over Financial Freedom (July 13)
What Economic Recovery; 62% of Americans don't even have 1000 in savings (July 12)
Why everyone should own some Gold & Silver Bullion  (June 12)
1st World Corporate America & Third World Regular America (27 May)