90% of young women in US have experienced sexual harassment
According to a new report, nearly 90% of young women in the US have experienced some form of sexual harassment during their lifetime. Despite the high number, the research carried out by the prestigious Harvard Graduate School of Education found that many weren't talking to their parents or educators about the issue.
The study, based on a survey of more than 3,000 18 to 25-year-olds across the US, found that 87 per cent of young women reported having experienced some form of sexual harassment during their lifetime.
The report also suggests that many young people struggle to develop healthy romantic relationships, due to the fact that both teens and adults tend to greatly overestimate the percentage of young people who are hooking up or having casual sex. This can lead to many teenagers and young adults feeling pressured to engage in sex when they are not interested or ready, it warned.  Full Story
Sexual harassment among teens is pervasive.
The report revealed the sexual violence and harassment many young women face, and how these experiences often lead teens to drop out of school. The researchers found that instances of sexual violence and harassment were so pervasive that 1 in 6 of the teen girls surveyed said they had been harassed since Election Day.
The report, titled "Let Her Learn: Stopping School Pushout," was conducted in partnership with Lake Research Partners to pinpoint the reasons why girls drop out of school. Researchers surveyed 1,003 teen girls between the ages of 14 to 18 from across the United States this past January.
According to the report, 1 in 5 girls between 14 and 18 years old (21 per cent) reported being sexually assaulted ― defined by NWLC as "they had been kissed or touched without their consent."
Girls of colour and LGBTQ girls experience sexual assault and harassment at higher than average rates.  Full story
80% of teenage girls suffer serious mental illness after sexual assault
The study involved 137 girls aged between 13 and 17 – average age 15.6 years – who were assaulted between April 2013 and April 2015. It was undertaken by academics from University College London (UCL) and specialist staff from King's College Hospital NHS trust who work in three sexual assault referral centres around the capital, where the victims were treated.
When the girls were examined four to five months after being attacked, 80% of them had at least one mental health disorder. More than half (55%) had at least two disorders.
The findings, published in a study called mental and sexual health outcomes following the adolescent sexual assault, are in The Lancet Child and Adolescent Health medical journal.
Researchers found that girls who had been assaulted were disproportionately likely to be from deprived or troubled backgrounds. Three-quarters were from a poor family, one in five had had a statement of special educational needs and more than half had previously been involved with social services. Full Story
Women endure a lifetime of sexual harassment even before they enter the workplace
In the wake of the Harvey Weinstein scandal, Hollywood actor Alyssa Milano posted a call to arms asking women who've been sexually assaulted or harassed to write "me too" as a status to "give people a sense of the magnitude of the problem."
Women from all walks of life are bravely disclosing powerful accounts of abuse they've experienced at a variety of points in life. That's because while the story is about Harvey Weinstein's casting couch, Hollywood harassment, and workplace harassment, it's also about the sexual harassment that begins long before women have even entered the world of work. For some, it begins before they've graduated from high school or university and sometimes well before they've even reached puberty.
I can remember, as a teen, coming up with strategies to fight off rapists. 13 and I was aware of the risks of being female. #metoo

— Beth Alleman (@esperali) October 16, 2017
Harassment as a teen conditioned me to fear societal blame more than the sexual aggressors themselves. #metoo

— Caf (@Rellacafa) October 15, 2017
1st as a teen working a pt job in sales- male boss said to wear short skirts & low cut tops to sell more & that he's enjoy it too #metoo

— HAW (@HAWofPA) October 16, 2017
I wish this wasn't the case, but, me too. For more than a decade before I entered the world of work, I had been dealing with various iterations of sexual harassment from both teenage boys and adult men. I was 11 years old the first time I was sexually harassed. A male teacher asked me to stay behind after a lesson so he could "talk to me". I stayed behind, assuming my teacher wanted to discuss schoolwork. He did not.
Come here," my teacher said to me, before walking towards me and pressing his body up against my own. His arms were wrapped tightly around me. I immediately wanted to extricate myself from his grasp, but when I tried to break free he pulled me even closer. At the time, I didn't have the language to describe what had happened to me, but I knew that I had been touched inappropriately by someone in a position of power. I kept quiet to begin with. But it continued and I eventually told my mum. She reported it to a senior teacher at the school—a man. He told my mum that "it's easy for little girls to misunderstand grownup behaviour."  Full Story
The Majority of Girls Face Sexual Harassment with No Hashtag
The #MeToo social media movement has been one of the largest trends online—over 1.7 million tweets from at least 85 countries.
Most girls face sexual harassment, not in swanky hotel suites, but in school hallways.
Title IX used to protect them. Yet, with little fanfare, Secretary of Education Betsy DeVos recently rescinded that major source of protection against sexual harassment and assault facing girls in schools. No public outrage seemed to follow.
Sexual harassment, which includes unwelcome sexual advances, requests for sexual favours, and other unwanted verbal, nonverbal, or physical sexual conduct, begins for girls in late elementary school. By the sixth grade, more than one-third of girls have been sexually harassed by a boy, and by middle school, almost all students (95 per cent) have witnessed sexual harassment happen at school.
My research with Professor Campbell Leaper has shown that, by the end of high school, 90 per cent of girls have experienced sexual harassment at least once, with 62 per cent being called a nasty or demeaning name, 51 per cent receiving unwanted physical contact at school, and 28 per cent being teased, threatened, or bullied by a boy. For the girls who attend college, their risk of being sexually assaulted increases, and 1 in 4 will be sexually assaulted while in school, usually by an acquaintance.   Full Story
Women are rarely accused of sexual harassment
There are few numbers available about women sexual harassers, and some of the numbers available are more than a decade old.
"It is extremely rare — it does happen but it is extremely rare," says Genie Harrison, a Los Angeles-based attorney who specializes in workplace sexual-harassment cases. "Men can be victims and women can be abusers, and I've represented victims where a woman was the harasser, but I would say it's at best a 99.9%-to-.01% ratio."
— In the most recent data available from the EEOC, there were 6,758 complaints of sexual harassment allegations received by the commission in 2016, and a little more than 16% were filed by men. But the data don't say who did the harassing — a woman or another man.
Moreover, EEOC data do not provide a comprehensive picture of the entire country. Plus, the agency estimates that most people, male or female, who have experienced harassment (more than 80%) never file a formal complaint about it.
The Defense Department also tracks sexual harassment complaints in the armed services and National Guard; its last report, in 2016, showed that a total of 601 complaints were received in the previous year, with 415 alleged offenders reported for 326 substantiated complaints. Most of the harassers were male (396 or 95%); only 19 were female (5%).  Full Story
Sexual harassment: How it stands around the globe
The fact is that sexual harassment is part and parcel of daily life, particularly in public places, Jewkes believes. "It's used to curtail a woman's freedom."
In the streets of London, Mumbai, Washington or Lagos, the recent outpouring of stories from women using #MeToo and its many iterations has shown the uniformity of the problem — irrespective of country and culture.
In 2017, the world has made one thing clear: Sexual harassment is everywhere.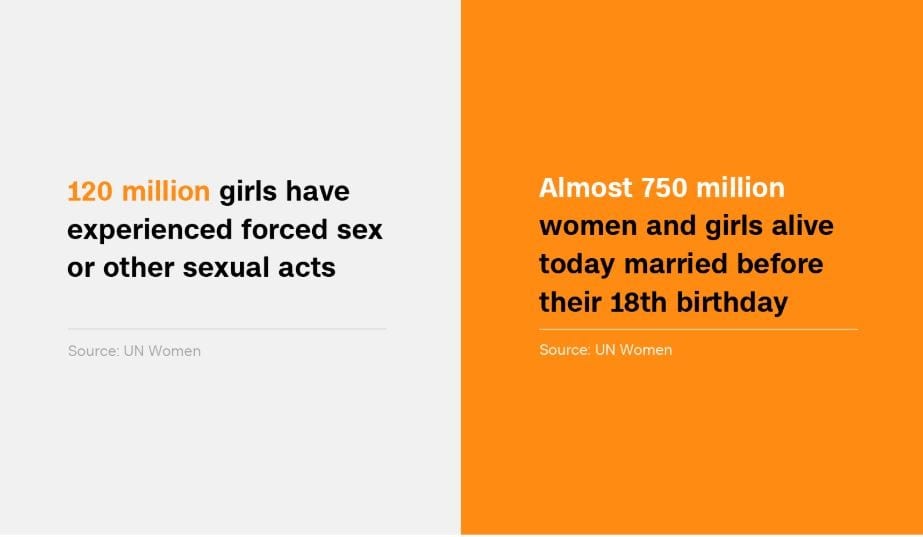 Sexual Harassment in Asia
"There is massive male sexual entitlement … especially in south Asia," said Jewkes, who is now based in South Africa but researched male violence in Asia and the Pacific.

"Public spaces are run by men. They perceive an ownership of all public places,"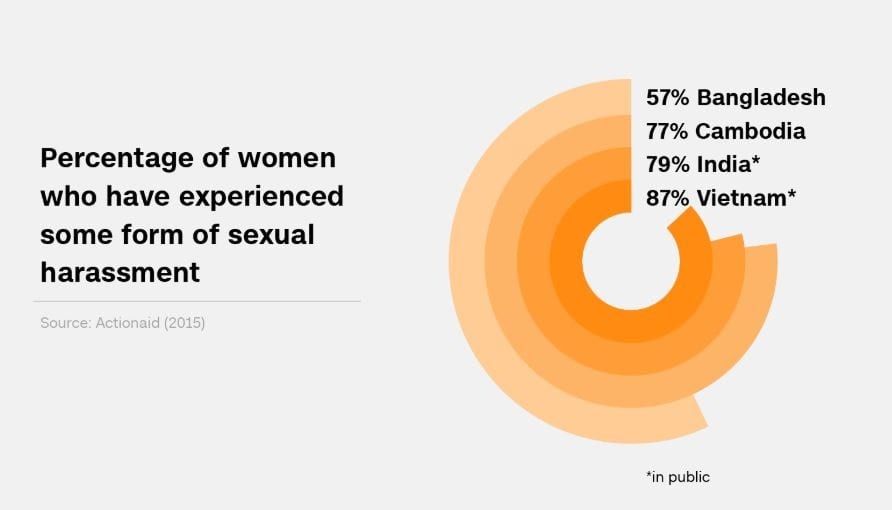 Sexual Harassment Stats In North Africa and the Middle East
"There are so many reasons behind this silence," said Lina Abirafeh, director of the Institute for Women's Studies in the Arab World, in Lebanon. "I've heard trickles … (but) people are scared."
"Patriarchy is still very strong here," she said. "There's entitlement and a feeling of 'we've always done this' and that sexual harassment is not wrong."

One group at significant risk is migrant and domestic workers, who have no voice, said Abirafeh. "There's a minuscule chance of justice if they report violence," she said.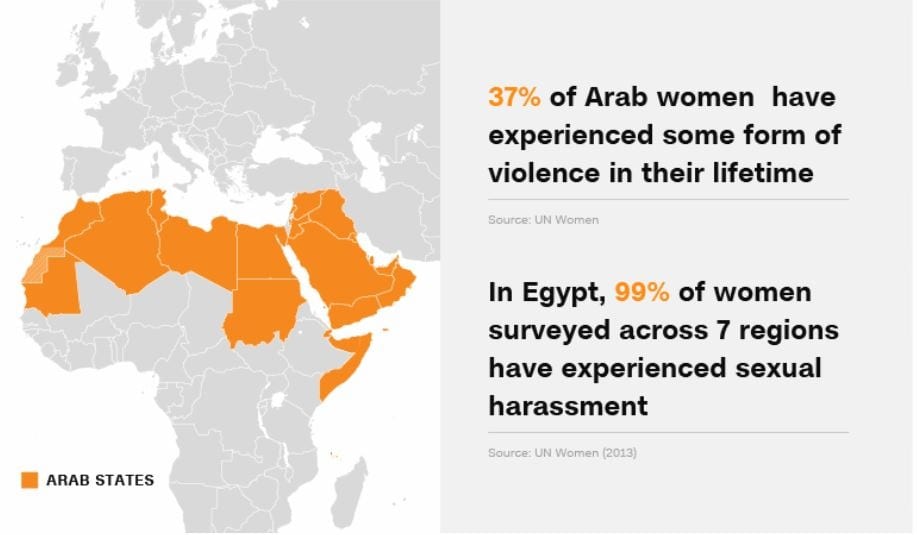 Sexual Harassment in West and sub-Saharan Africa
In Nigeria, child marriage rates are more than 43%, according to UN Women, and six out of 10 children under 18 have experienced some form of physical, emotional and sexual violence, according to the 
National Population 
Commission in Nigeria.
In South Africa, just 12% of women feel safe from verbal or physical abuse in their own neighbourhoods, and 80% surveyed had experienced some form of abuse in the past year, according to a 2015 
ActionAid report.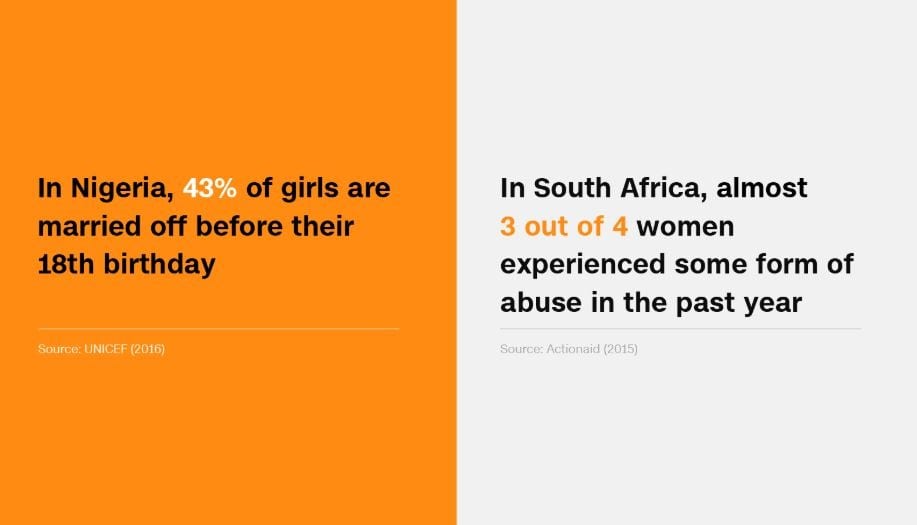 "There is a great deal of sexual harassment, but it doesn't constrain a woman's movements in the same way" as in Asia, Jewkes said. "It's not an honour-based culture or about the chastity of a female by family members."

In southern Africa, violence against women is high. "There is a much higher threat of rape" compared with other regions, she said. "A lot of women are raped."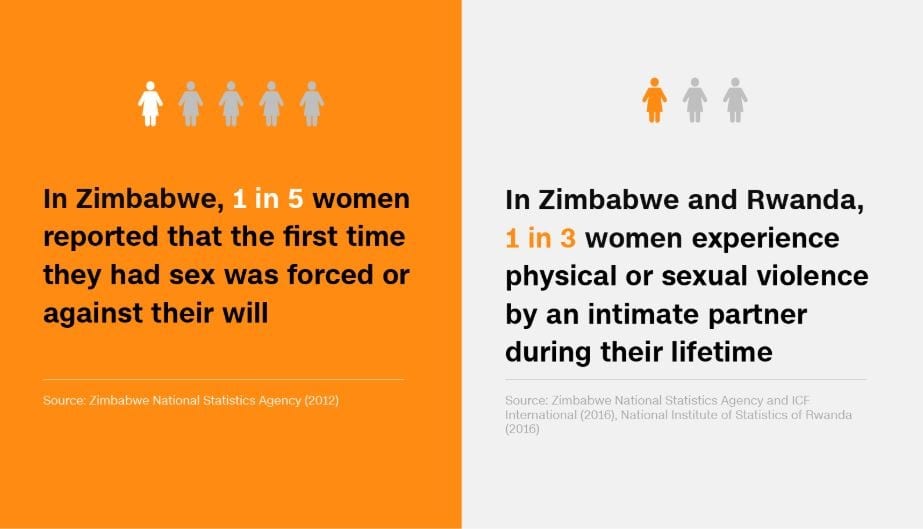 "Girls in Zimbabwe are particularly vulnerable to sexual assault, child marriage and prostitution due to severe poverty. They cannot fight for themselves," Brennocks said.

"A girl takes a big risk when she reports sexual abuse. If she is living with relatives, she risks being kicked out of her home. If the abuser is the breadwinner and is jailed, the family will have no financial support and means of survival. When that is the case, the child is often beaten and treated very badly. If the girl becomes pregnant, she is often forced to have an abortion, often in terrible circumstances," she said.  

Full story
Other Stories of Interest
Trade is not that Important to America as it's a closed Economy  (Aug 3)
US dollar index chart Bullish: Dollar Expected to trend higher in 2018  (Aug 2)
Ron Paul- Biggest Stock Market Bubble in History  (July 20)
Stock Market Bull 2018 Still In Play; Buy The Dip (July 15)
Stock Market Crash 2018 Revisited  (July 12)
Uranium Bull Market 2018; The Crowd psychology Outlook   Updated (July 2018)
Stock Market 2018 Playbook; Follow The Trend (June 29)
Bear Market Fears-are they overblown? (May 28)
Stock Market Crash: Imminent or does this Stock Market Bull still have legs? (Apr 25)
Everything You Wanted to Know about Mass Psychology