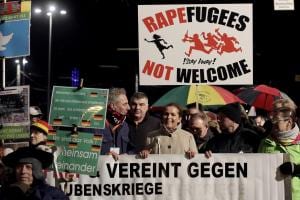 Muslim Refugees trashing Germany
Frantic German liberals have embarked on a media campaign to urge the current flood of nonwhite invaders not to trash Germany, steal, trespass, mistreat children, defecate in public, and haggle in supermarkets. Furthermore, the officially published guidelines beg the nonwhite invaders to respect freedom of religion, not to attack homosexuals, to ignore girls wearing shorts, not to interpret smiles as sexual invitations, and to stop pestering German girls for their private contact details.
The list of requests—which would be laughable if they were not meant in all seriousness—provides a dramatic insight into the mindset of both liberals—who believe that race-based cultures can be discarded like coats at the border crossing—and the behaviour of the nonwhite invaders themselves. These incredible "guidelines" for invaders have been published by public national media (such as that by Germany's international broadcaster, Deutsche Welle, DW), private pro-invader organizations, and even local authorities.
Among the things it asks the nonwhite invaders to remember are:
– No work without a work permit. ("In contrast to some countries in the Middle East and Africa, working without a work permit in Germany is against the law.")
– No violence towards children. ("German law states: 'Children have a right to a violence-free upbringing.'")
– Kids have to go to school ("School-age children can't just stay at home, or go to work.")
– Supermarket prices are set. ("Negotiating a lower price is part of daily life in many countries. But this isn't the way things are done in Germany, neither in supermarkets nor in most shops." In other words, no Semitic market haggling).
– Keep your distance ("In many cultures, hugging, kissing or giving gifts to local kids in the neighbourhood is normal. In Germany, children shouldn't be approached in this manner.") Full Story
Read the guidelines listed here and you will almost want to laugh. We have stated many times that there is no such thing as a fair world.  You cannot mix water with oil,  and the current group of immigrants are akin to oil while the locals resemble water.   The rules laid out suggest that tolerance levels will drop fast and then all hell will break loose
Record Number Attacks by Swedish Patriots
Swedish patriots are burning down nonwhite invader centres at the rate of one every two days, forcing that country's government to hide all invader housing addresses and to start police helicopter patrols in an attempt to halt the uprising. So far in October, some eleven attacks have been reported, while last month, no less than twenty such attacks took place. These are only the ones that the controlled media is daring to report.
The latest attack—in the municipality of Danderyd, took place on Wednesday night, October 28, the Aftonbladet newspaper reported.  The attack took place less than two days after the local authorities announced that a kindergarten in the town would be converted into "refugee accommodation." Chief of police in Stockholm North, Christer Nilsson, was quoted as saying that there was no doubt that it was arson and that he was "concerned that similar attacks will occur against refugee places where people already live."
On Wednesday evening, October 28, another "asylum centre" in Tjornarp, Skåne county, southern Sweden was firebombed, reports the Expressen newspaper.
The house, set in an idyllic location in a beech forest, served as a home to "unaccompanied children"—the code word used by the controlled press to describe young nonwhite male invaders who lie about their ages in order to get preferential treatment.  On Tuesday evening, October 27, an arson attack took place on a planned invader centre in Färingtofta, a small town in Klippans Municipality, Scania, police have reported. "Someone smashed a window in a door and threw a bottle of flammable liquid," reports said. Emergency services were called out and the fire was extinguished. A tube with the words "Explosive" and "TNT" written on it had also been thrown into the building. Full story
As indicated before, the situation will continue to worsen; the reactions from the locals will be more and more violent. The point of no return has been breached; the slogan of choice now "it's us against them" and this theme will continue to gain traction. The fight now in Europe is a full-fledged religious battle, and this is going turn into a war. Essentially it comes down to Muslims versus Christians. Unfortunately, a lot of moderate Muslims will be caught in the crossfire.
Other articles of Interest:
Refugee Muslims convert in Germany and Chinese Tourist boost Russian economy (Sept 16)
Denmark Anti-immigrant Ads and U.S. helpless against Russian hardware?(Sept 16)
Putin sticks by Syria and Chechen Terrorists invited to Ukraine(Sept 16)
Arrogant Obama and Muslim Kid arrested for Home made bomb (Sept 16)
Chinese flocking to U.S. Real Estate and German Migrant crisis (Sept 3)
Ukraine puppet government and Fed claims no more QE (Sept 3)
Record corporate Debt and China catches America Off Guard (August 21)
IRS thieves, Wall Street Gangsters and Cyber gas thieves (August 20)
Religious wars, Anti-Muslim Europe and Anti-immigrant Swedes (August 20)
Rotten Whole Foods, Chinese Jump on Gold, Shanghai Woes (July 18)
Dirty House of Saud, Cry baby Bibi, Insane Fed (July 18)
State pension funds bankrupt, Auto retirement enrollment, Kerry shouts (July 18)
Neocons hate Iran Deal, Germans want to lift Russian Sanctions (July 18)
Turkey, Russian tensions, good for defence industry( June 05)
South China sea showdown; Racism in Europe( June 05)
US warns China; Unemployed people in Europe( June 05)
Insane Erdogan, Saudis embarrassed US (May 25)
Micro-apartments; China, Russia seeking their own Internet (May 25)
The Fall and decline of the American Empire(April 23)
Predictions for wild weather, end of multiculturalism & religious wars(April 20)
S. backed Coup in Ukraine, China wins, Russia resists and Insane McCain(April 07)
Assertive Russia, Failed F-35 and Snubs at the EU(March 30, 2015)
Misinformation wars intensify(Feb 28 2015)
Data Manipulation and fake wars(Feb 18, 2015)
Fake ISIS Beheadings? True or false (Feb 12, 2015)
Monsanto under attack(Jan 31, 2015)
NATO provoking Russia(Jan 31, 2015)