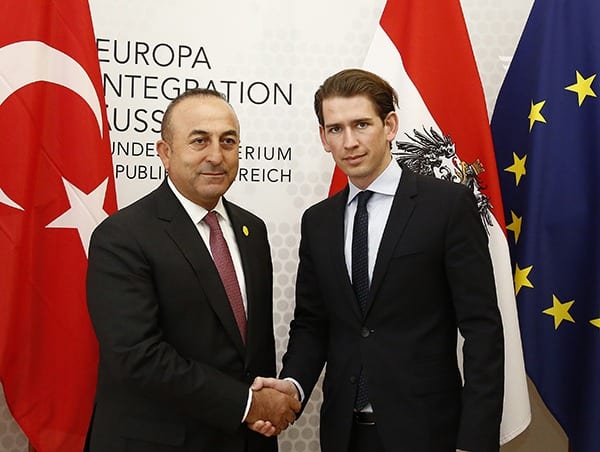 Editor: Draco Copper | Tactical Investor
Turkish minister defies Dutch resistance
But despite a planned rally in Rotterdam being cancelled, Turkish Foreign Minister Mevlut Cavusoglu is defiant.
"I will go to the Netherlands, of course I will," he told reporters in Ankara on Thursday.
"Everybody should know that no such implementations, no such obstacles can stop us. Nobody can stop us from meeting our citizens. We will not succumb to fascists and racists like Wilders. We will go and meet our citizens whenever and wherever they want."
"The Turks know that we are against such a visit to address large groups of Turks," he said.
"It has to do with the fact that he is a minister. It is not that we are barring Turkish politicians but ministers who want to talk about such purely national issues." Full Story
Dutch police expel Turkish minister as 'Nazi remnants' row escalates
Turkish authorities have sealed off the Dutch embassy and consulate, sources at Turkey's foreign ministry have said, in the latest incident in a tit-for-tat row between the two countries over Turkish campaigning in Europe.
Turkey also closed off the residences of the Dutch ambassador, charge d'affaires and consul general as tensions between the Nato partners escalated after the Dutch government barred Turkey's foreign minister from flying to Rotterdam.
In the Netherlands, the Turkish family affairs minister was detained by the authorities to prevent her addressing a Rotterdam rally in support of the Turkish president and escorted to the German border. Police later used horseback charges to break up a pro-Turkey crowd that had gathered at the country's consulate in the city.
Fatma Betul Sayan Kaya said through her Twitter account early on Sunday that she was being taken to the town of Nijmegen, near the border with Germany, adding that she condemned the Dutch authorities' action in "the name of all of our citizens".
"If my going will increase tensions, let it be," he told CNN Turk. "What damage will my going have on them? I am a foreign minister and I can go wherever I want."
"Many Dutch people with a Turkish background are authorised to vote in the referendum over the Turkish constitution. The Dutch government does not have any protest against gatherings in our country to inform them about it," he said.
"But these gatherings may not contribute to tensions in our society and everyone who wants to hold a gathering is obliged to follow instructions of those in authority so that public order and safety can be guaranteed." Full Story
Other Articles of interest
Could Trump's economic Policies Propel Hated Stock Market Bull Higher (Feb 27)
Stock Market Crashes-Is Panic Warranted (Feb 25)
Stock Market Crash 2017 Video -reality or All Hype (Feb 19)
Stock Market Crash 2017-reality or all Hype  (Feb 16)
Gold Market Finally ready to breakout video-Very Interesting Pattern (Feb 2)
Gold Market Finally ready to breakout? Possibly it's putting in a very interesting pattern  (Jan 30)
Will the stock Market Bull Continue to Trend higher or crash video  (Jan 18)
Stock Market Bull destined to charge higher or is it time to bail out  (Jan 13)
Feds Interest Rate Stance equates to Rubbish-Video article (Dec 27)
Feds Interest Rate stance equates to Rubbish-Economic recovery is illusory  (Dec 24)
Stock Market Bulls-Stock Market fools-Market Crash next video? (Dec 22)
Stock Market Bulls, Stock Market fools-Market Crash next or is this just an Illusion  (Dec 21)
Trump Effect Rally-Useless Dow Theory and Stock Market Crash  (Dec 17)
Gold fools-dollar bulls and the long-term outlook for both Markets (Dec 9)