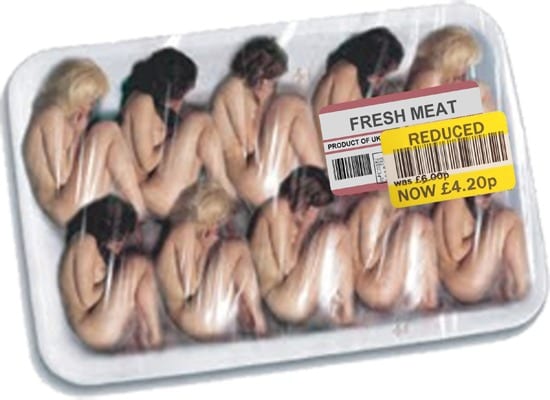 How Muslim rape gangs blackmail British girls into prostitution
Grooming gangs abused more than 700 women and girls around Newcastle with "arrogant persistence" after police appeared to punish victims while letting the perpetrators walk free, a case review has found.
The report into the response by authorities to child sexual exploitation found that before a large-scale police operation was launched in 2014, officers' actions were sending an "unhelpful" message to perpetrators.
It warned that abusers are still preying on girls across the UK, and called for urgent action from the Government.
"Unlike some other areas, Newcastle agencies did not try and sweep this under the carpet but actively went looking for it and as a result, a large number of perpetrators were arrested and prosecuted, and victims saved from further trauma," said former barrister David Spicer, who led the review.

"Sadly, it is still happening in Newcastle and other cities, but this city is determined to tackle it."

"Sexual exploitation is happening in towns and cities across the country but what we have learned can be used to help others," she added.

"We know it is still going on in our city, but we are doing everything in our power to prevent it, disrupt it and deal with it, and support the victims for years to come." Full Story
Saudi Man Rapes & Tortures Child To Death  Only Gets 8 Years
A 'celebrity' Saudi preacher accused of raping, torturing and killing his five-year-old daughter has reportedly been released from custody after agreeing to pay 'blood money'.
Fayhan al-Ghamdi had been accused of killing his daughter Lama, who suffered multiple injuries including a crushed skull, broken back, broken ribs, a broken left arm and extensive bruising and burns. Social workers say she had also been repeatedly raped and burnt.
Fayhan al-Ghamdi admitted using a cane and cables to inflict the injuries after doubting his five-year-old daughter's virginity and taking her to a doctor, according to the campaign group Women to Drive.
Rather than getting the death penalty or receiving a long prison sentence for the crime, Fayhan al-Ghamdi served only a few months in jail before a judge ruled the prosecution could only seek 'blood money'. Full Story
Meet the Ten Year Old Girl Who's Already Been Married and Divorced
Poverty, the practice of dowry and strict social and religious traditions and norms are drivers of child marriage in Yemen. With the onset of conflict in the country, child marriage is on the rise. A recent study estimated that over 65% of Yemeni girls are married off before 18, compared to 50% before the conflict [2]. Full Story
In 2017 alone there has been another instance of yet another Yemeni bride that was 14 years old died just 4 days after her arranged marriage, that too due to the internal injuries that she suffered during intercourse. Her name was Ilham Mahdi Al-Assi and she was subject to what is called a "swap marriage". It is where two men make an agreement, each to marry the sister of the other one in order to avoid the hassle of paying for two separate weddings. Ilham too suffered a tear atop her genitalia and could not survive the injury
Since then several activist groups have been appalled by the number of child marriages in Yemen and have been striving to put a ban on anyone being married that is under the age of 17. The funny thing is, men of religion are the ones that are on the other side of such bans and will do anything to get in the way of them becoming a reality. In 2009, the lone ban that had been put into place to stop child marriages under the age of 17 was blatantly referred to as "un-Islamic" and sent back for review until further notice. Full Story
Child Marriage And Rape Is Still Legal In Yemen
Some 52 per cent of Yemeni girls are married – often to much older men – before age 18, and 14 per cent before age 15, according to United Nations and Yemeni government data from 2006. Girls who marry young often drop out of school, are more likely to die in childbirth and face a higher risk of physical and sexual abuse than women who marry at 18 or later. Girls who do not want to marry are often forced to do so by their families. Yemen is one of the few countries in the region now without any legal minimum age for marriage. Full Story
Sanaa, Yemen — When Halima's father told her he was planning her wedding, the 12-year-old firmly refused.
"My father married off my sisters and wants to marry me off by force, but I don't want to get married," said Halima, whose father asked CNN not to use his family's surname.
Child marriage is entrenched in Yemen, a symptom of crippling poverty and a deeply conservative culture. It's a traditional practice preserved in proverbs like, "Marry an 8-year-old girl, she's guaranteed" — an assurance of a child's virginity. And the country's three-year civil war has only exacerbated the problem. Today, more than two-thirds of Yemeni girls are married off before they reach 18, a staggering leap from half of all girls before the conflict.
But Halima, with her quick laugh and infectious smile, is determined not to be a part of that mounting statistic.
"I'm in the fifth grade. I want to finish school. I want to become a doctor, God willing," Halima told CNN, still dressed in her school uniform — a forest green abaya and white headscarf.
"Many of my friends in school have been married off."

"One of my friends dropped out and when I asked her why, she said, 'Because tomorrow is my wedding.'" 

Full Story
Pakistani Hindus Complain of Forced Conversion of Teenage Girl
In a village in the Umerkot district of Pakistan's Sindh province, where Harya said she was kidnapped, hers was one of only two Hindu families. Her parents said she disappeared after going to fetch water from the village well. A few hours later, her family tracked footsteps from the well to an influential household in the village, but was told she was not there. Later that night, they called the police.
It was not until a week later that some of the villagers told them what happened. In another week, their daughter was presented in a local civil court and was declared a Muslim and the wife of the man who had abducted her.
Pakistan's Hindu community complains that conversion and marriage is often used as legal cover for the kidnapping of young girls, who are allegedly threatened with harm to them or their families to get false statements in court.
Harya, the oldest of five siblings, stayed with her alleged kidnappers for a month and a half. She claims she was beaten and her so-called husband stole the jewelry she wore. She also said she was drugged when presented in court. Full Story
 In Rotherham, grooming victims of Muslim Gangs speak out for the first time
Other Articles of Interest
List Of Experts That Were Wrong On Trump's 4 Percent GDP Target  (Aug 2)
Stock Market Bull Still Healthy in 2018; follow the trend  (July 20)
What if any are the Economic Consequences of Trump's Trade War  (July 19)
Trump to Unveil $1.5 Trillion Infrastructure Plan (Feb 18)
Oil majors strike it rich on rising crude prices (Feb 12)
When Will The Bull Market End? (Feb 10)
Forget About Higher US Rates; We Are Going Negative (Feb 09)
Stock market crash or healthy correction? (Feb 06)
Should you sell or stay put in the stock market? (Feb 02)
Huge Fifth Third stock buyback sends shares soaring (Jan 13)
Emerging Markets See Lowflation (Jan 11)
Why are most Americans not investing in the Stock market? (Jan 10)