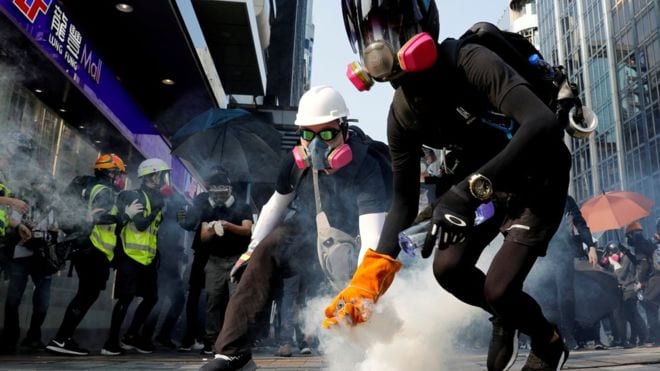 Hong Kong Protest 2019: US President Donald Trump has signed into law a bill that supports pro-democracy protesters in Hong Kong.
The Human Rights and Democracy Act mandates an annual review, to check if Hong Kong has enough autonomy to justify its special status with the US.
Mr Trump said he signed the law "out of respect for President Xi [Jinping], China, and the people of Hong Kong".
China's foreign ministry threatened "counter measures" if the US continued "going down the wrong path".
Mr Trump is currently seeking a deal with China, in order to end a trade war between the two countries.
"The US has been disregarding facts and distorting truth," a Chinese foreign ministry statement said.
"It openly backed violent criminals who rampantly smashed facilities, set fire, assaulted innocent civilians, trampled on the rule of law, and jeopardized social order."
The foreign ministry summoned the US ambassador to demand that Washington stops interfering in Chinese internal affairs.
Hong Kong's government also reacted, saying the American bill would send the wrong signal and would not help to ease the situation.
But a key activist in the Hong Kong protest movement, Joshua Wong, said the US law was a "remarkable achievement" for "all Hongkongers".
However, the bill had widespread congressional support, which meant that even if he vetoed it, lawmakers could potentially have voted to overturn his decision.
The president also signed a second bill, which bans the export of crowd-control munitions to the police in Hong Kong. Full Story
Hong Kong protests police: The extradition bill which triggered the first protest was introduced in April. It would have allowed for criminal suspects to be extradited to mainland China under certain circumstances.
Opponents said this risked exposing Hongkongers to unfair trials and violent treatment. They also argued the bill would give China greater influence over Hong Kong and could be used to target activists and journalists.
Hundreds of thousands of people took to the streets. After weeks of protests, leader Carrie Lam eventually said the bill would be suspended indefinitely.
How did the protests escalate?
Protesters feared the bill could be revived, so demonstrations continued, calling for it to be withdrawn completely.
By then clashes between police and protesters had become more frequent and violent.
In September, the bill was finally withdrawn, but protesters said this was "too little, too late".
On 1 October, while China was celebrating 70 years of Communist Party rule, Hong Kong experienced one of its most "violent and chaotic days".
An 18-year-old was shot in the chest with a live bullet as protesters fought officers with poles, petrol bombs and other projectiles.
The government then banned protesters wearing face masks, and in early November a pro-Beijing lawmaker was stabbed in the street by a man pretending to be a supporter.
One week later, a policeman shot one protester at close range when activists were trying to set up a road block. Later that day another man was set on fire by anti-government protesters. Full Story
Hong Kong protests today: demonstrators gather in Central to express gratitude to US for signing democracy act into law
Rally organiser compiles list of officials for submission to US, hoping Washington will impose sanctions on them for human rights violations
City leader Carrie Lam, former leader Tung Chee-hwa, justice secretary Teresa Cheng, China official Wang Zhimin, and former police chiefs feature in the list
Thousands of protesters gathered in Central on Thanksgiving Day to express their gratitude to Washington for signing the Hong Kong Human Rights and Democracy Act into law, with the organiser compiling a list of 40 people on whom it hoped the US would impose sanctions.
Among others, the list has the names of Chief Executive Carrie Lam Cheng Yuet-ngor, former chief executive Tung Chee-hwa, secretary for justice Teresa Cheng Yeuk-wah, former police chiefs Andy Tsang Wai-hung and Stephen Lo Wai-Chung, and Chinese liaison office head Wang Zhimin.
The rally at Edinburgh Place was organised several hours after US President Donald Trump signed the legislation, which can sanction people for acts perceived to be undermining Hong Kong's autonomy, and direct officers not to deny visas to people subjected to "politically motivated" arrests or detentions.
The organiser, the Hong Kong Higher Institutions International Affairs Delegation, estimated about 100,000 people attended the rally on Thursday night. However, police put the figure at 9,600 at its peak. Full Story
Other Stories of Interest
China Economy still has many engines for development (Dec 8)
Trump Stock Market: Will Impeachment Hearings Derail This Bull   (Nov 21)
Negative Thinking: How It Influences The Masses  (Nov 15)
Leading Economic Indicators: Finally in Syn With The Stock Market?   (Oct 28)
Dow Stock Market Outlook: Time To Dance or Collapse (Oct 25)
What Is Fiat Money: USD Is Prime Example Of Fiat (Oct 13)
Yield Curve Fears As Treasury Yield Curve Inverts (Oct 12)
Current Stock Market Trends: Embrace Strong Deviations  (Oct 2)
Market Insights: October Stock Market Crash Update  (Oct 1)
BTC Update: Will Bitcoin Continue Trending Higher  (Sept 17)
Stock Market Forecast For Next 3 months: Up Or Down? (Sept 16)
Stock Market Crash Date: If Only The Experts Knew When (Aug 26)