CNN Ratings Continue To Slide
When you don't follow the trend and give people what they want, this is the end result. Most Polls indicate that while the majority of Americans don't view Trump in a favourable light, most of them are not in favour of impeaching Trump.
Despite the embarrassing spectacle of Special Counsel Robert Mueller's congressional testimony where he finally learned about the report he supposedly created and wrote, Democrats are doubling down on stupid.

They are ignoring the first law of holes, that when you are deep in one, the smart play is to stop digging. The hole they continue to dig is the one denying the reality of the 2016 presidential election, that Donald Trump beat Hillary Clinton fair and square.

It was not the result Democrats and their media comrades wanted or expected and now they seek to overturn the will of the American people in selecting a president. So what if Hillary Clinton won the popular vote? Bill Clinton was elected in 1992 with only 43 percent of the popular vote, far from a majority, but no one considered him an illegitimate president for that reason
Chasing the same old story results in viewer fatigue
The Morning Consult poll found the majority of voters, 49 percent, first learned about the Mueller Report from Attorney General William Barr's summary of the report in March. In delivering that summary in a live press conference, Barr said the report proved there had been "no collusion" between Trump and Russia while arguing Trump had not committed obstruction.

The polls suggest that for some, and certainly for many Republicans, "no collusion, no obstruction" isn't just a talking point, but a reality. VOX
CNN Ratings:  Credibility seems to be the issue
CNN is suffering a credibility crisis as viewership for the once-proud network continues to crater with no apparent plan in place to fix things anytime soon, according to media watchdogs and insiders.
CNN's audience shriveled in the second quarter of 2019, averaging only 541,000 total viewers, less than half Fox News Channel's 1.3 million average. But CNN struggled even more during the primetime hours of 8-11 p.m. ET, finishing as the fifteenth most-watched network on basic cable behind networks such as TLC, Investigation Discovery and the Hallmark Channel. CNN averaged a dismal 761,000 primetime viewers while FNC averaged 2.4 million.
"The numbers warrant concern, yes. Q2 was a particularly news-rich quarter highlighted by the release of the Mueller report and all the aftermath and controversy following it, plus the launch of several high-profile Democratic candidacies including Joe Biden and Pete Buttigieg to propel 2020 coverage into high gear," Concha said. "It may only get worse in Q3 given the numbers we're already seeing." FOX
CNN Ratings Decline From An Employee's Perspective
"The people that are concerned – it's certainly not the anchors who have lucrative contracts – it's the people among the lower levels, such as producers and show bookers."
In May, the channel lost 16 per cent of its weekday evening audience from the previous month, falling to just 761,000 viewers and winding up dead last among such cable networks as liberal rival MSNBC and the dominant Fox News Channel.
The embattled CNN, which always lands in far-last place and axed more than 100 jobs already this year, had about as bad of a ratings month as is possible in May.
Its primetime hours were only able to average a measly 761,000 viewers, while the fake news outlet's total day viewers dove nine per cent (compared to this same month last year) to just 559,000 viewers.
For comparison purposes, Fox News earned three times as many primetime viewers (2.34 million) and more than twice as many total day viewers (1.34 million). What's more, when compared to this same month last year, Fox lost none of its primetime viewers and only four percent of its total day viewers. newsbusters
Why are viewers leaving CNN in Droves?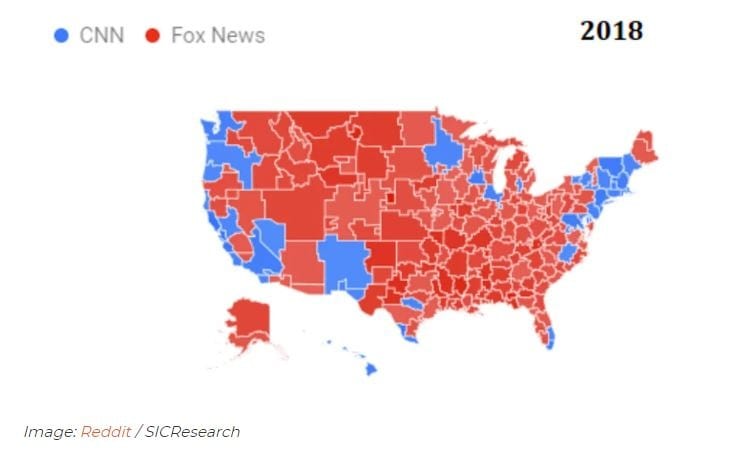 It's 2008, on the eve of the Obama Era. CNN (blue) dominates the cable news landscape across America. Fox News (red) is an upstart (°1996) with a few regional bastions in the South.
By 2010, Fox News has broken out of its southern heartland, colonizing markets in the Midwest and the Northwest — and even northern Maine and southern Alaska
Energised by Trump's 2016 presidential campaign, Fox News is back with a vengeance. Not only have Maine and Alaska gone from entirely blue to entirely red, so has most of the rest of the U.S. Fox News has plugged the Nebraska Gap: it's no longer possible to walk from coast to coast across CNN territory.
By 2018, the fortunes from a decade earlier have almost reversed. Fox News rules the roost. CNN clings on to the Pacific Coast, New Mexico, Minnesota and parts of the Northeast — plus a smattering of metropolitan areas in the South and Midwest. bigthink
MSNBC & CNN Ratings Declining In Tandem
Maddow's audience has dipped on her two days back on the air since Attorney General William Barr reported that special counsel Robert Mueller had found no collusion between Trump and Russia's efforts. Her audience of 2.5 million on Monday was 19 per cent below her average this year, and it went down further to 2.3 million on Tuesday, the Nielsen company said.
Meanwhile, her head-to-head competitor on Fox News Channel, Sean Hannity, saw his audience soar on Monday to 4 million viewers, a 32 per cent increase from his average. It slipped to 3.57 million on Tuesday. One of Trump's most prominent media fans, Hannity was to interview the president on Wednesday's show.
Hannity and Maddow have run neck-and-neck atop the cable news ratings this year, with Maddow having the slight edge. AP News
Other Stories Of Interest
Nickel Has Put In A long Term Bottom; What's Next?  (July 31)
AMD vs Intel: Who Will Dominate the Landscape going forward (June 28)
Fiat Currency: Instruments of Mass Destruction     (June 18)
The Retirement Lie The Masses Have Been Conned Into Accepting (June 15)
Stock Market Bull 2019 & Forever QE  (June 13)
Forever QE; the Program that never stops giving    (May 31)
Trending Now News Equates To Garbage; It's All Talk & No Action  (April 24)
Americans Are Scared Of Investing And The Answer Might Surprise You  (March 9)
Experts Finance Predictions for 2019
Stock Market Crash Stories Experts Push Equate to Nonsense  (March 4)
Popular Media Lies To You: Don't Listen To Experts As They Know Nothing  (March 3)
Fiat Money; The main driver behind boom & Bust Cycles  (March 1)
Permabear; It Takes A Special Kind Of Stupid To Be One  (Feb 21