Bitcoin's Bottom: Unraveling the Latest Price Update
Updated Nov9, 2023
We will begin by exploring this topic in a historical context, culminating with the latest ideas as of November 5, 2023.
Bitcoin (BTC) is a highly popular market that attracts a lot of people with the hope of making a fortune. It's not hard to see why, as it has been the most profitable investment in history. Despite a significant decline that lasted until December 2022, BTC still outperforms all other investments. However, it's crucial to follow some simple rules when investing. Avoid chasing the investment and buying when everyone else is, as this can lead to the "fear of missing out" (FOMO) syndrome. Instead, invest when there's a lot of uncertainty and panic in the market, and prices are low. Remember to keep a level head, and don't let emotions cloud your judgment.
The weekly charts seem to confirm what the MACDs are saying, so from a risk-to-reward perspective; it's best to wait for Bitcoin to let out more steam and or for our indicators on the weekly charts to pull back to the oversold ranges. Sept 15, Market update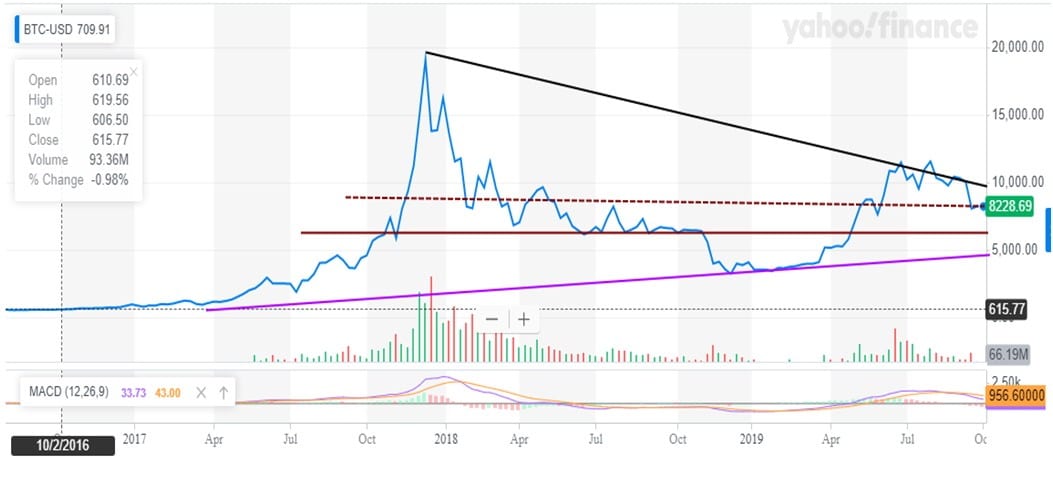 After trading above 10,000 briefly, Bitcoin has been pulling back, and it's now it is trading below the main downtrend line.  This suggests that there is more downside to this market. If it closes below 7800 for three days in a row, the odds are quite high that it could trade down to the 5700-6300 ranges with a possible overshoot of 5100 before a solid bottom is in place.  Currently, it is sitting in a zone of moderate support (8100-8300 ranges). If this zone fails to hold, then sitting on the sidelines would be the best bet; aggressive traders could consider shorting the market, but remember the risks with this highly volatile market.
A test of the 5100 to 5400 ranges would make for great entry points, plus or minus 300 points.
Bitcoin price: What's the Next Stop?

Bitcoin has traded below 7800, if it remains below this level for three days it is likely to drop to the 5700 to 6300 ranges. However, if it closes below 7500 on a monthly basis, it could drop all the way to 4500.  For now Gold and Silver make for better investment opportunities if one is looking for a currency play.
Bitcoin Price Update: Charting the Course for 2023 and Beyond
The world of Bitcoin
Shifting our focus to the world of Bitcoin, the pattern is showing signs of strengthening. As we closely monitor its performance throughout the week, it's worth noting that Bitcoin is currently trading in the highly overbought range on weekly charts. Despite this, we are considering deploying a quarter of our funds into it. The rationale behind this move is the strong long-term potential, with the possibility of it surging to 45,000 USD. However, the short-term pattern, until recently, suggested that it might be prudent to wait for a pullback before making any investment decisions. The interim update was posted in the Forum on October 26th.
There's not much to add here, but I want to indicate that the outlook still suggests that the SPX will trade lower before a bottom is in place. Until bearish sentiment surges close to 55 or bullish sentiment drops well below 18, any market attempt to put in a bottom will likely fail. Market Update Oct 12, 2023
The above outlook has materialized. When it comes to the markets, there's little new to add, except that as long as bearish sentiment remains below 50, the path of least resistance is downward. The markets witnessed a significant sell-off last week, suggesting that sentiment may have shifted. We'll have all the data in a few days and must analyze it thoroughly. If, however, bearish sentiment doesn't show a significant increase, we could see another wave of selling wave shortly.  
Good deals emerge when the market experiences a downturn. Have you ever purchased quality stocks at attractive prices when everything appears to be going well? Typically, it's when things seem rosy that it's time to consider selling. So, don't let panic drive your decisions.
Another alternative to bearish sentiment surging is neutral sentiment. A reading of 50 or higher from the neutral camp would be an even more bullish signal, as it would indicate significant levels of uncertainty.
Regarding Bitcoin, it appears promising on the monthly long-term charts. However, on the weekly charts, it's trading in highly overbought territory, to the extreme. At the very least, our indicators should experience a pullback into the oversold zone. Ideally, this pullback would allow Bitcoin to release some pressure.  From Market Update Oct 29, 2023
The weekly chart of Bitcoin via GBTC
 While Bitcoin (BTC) holds the potential to surge to 45K and beyond, it's currently trading in a highly overbought range on the weekly charts. We believe it could benefit from a cooling-off period, particularly GBTC, which has advanced too rapidly.

There are two possible scenarios at this point. In the first scenario, GBTC could surge beyond the 29 to 30 range, turning the former resistance zone into support. If this pattern plays out, then GBTC is unlikely to drop below 24; even if it does, it may only be intra-day.
The second scenario involves Bitcoin and GBTC experiencing a strong pullback while our indicators also pull back. However, we are primarily looking for one key development: our indicators returning to the oversold range on the weekly charts. Whether BTC experiences a strong pullback or not, we focus on this indicator-driven approach.
If the first scenario unfolds, the odds of Bitcoin surging as high as 51K would increase to 65%.  From Market Update Nov 5, 2023
Lost in Reflection: Stimulating Perspectives
Negative Thinking: How It Influences The Masses
Stock Market Forecast For Next 3 months: Up Or Down?
Stock Market Crash Date: If Only The Experts Knew When