Bitcoin Price
The weekly charts seem to confirm what the MACD's are saying, so from a risk to reward perspective; it's best to wait for bitcoin to let out more steam and or for our indicators on the weekly charts to pull back to the oversold ranges. Sept 15, Market update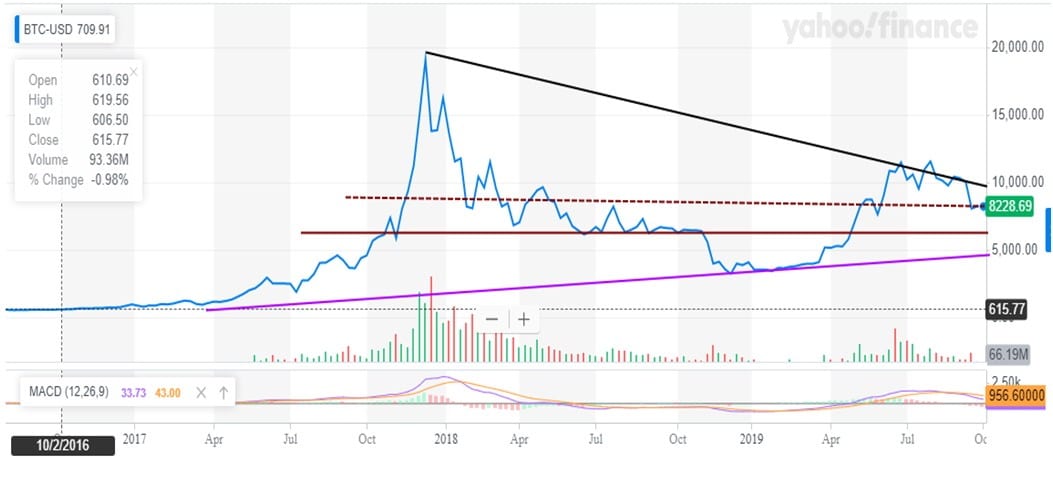 After trading above 10,000 briefly Bitcoin has been pulling back and it's now it is trading below the main downtrend line.  This suggests that there is more downside to this market. If it closes below 7800 for three days in a row, the odds are quite high that it could trade down to the 5700-6300 ranges with a possible overshoot 5100 before a solid bottom is in place.  Currently, it is sitting in a zone of moderate support (8100-8300 ranges). If this zone fails to hold then sitting on the sidelines would be the best bet; aggressive traders could consider shorting the market but remember the risks with this highly volatile market.
A test of the 5100 to 5400 ranges would make for great entry points; plus or minus 300 points.
Bitcoin price: What's the Next Stop?
Bitcoin has traded below 7800, if it remains below this level for three days it is likely to drop to the 5700 to 6300 ranges. However, if it closes below 7500 on a monthly basis, it could drop all the way to 4500.  For now Gold and Silver make for better investment opportunities if one is looking for a currency play.
Bitcoin Price update; view from some experts
Binance has no fixed offices in Shanghai or China, so it makes no sense that police raided on any offices and shut them down. […] There has been a recent spike in the number of negative articles and activities against Binance in China. We wouldn't delve too much into what causes this, because we prefer to continue BUIDLing our solutions."
Market analyst Keith Wareing meanwhile anticipated the drop, shorting BTC to the $7.4K level, and then immediately taking a long position.
"Decided that shorting to $7,350 was the logical move after the support on the Bollinger Bands was broken on all major time frames," said Wareing. "If $7350 wasn't to hold, Willy Woo and Tone Vays would be right, and as there are no pigs in the sky or ice in hell, I knew it was the bottom."
If Bitcoin continues to tumble, however, $7,230 may provide a bit of support. Although beyond that, not much buying strength exists before the $6K range.
If $6,000 breaks as easily as it did to the upside in May, however, significant support exists between $5,800 and $5,000 as the market spent considerable time in this region earlier in 2019.  Full Story
Other stories of interest
Negative Thinking: How It Influences The Masses  (Oct 29)
Leading Economic Indicators: Finally in Syn With The Stock Market?   (Oct 28)
Dow Stock Market Outlook: Time To Dance or Collapse (Oct 25)
What Is Fiat Money: USD Is Prime Example Of Fiat (Oct 13)
Yield Curve Fears As Treasury Yield Curve Inverts (Oct 12)
Current Stock Market Trends: Embrace Strong Deviations  (Oct 2)
Market Insights: October Stock Market Crash Update  (Oct 1)
BTC Update: Will Bitcoin Continue Trending Higher  (Sept 17)
Stock Market Forecast For Next 3 months: Up Or Down? (Sept 16)
Stock Market Crash Date: If Only The Experts Knew When (Aug 26)
Nickel Has Put In A long Term Bottom; What's Next?  (July 31)
AMD vs Intel: Who Will Dominate the Landscape going forward (June 28)