HIMX Stock Price Trends For 2020
Himax Technologies, Inc. is a fabless semiconductor solution provider. The Company is engaged in display driver integrated circuits (IC) and timing controllers used in televisions, laptops, monitors, mobile phones, tablets, digital cameras, car navigation and other consumer electronics devices.
The Company operates through two segments: Driver IC and Non-driver products. In addition, the Company designs and provides controllers for touch sensor displays, liquid crystal on silicon micro-displays used in palm-size projectors and head-mounted displays, light-emitting diode driver ICs, power management ICs, scaler products for monitors and projectors, video processing IC solutions and silicon IPs.
It also offers digital camera solutions, including complementary metal-oxide-semiconductor image sensors and wafer level optics, which are used in a range of applications, such as mobile phone, tablet, laptop, televisions, personal computer camera, automobile, security and medical devices. Reuters
HIMX Stock Price Trend Based on Insider Action

No net insider buys or sells, hence no clues from this area. Let's look at what future EPS trends might yield.  Overall from a contrarian point of view, the stock makes for a good opportunity as it's taken a massive beating.
HIMX Stock EPS Trend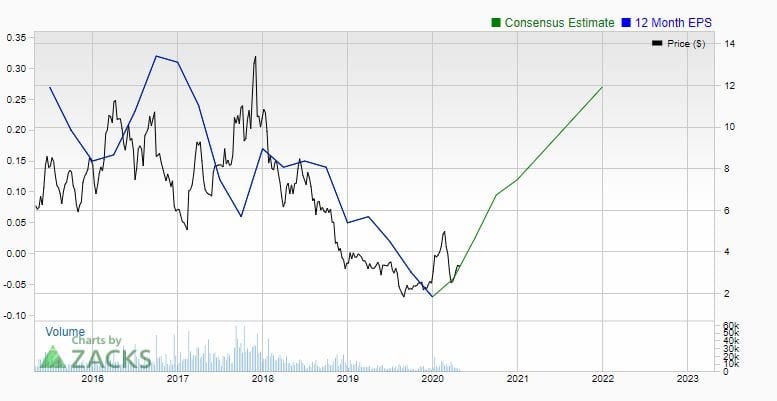 It appears that HIMX is ready to turnaround as Zachs is projecting the EPS will continue to trend upwards for the next few years. This trend supports the contrarian angle, which states that one should get into a stock when the masses are not paying attention to it. From a mass psychology perspective, this stock also makes for a good play as the stock is hated as it disappointed a lot of investors that deployed a huge amount of money at the wrong time.
HIMX Stock Price Trends For 2020
There is a strong level of resistance in the 3.60 to 3.70 ranges and if it can close above this level for 3 days in a row it will have a real shot of testing the 4.50 ranges. However, the real action will start if HIMX can close above 4.50 on a monthly basis.  If it can achieve this milestone it will be in a position to test the 6.50 ranges with a possible overshoot to 7.20.  After that, it is expected to pull back to the 5.40 ranges and then reverses course and begin its journey to the 9.00 to 9.30 ranges. 16 to 24 months from today, we expect HIMX to be trading north of 9.00 and as high as 15.00
Other Stories of Interest
BIIB stock Price: Is it time to buy
Stock market crashes timelines
Dow theory no longer relevant-Better Alternative exists
Apple Stock Predictions For 2020 and Beyond 
In 1929 the stock market crashed because of
Apple Stock Price Target: Is It Time To Buy AAPL
Anti Gmo: The Anti Gmo Trend Is In Full Swing?
From GMO Foods To GMO Humans: What's Next