Opportunity often comes in disguised in the form of misfortune, or temporary defeat
Napoleon Hill 1883-1970, American Speaker, Motivational Writer, "Think and Grow Rich"
Uranium Price Chart: Is Uranium A Buy
A very interesting anomaly is that while uranium stocks have corrected quite severely the same cannot be said for bullion. Let's take a look at two different charts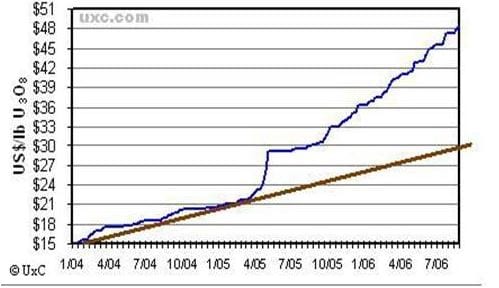 The first chart is roughly a 20-year chart of Uranium and we can clearly see that this market is in a super bullish phase. The current prices are setting new records almost on a daily basis; the second chart quite clearly illustrates this. As we speak more and more nations are embracing nuclear energy and current demand for uranium is 50% higher than the current supply; imagine what could happen in the years to come when all those new nuclear power plants come online.
The table below clearly illustrates the incredible run in prices and it appears that there is no sign that prices are going and traded as high as 54 in the month of September.
2002
2003
2004
2005
2006
Jan
$9.70
$10.15
$15.55
$21.10
$37.50
Feb
$9.93
$10.15
$16.63
$21.75
$38.63
Mar
$9.83
$10.10
$17.63
$22.55
$40.75
Apr
$9.90
$10.88
$17.68
$25.00
$41.50
May
$9.90
$10.95
$17.80
$29.00
$43.00
Jun
$9.90
$10.90
$18.50
$29.00
$45.75
Jul
$9.85
$11.05
$18.50
$29.50
$47.38
Aug
$9.85
$11.30
$19.63
$30.10
$50.25
Sep
$9.75
$12.23
$20.00
$31.63
Oct
$9.90
$12.73
$20.23
$33.25
Nov
$9.88
$13.75
$20.50
$34.75
Dec
$10.20
$14.45
$20.60
$36.38
http://www.cameco.com/investor_relations/ux_history/historical_ux.php
At the Tactical Investor,
we refer to such anomalies (the price of bullion keeps rising but stocks in the sector are correcting) as Intra market positive divergences; such developments are usually a very bullish long-term signal.   This suggests that the reason for the correction in Uranium stocks is just normal profit-taking. The masses are being led astray as usual and will most likely sell exactly when they should be buying. We view Uranium as must long-term buy and everyone should have some exposure to this sector.  However, remember as, with any other sector, not all stocks are good to buy at the same time. Some have already experienced huge run-ups and are ripe for even further consolidation. One must tread carefully and remember the saying "the road to hell is paved with good intentions".
Tactical Investor Uranium Aug 2018 Update
By any estimate, the uranium market is trading in the extremely oversold ranges, but when the trend is down, a market can trend into the extreme of extremely oversold ranges, and we have seen this occur many times in the past.  The 15-year chart illustrates that the next layer of support comes into play in the $21.50-$22.00 ranges, so despite being extremely oversold the market still has room to trend lower. One positive is that the trend is about to turn neutral and if it does it would be the first move into the neutral zone in a very long time.
Source:www.indexmundi.com/
Taking a long-term view; a monthly close above $35 would be needed to indicate that a multi-month bottom is in place.  From a contrarian perspective, uranium would start to look quite tempting at any level below $23.00. Uranium Bull Market 2018; The Crowd psychology Outlook
Don't focus on the uranium Price Chart but on what the masses are doing. Yes prices matter but if the masses are euphoric then it's the wrong time to buy and vice versa
Four things come not back. The spoken word, the sped arrow, the past life, ad the neglected opportunity.
Arabian Proverb Sayings of Arabian Origin
 Articles of interest:
Why Mechanical and Technical Analysis Systems Fail
The Limitations of Trend Lines
Contrarian Investment Guidelines
Inductive Versus Deductive reasoning
Portfolio Management Suggestions
The Good And the Ugly On Trading Futures