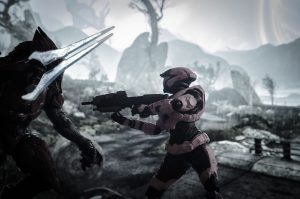 Anti-Muslim Europe: Finns Would Rather Live Next To Alcoholic Rehab Center Than A Mosque, Poll Shows
Muslims in a European mosque are pictured, praying after the end of Ramadan. Finnish people would rather see an alcoholic rehab center built in their neighborhoods than a mosque, a recent poll showed. AFP/Getty Images
People from Finland would prefer to live next to a rehabilitation center for alcoholics than a mosque, a poll reported Tuesday. The poll, conducted by the Finnish policy research center Taloustutkimus and commissioned by the Finnish news service Yle, reported that only 37 percent of respondents would be willing to live near a mosque. The survey was commissioned to probe "Nimbyism," which stands for "Not In My Back Yard," according to Yle, and all of the questions were related to neighborhood changes in service or community centers of some kind. Of the types of changes proposed — a mosque, an alcoholic rehabilitation center, a mental hospital — the only one that was less popular than a mosque was a needle exchange center for drug addicts, with only 27 percent of Finns polled being amenable to such a change.
Anti-Muslim sentiment has been on the rise across Europe for several years. Due to mounting violence in the Middle East by the Islamic State group, as well as certain Islamist-motivated attacks in Europe, including the massacre in Paris in January that claimed the lives of 12 cartoonists at the satirical weekly Charlie Hebdo, many European residents have begun supporting anti-Muslim viewpoints. Full Story
We warned time after time that religious and cultural wars would escalate worldwide with Europe leading the way. The clash of civilizations is about to take a turn for the worse.  A new and more violent movement will gather traction in Europe. There will be almost no tolerance for religions and cultures that are completely alien to the native culture.
US warning to Syria army met with scepticism in Damascus
Damascus (AFP) – A US warning that it would use its air power to defend Pentagon-trained rebels against Syrian troops was met with scepticism by officials in Damascus on Tuesday. The US-backed Division 30 was also left reeling when the Al-Qaeda affiliated Al-Nusra front captured at least five of its members in overnight raids, said the Syrian Observatory for Human Rights. On Monday, the US administration said it was prepared to take "additional steps" to defend the US-trained forces, warning Bashar al-Assad's regime "not to interfere".
A US-led coalition has provided air support for Kurdish and rebel militia fighting IS since September 2014, but has not struck regime positions. White House spokesman Josh Earnest said Assad's regime could be targeted if it attacked the new US-backed forces. The United States, Earnest said, was "committed to using military force where necessary to protect the coalition-trained and equipped Syrian opposition fighters."
There was no official reaction from the Syrian government on Tuesday, but a political figure close to the regime told AFP that the US had "relayed a message to Damascus not to worry about these statements". "It's about hitting Al-Nusra hard, not the Syrian army," he said.
Dubbed the "New Syrian Force" by Washington, the 54-strong rebel unit entered northern Syria in mid-July as part of US efforts to counter the powerful Islamic State jihadist group. Full story
Tell us another Joke; 54 men are supposed to affect change in this zone of terror and violence.  When you have pictures of Insane McCain poising with the enemy (ISIS or ISIL), it makes you wonder what is really going on.  The current actions indicate that the US is not serious about doing anything but causing further trouble.  If Afghanistan, Iraq, Libya, Egypt, Syria, etc. are anything to go by, then our policy and strategy have been a total failure. The United States government has helped turn zones that were stable to some degree to areas of chaos, corruption and terror.
Azerbaijan Says It's Prepared to Take Back Karabakh by Force
Azerbaijan is preparing to use force to regain control of territory it lost to Armenians more than two decades ago after international efforts to find a peaceful solution failed to bring results, its defense minister said.
"The time has come," Azeri Defense Minister Zakir Hasanov said while visiting troops near the Nagorno-Karabakh conflict zone, according to a statement on the ministry website on Thursday. "Our people have run out of patience and demand that we take action to drive the enemy out of our lands." Fighting would threaten the energy industry of the ex-Soviet Union's third-biggest oil producer, where BP Plc and its partners have invested more than $50 billion since 1994. While Nagorno-Karabakh is more than 350 kilometers (220 miles) from Baku — and even further from projects such as Shah Deniz that dot the Caspian Sea — military activity may harm infrastructure. The BP-led Baku-Tbilisi-Ceyhan oil pipeline runs through land less than 50 kilometers from the cease-fire line.
Azeri President Ilham Aliyev accused Armenia last month of boycotting talks to prolong the Nagorno-Karabakh conflict, frozen since Armenians took over the region during a war in 1994. He said the negotiations mediated by Russia, the U.S. and France hadn't brought results. Armenia's government has also accused Azerbaijan of a destructive approach in talks. Two Armenian drones were shot down near Nagorno-Karabakh when they were flying over Azeri positions in the Agdam district east of the disputed region, according to a statement from the Defense Ministry in Baku on Thursday.
Deadly Clashes
Azerbaijan has repeatedly warned it will use force to regain control if peace talks fail. Armenians took over the predominantly ethnic-Armenian region and seven adjacent districts from Azerbaijan after the Soviet breakup in 1991. More than 30,000 people died in the war and 1.2 million fled their homes before Russia brokered a cease-fire in 1994. Full Story
Our religious provocation index is dead on again. It predicted that the outlook would worsen. Violence would take a turn for the worse and that another war could break out.  If these guys start this war, it will be another war that will put the West at odds with Russia. Russia fully backs and supports Armenia.  
Far-right group's poster campaign in Stockholm stirs outrage
Banners reading " Sorry about the mess here in Sweden", are seen at the subway station Ostermalmstorg in Stockholm, Sweden, on Monday, Aug. 3, 2015. A poster campaign by the anti-immigrant Sweden Democrats at a subway station in central Stockholm hastirred outrage in the Nordic country. The posters are directed to tourists visiting the Swedish capital and apologize for "the mess" in Sweden, saying the country has a problem with "forced begging" organized by "international gangs." (Bertil Ericson/TT Newsagency via AP) **SWEDEN OUT **
LONDON (AP) — A poster campaign by the anti-immigrant Sweden Democrats at a subway station in central Stockholm has stirred outrage in the Nordic country. The posters plastered above the escalators at Ostermalmstorg subway station are directed to tourists visiting the Swedish capital and apologize for "the mess" in Sweden, saying the country has a problem with "forced begging" organized by "international gangs."
Critics say the message spreads racist misconceptions about eastern European Roma, also known as Gypsies, who are begging in Sweden. Anger has also been directed at Stockholm's public transport provider SL, which is owned by the city council and is profiting from the ads. Around 1,000 people gathered in downtown Stockholm on Tuesday to demonstrate against "SL's spread of racism and the normalization of racism in Sweden." After the demonstration, some of the protesters stormed the subway station and tore down the posters, according to local daily Aftonbladet.
"It is measly and cowardly" by the Sweden Democrats to target the Roma, which is the poorest and most discriminated group in Europe, said Sven Hovmoller, from the organization HEM which helps homeless European Union migrants in Sweden. Protesters also used social media to express their dismay at the ad campaign, posting counter messages like: "Sorry about the mess here in Sweden. We have neo-fascists in the parliament."
The advertising campaign comes amid a surge in immigration to Europe from war-torn countries in Africa and the Middle East, as well as increased support for far-right groups in many European countries. A recent anti-immigrant billboard campaign by Hungarian Prime Minister Viktor Orban's government has also been met with protests and counter messages. Full Story
Again, our prediction that Europe would change is unfolding right in front of our eyes. Europeans are closing their open hands and instead clenching their fists.  Soon such views will become the norm. We do not favor these developments or the aggression that is being directed towards other religious groups and cultures because a lot of innocent people will be caught in the crossfire. However, we cannot fight the trend, and we do not allow personal opinions to influence us or overrule what the trend is dictating.  Change is in the air, and this change is violent in nature. Soon it won't be just the far right, but all parties will start gravitating towards this direction..
Other related Stories: