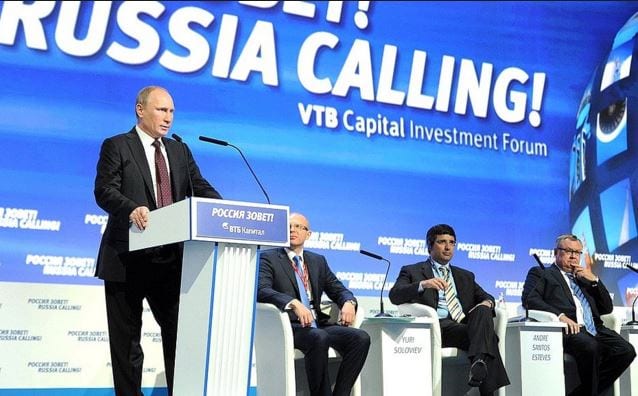 For a long time, we have been stating that the Sell-off in both the Ruble and the Russian stock market provided the astute investors with a great long-term buying opportunity.  Well, This chart proves that things are getting better and that the Sanctions that the West imposed on Russia at the behest of the America was a stupid idea, but more importantly it has made Russia even stronger. The chart below is proof of this; inflation is down over 50% year over year. Translation things must be getting better.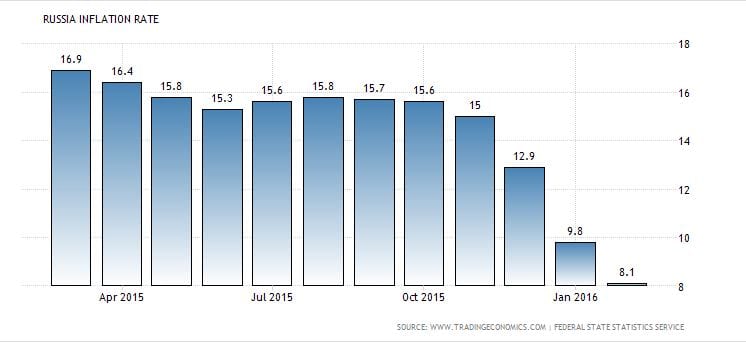 Game Plan
Prudent investors should start looking for gems in the Russian market and deploying some of their capital into these stocks. One good way to play the Russian bounce would be to open positions in the ETF RSX.
Background information on RSX
The investment seeks to replicate as closely as possible, before fees and expenses, the price and yield performance of the Market Vectors® Russia Index. The fund normally invests at least 80% of its total assets in securities that comprise the fund's benchmark index. The Russia Index is comprised of securities of Russian companies. A company is considered to be a Russian company if it is incorporated in Russia or is incorporated outside of Russia but generates at least 50% of its revenues (or, in certain circumstances, has at least 50% of its assets) in Russia. It is non-diversified
Top 10 Holdings of RSX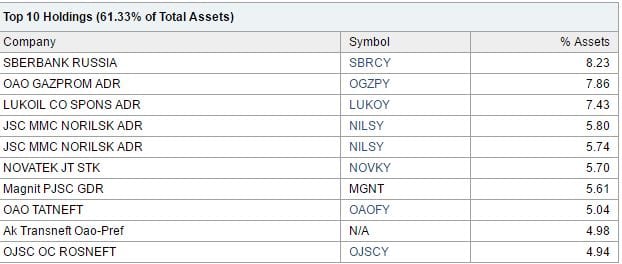 Technical outlook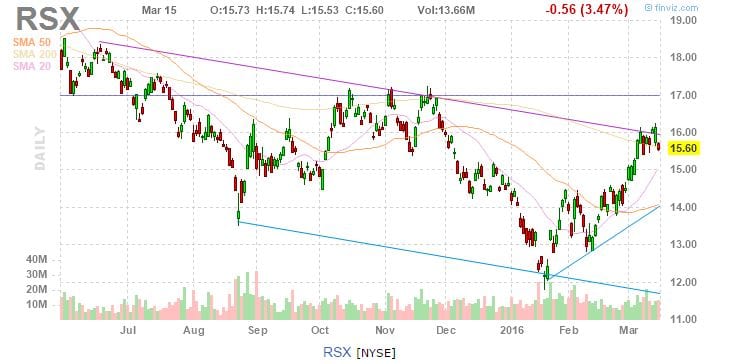 Game plan
It will face resistance in the 16.00-16.50 ranges, so it would make sense to wait for a pullback to the 13.50-14.00 ranges before committing new funds. Alternatively, you can look to sell puts at particular target price; if the stock trades below the strike price, the shares will be set to your account. Selling puts allows you to place a limit order and get filled at a better price than the limit set because your premium further reduces the cost of opening a position.  Another stock you can look at is MBT.
 Other Related Stories
Perfect Scam; Central Banks Print Money & buy bullion with it  (March 10)
Achieve Financial Independence & retire Young by not being a Lemming  (March 9)
Fed Will Shock Markets; Expect Monstrous rally in 2016 (March 6)
How to Profit from Misery & Stupidity (March 4)
Religious wars set to Rip Europe Apart  (March 4)
Oil prices: bottomed out or oil prices heading lower (Feb 28)
China targets corruption: strikes zombie companies hard (Feb 27)