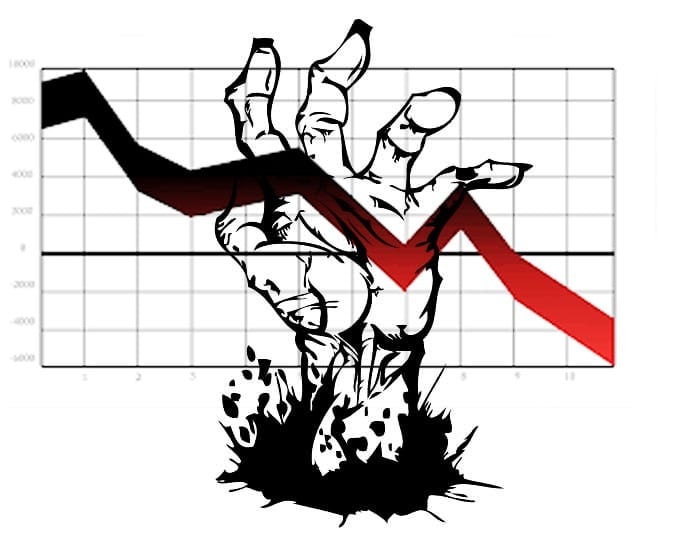 Zhang Yi, Chairman of the State-owned Assets Supervision (SASAC), has vowed to go after zombie industrial companies and virtually eliminate them by 2020.
He went to on to say that targeting these  "zombie companies" is tough, but "officials need to use today's 'small tremors' to prevent a future earthquake.
The central government last September rolled out the most ambitious reform program in two decades to resolve the problems at its hugely inefficient public sector companies, encouraging the greater use of "mixed ownership" while promoting more mergers to create globally competitive conglomerates.
Zhang went on to state China would use all means possible such stock exchanges, property exchanges, and other capital markets to get rid of low-performing state-owned assets.
At least, China is doing the right thing and putting in policies to eliminate waste in the corporate world. In the U.S, our government seems to favour corporate theft and waste. One of the biggest of these scams is the share buyback program almost every company is using to boost EPS artificially and in doing so indirectly increase bonuses to corporate officers. There is no longer an incentive in place to produce real growth. Why would any executive waste time with trying to work hard and take on extra risk, when they can only borrow money for next to nothing and then use these funds to back their company's stock and in the process artificially inflate earnings per share (EPS)? In turn, they can claim a higher bonus because it appears that they improved the bottom line when in fact all they did was commit legalised fraud that is sanctimoniously sanctioned both by Congress and the SEC.
Other related Articles
Lemmings: Herd Mentality & Stock Market losses (Feb 27)
Currency wars & Negative rates will destroy fixed income individuals (Feb 25)
Financial Markets Gripped by Panic & masses stampeding  (Feb 23)
Interest rate wars-Fed stuck between a hard place and a grenade  (Feb 23)
Mob Psychology: Market Crash of 2016 buying opportunity (Feb 21)