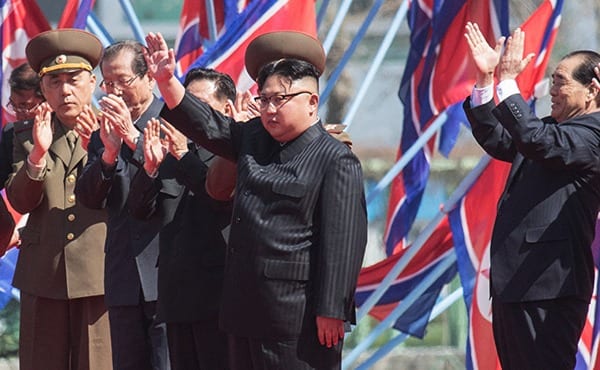 By Tom McGregor, CNTV Panview Commentator
US North Korea tensions; is the situation being blown out of proportion 
Earlier in May, Yonhap, a South Korean news agency, published a report citing high-level diplomatic sources claiming North Korean officials had returned to informal negotiations with a United States-led delegation in Oslo, Norway, known as Track II talks.
The news sounded amazing since North Korean leader Kim Jong Un had ignored sharp criticisms from the international community after launching a series of failed long-range ballistics missiles tests in April.
In response, US President Donald Trump vowed to take a tougher stand against Pyongyang. US Secretary of State Rex Tillerson hinted there could be a military response, such as the possibility of a pre-emptive strike against the North Korean regime.
Trump Indicates Willingness to Meet North Korean leader 
The tough talk sounded ominous, but in a sudden reversal just weeks ago, Trump spoke to Bloomberg and was asked if he would meet Kim face-to-face.
If it would be appropriate for me to meet with him (Kim Jong Un), I would absolutely," Trump said. "I would be honoured to do it."
Shortly afterwards, Yonhap disclosed details of US-NK talks in Oslo.
The Pyongyang delegation was led by Choe Son-hui, director general and North America bureau chief of North Korea's Foreign Ministry, while Suzanne DiMaggio is a director and a senior fellow at New America, a think tank in Washington, DC.
But why is Pyongyang reaching out to New America think tank?
North Korean diplomats hope to improve bilateral relations with the US and Kim Jong Un might support a summit with President Trump that could usher in a new era of peace and stability for the Asia-Pacific region.
Nevertheless, the North Korean delegation made a mistake by approaching senior officials at New America, since the think tank holds a strongly pessimistic viewpoint of the Trump administration.
The current President and CEO of New America — Anne-Marie Slaughter — published commentaries that insist it's "not normal" for people to support Trump. She labelled him as a racist, religious bigot, sexist and showing "flippancy" in regards to world affairs.
"Yet how can Americans who were and continue to be outraged at Trump's mockery of handicapped individuals, his dismissal and disparagement of racial and religious groups, his degradation of women, the vulgarity and flippancy with which he treats vitally important issues of national and international politics continue to make themselves heard?"," she wrote on January 19, 2017, in an op-ed for New America digital.
"They can march as millions of women and men will on Saturday. They can continue to speak out about these issues to Trump supporters, even as many of us urge Republican friends whom we respect to take jobs with the administration, to assure that talented, competent, and principled people fill vitally important jobs. And they can organize groups across party lines to speak out against hate, reaching out to those Trump voters who say they reject Trump's tactics and rhetoric."
Slaughter has every right to criticize President Trump, but her political views become problematic when North Korean officials approach senior officials at her think tank under the assumption they have close ties to the White House.
Yonhap is quoted as saying: "It's their first Track II meeting in half a year. The previous session was given in Geneva, Switzerland," which gives the impression an all-important US-NK Summit may soon occur.
But there's no reason to believe that's true. The US State Department refused to issue a public statement on the Oslo Talks, while South Korean officials had dubbed it as fake news.
"Since the launch of the Trump administration, the allies are maintaining watertight coordination on the North Korea issue through an unprecedented level of bilateral communications in frequency and intensity, indicating that Washington would not have made such an important offer without consultation with Seoul," a South Korean Foreign Ministry official told Yonhap on May 9.
To promote peace in Asia, President Trump made a smart move to say he would meet Kim Jong Un, "under the right conditions," but senior officials at New America should not have agreed to talks with North Korean officials, considering their Never-Trump backgrounds.
New America, according to news reports, appears to have misled Pyongyang to believe the US-based think tank was serving on behalf of the US State Department to ease diplomatic tensions between the two nations.
That's not only unfair to President Trump but for all those who hope they will witness a more peaceful Korean Peninsula in the future.
Other articles of interest:
Rate of Inflation, not an issue according to Bond Market (Sept 2)
Worst Stock Market Crash of our lifetime; is this a possibility? (Aug 23)
Did the Fed Screw up in raising rates; is inflation even an issue  (Aug 10)
Electric Car Threat To Big Oil Wildly Overstated? (July 28)
1987 stock market crash: could it happen again? (July 13)
Dow Could Trade to 30K But not before This Happens  (July 11)
Fake news & Weak Economy Can't Stop Stock Market Bull  (July 6)