Editor: Vladimir Bajic | Tactical Investor
CVX Stock Price & Current Outlook
Let's get the ball rolling by looking at what this company does.
Chevron Corporation, through its subsidiaries, engages in integrated energy, chemicals, and petroleum operations worldwide. The company operates in two segments, Upstream and Downstream. The company was formerly known as ChevronTexaco Corporation and changed its name to Chevron Corporation in 2005. Chevron Corporation was founded in 1879 and is headquartered in San Ramon, California. Yahoo Finance
The Upstream segment consists of exploration, development, and production of crude oil and natural gas. The Downstream segment comprises refining of crude oil into petroleum products; marketing of crude oil and refined products; transporting of crude oil and refined products by pipeline, marine vessel, motor equipment, and rail car; and manufacturing and marketing of commodity petrochemicals, plastics for industrial uses, and fuel and lubricant additives.  WSJ.com
CVX Stock Price EPS Trends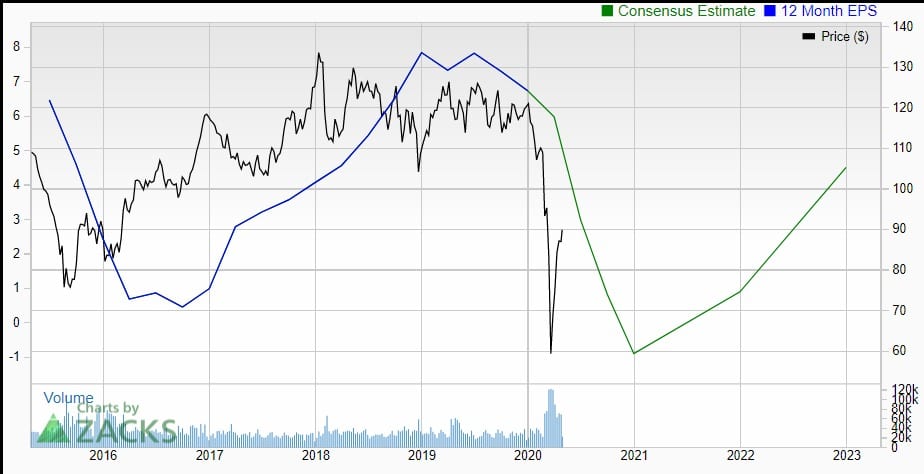 CVX is in the oil sector and there is a war going on here, and the war between Russia, Saudi and America became worse after the coronavirus pandemic. Until the oil market stabilizes only risk-takers should consider deploying capital into this company. There better plays out there such as CAT, MMM, MSFT, GOOGL, APPL, VZ, JNJ, etc
CVS earnings per share are going to take a beating and we think the projections on this chart might be a tad bit optimistic.
Analysts Price Projections For CVX

If the stock closes below 69 on a monthly basis, it could go to put in a series of new all-time lows. Hence in that scenario, the lowest price targets here might be too optimistic. However, if the oil markets stabilise then the stock is likely to perform better, but we think the markets, in general, will  outperform CVX for the next 6 to 9 months
CVX Stock Price Today & Future Trend Projections
Like all the companies in the oil sector, CVX's earnings are set to nose dive due to uncontrolled maniac-based selling from both the masses and managed funds.  The crowd and the leaders of the world have overreacted. This crisis could have been handled in a much better manner but it was not.  The masses gave in to panic and the oil sector which was already under pressure before the coronavirus pandemic hit imploded. At one point crude oil was trading at negative 34 dollars. In other words, sellers were paying buyers to take delivery.
Every disaster does indeed lead to the discovery of new opportunities and this massive sell-off has created a once in a lifetime opportunity to buy top-notch companies at huge discounts. However, we think there are companies that are better positioned than CVX at least for the next 6-9 months. For those willing to take a risk, CVX needs to close above 114 on a monthly basis, until it overcomes this obstacle, all rallies are expected to fail. A monthly close above 114 and preferably, could push the stock to the 129 to 132 ranges. The risk to reward ratio is not on the investor's side and we would rather deploy money into the companies we mentioned earlier.
Article of the Month
However, the biggest threat is going to be a system that directly stimulates the parts of the brain that control pleasure. It's going to be the most addictive drug on the planet, and it will be (totally)legal and the masters will control the masses like never before. The excerpts posted from an insightful article will save us time and give you a clue as to what lies in store for the masses in the future.
In the 1950s, the psychologists James Olds and Peter Milner modified the chamber so that a lever press would deliver direct brain stimulation through deeply implanted electrodes. What resulted was perhaps the most dramatic experiment in the history of behavioural neuroscience: Rats would press the lever as many as 7,000 times per hour to stimulate their brains. This was a pleasure centre, a reward circuit, the activation of which was much more powerful than any natural stimulus.
The new models will be run with AI programs monitoring to see which dosage is the most effective and what part of the brain can be stimulated the most and finally what stimulation makes you more susceptible to manipulation. People will willingly sign the contract without reading them.  The average person will be hooked on the spot and just to make things appear fair, almost everyone will be given a free 30-60 day money-back guarantee, but 90% will not need more than 1 hour to make up their minds. They will sign whatever disclaimer is needed to get the pleasure they seek.
Social media was the first step of this experiment, as it has been shown that social media leads to increase secretion of dopamine. It's a vicious cycle. More dopamine release creates the need for even more stimulation, and that is why so many people are addicted to their smartphones.  Nature seems to have hardwired our brains to react to a host of factors that have a direct effect on the pleasure centres of the brain, from crack to wine, from sex to meditation and the list goes on. Brain Control & The Pleasure Slaves
Other articles of interest:
Why everyone should own some Gold & Silver Bullion  (June 12)
1st World Corporate America & Third World Regular America (27 May)
Negative rates will fuel the biggest Bull Market rally in History (25 May)
Millennials being squeezed out of Housing Market (20 May)
Problem is Fractional Reserve Banking-we don't need Gold standard (15 May)
BBC Global 30 Index Signals Dow industrial Index will trend higher (11 May)
Stock Market Bull not ready to buckle (4 May)
Fear mongers are parasites that profit from your fear (2 May)
Gold Bugs think & stop listening to Fear mongers  (1 May)
Fear mongers are parasites that profit from your fear   (27 April)
Plain evidence that financial experts know even less than Jackasses (26 April)