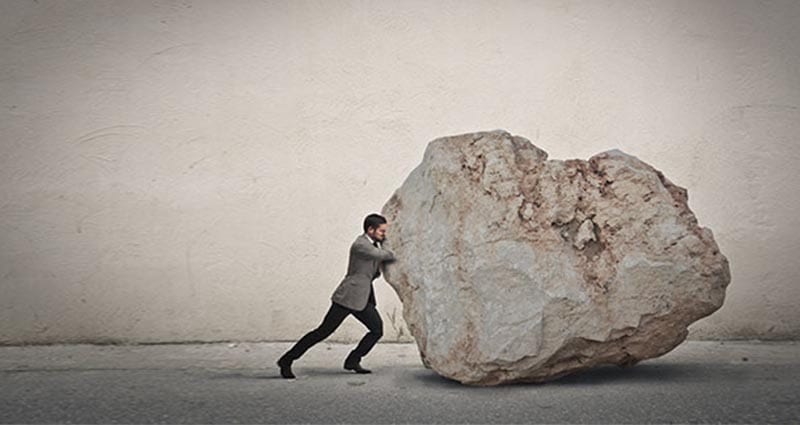 Bull And Bear Market Nonsense
This is a monthly chart of the Dow going back all the way to 1985. Each data point on this chart represents a month's worth of data; the worst one day crash (black Monday) is just an insignificant blip on this long-term chart, clearly proving that until Fiat money is eliminated that stock market crashes from a long-term perspective represent buying opportunities.

The yearly chart of the Dow from 1985
The same chart but now each point represents a year's worth of data; one could argue that depending on the time frame one chooses, a back-breaking correction on the daily and weekly charts might appear as a small event on the monthly charts and almost a non-event on the yearly charts.

The stronger the deviation, the better the opportunity; markets always revert to the mean.  No matter how much one might be tempted to disagree, the above charts state otherwise.
And now the Dow industrial chart going back all the way to 2003.
If you look at any long term chart, the pattern is obvious, all sharp corrections and or crashes represent opportunity
 Forget The Bull And Bear market Noise: Focus On The Trend
 There are two main underlying themes behind every single market crash; a euphoric crowd and an extremely overbought market. Both elements were missing this time around, clearly highlighting that something else is at play here, and it smells dangerously akin to market manipulation.  Market manipulation via weaponized news?
From a long-term perspective, this sharp pullback is creating another once in a lifetime buying opportunity event. The crash of 2008 was one of the most painful in recent history and yet despite this vicious pullback; the Dow is still trading well over 200% above its 2009 lows. From a long term perspective, the Bull And Bear market story is moot.  One's strategy should be to determine the trend and nothing else, for the trend, is your friend and everything else is your foe.
Another myth that is peddled over and over again is the issue of how long it takes a market to recoup it has lost gains. Our response is who cares? What matters is the stocks you are buying and not a particular market index. A vast number of stocks had already tacked on gains of several hundred percentage points before the Dow traded above its 2008 highs.  The same is going to happen this time around.  Strong companies will recoup their gains 2X to 3X faster than the broader markets, so when the Dow trades past 27K, some of these stocks will be showing gains in excess of 100%.
So what is going on now?
Why are the markets acting differently; one-word weaponized News.   The action has been downright brutal, but something was off, the crowd was never euphoric, and the markets were not trading in the extremely overbought ranges.
The markets had already priced in Tariffs and a rate hike, but then things changed. Suddenly Trump had to emphasise that he is "tariff man".  Then he starts taking potshots at the Fed.  The Fed, in turn, takes shots at him, albeit indirectly, and the media goes ballistic.   We are not taking sides here, what we are trying to portray is that old news was and is being turned into something sinister. Moreover, not a day goes by without some old nonsense being respun into a scarier version of the original story. When spin doctors are in charge of the media you need to take their sage advice with a shot of whiskey and a barrel of salt. In other words, when they scream you sing and vice versa. Mass psychology states that stock market crashes are buying opportunities; end of story
Stock market Update March 2020
When blood is flowing in the streets as is the case right now during this coronavirus pandemic, one should consider nibbling at stocks if one has a long term perspective. Do not deploy all your funds in one short but deploy them in lots this way if the stock dips lower your average entry price drops.
When we get into plays (at the Tactical investor) we, don't think in terms of days. Under normal market conditions, our minimum holding time is several months.  Under the current circumstances, our time frames lengthen as the potential for huge profits surges significantly. In the short term, it's a bloodbath out there but is in such an environment that one finds outstanding opportunities, and that also leads to the dawn of the next bull market.
It is easy to buy when the sun is shining, but the problem is that almost everything is being sold at a premium.  It's when things appear gloomy that the best bargains are found.
Other stories of Interest
Bull & Bear Market 2019: which one will prevail  (Jan 15)
Stock Market Crash-Media Lies And Ignorant Experts  (Jan 11)
Market Correction Vs A Back Breaking Market Correction (Jan 3)
Bitcoin Crash: Is Bitcoin Bull Dead Forever (Jan 1)
2018
The Boom And Bust Cycle Due To Fiat-Buy The Boom & Sell the Bust Phase (Dec 6)
Risk and Opportunity; When To Buy & When To Run (Nov 28)
Risk To Reward Ratio & Opportunity Vs Risk (Nov 27)
National Beverage Corp. (FIZZ) Is still a good investment (Nov 22)
Lost Money In The Stock Market? Here's the Solution  (Nov 19)