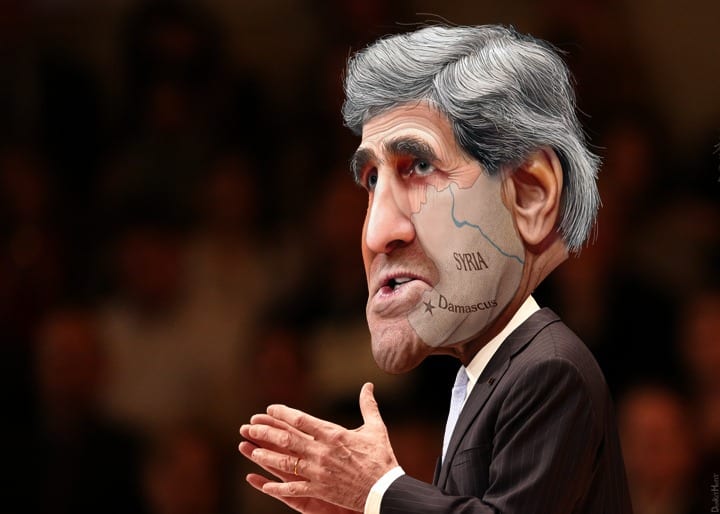 Russia Foreign Minister to John Kerry: Stop Being a Skirt-Wearing Woman, Accept Assad
Russian Foreign Affairs Minister Sergey Lavrov speaks at a press conference at the United Nations on October 1, 2015 in New York City. Russia started a bombing campaign in Syria yesterday, claiming to target ISIS locations, though western countries dispute this claim and say Russian bombs were aimed at locations held by Syrian rebels who oppose the government. (Photo by Andrew Burton/Getty Images)
Last week, in the aftermath of the terrorist attack in Paris, Russian Foreign Minister Sergei Lavrov gave an extensive interview with Radio Russia.With the voice of a chain smoker, Mr. Lavrov carefully curated his thoughts and limited his gestures, resorting to dry humor and sarcasm as he told the world where the Russian red-line-in-the-sand in Syria is—Russian ally Bashar al-Assad is to stay, no matter what they think in Washington or Brussels.
https://www.youtube.com/watch?v=PUwXyTTrS9s
Not mentioning by name his U.S. counterpart John Kerry—who, in January 2014 called Assad "the single greatest magnet for terrorism that there is in the region"—Mr. Lavrov, not without well hidden sarcasm, said that "if we are to follow this logic, it turns out that Assad is not the only magnet for ISIL. Lebanon, Turkey, France and Egypt became magnets for ISIL. And if we are to recall that both France and Turkey have always insisted on the immediate departure of Assad from power, then the 'Take Assad out and everything will calm down' logic disappears completely, because ISIL reaches its goals of creating the Caliphate with no regards to what is going on in Syria, with no regards to what and who and how feels about Assad."
'Assad represents the interests of a significant majority of Syrian society, and a peaceful solution without him is not going to take place.' Full Story
If you recall, last year we stated that the rhetoric would pick up in intensity and pick up it has. The next step will involve some sort of military response from Russia or China, and it will be directed at NATO.  Russia was very quiet for a long time and they have become more and more bellicose the more the U.S has tried to push them. So far this strategy is failing to produce any positive results. Instead it has pushed Russia and China into each other's arms creating a formidable enemy for the U.S.  The combo is impossible for the U.S to defeat or even taken on, so in that sense, the U.S has made a monumental blunder and has now ensured that it will lose the top dog status at even faster pace.
The Truth about what is going on In Syria; regular Syrians joined the Army to kill terrorists funded by US government
Other articles of interest: