Editor: Vladimir Bajic | Tactical Investor
BA Stock Today
Before we look at the stock, let's get a brief idea of what the company does.
Boeing is the world's largest aerospace and defence firm. With headquarters in Chicago, the firm operates in four segments, commercial aeroplanes, defence, space & security, global services, and Boeing capital. Boeing's commercial aeroplanes segment produces about 60% of sales and two-thirds of operating profit. Reuters
The Defense, Space and Security segment refers to the research, development, production and modification of manned and unmanned military aircraft and weapons systems for a global strike. The Global Services segment provides services to commercial and defence customers. The Boeing Capital segment seeks to ensure that Boeing customers have the financing they need to buy and take delivery of their Boeing product and manages overall financing exposure. The company was founded by William Edward Boeing on July 15, 1916, Money.cnn.com
BA EPS projections for 2020 and Beyond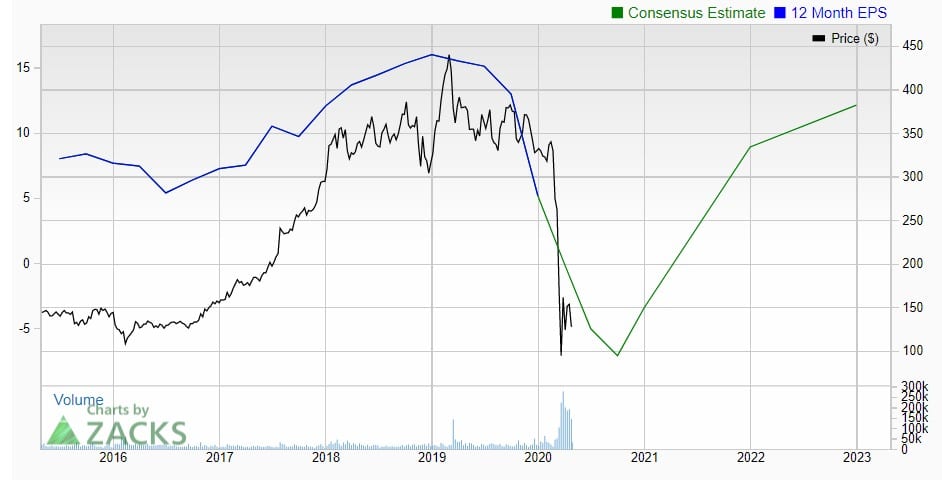 As expected Boeing's EPS is expected to take a massive beating due to its 737 woes which have only worsened as a result of the Covid19 pandemic. However, the chart indicates that EPS will start to trend upwards in 2021. Boeing has sold bonds to shore up its finances and now needs to come up with a solid plan to deal with the 737 problems. If it's successful, then investors that buy BA stock today could score large gains in the years to come
Analysts Stock Price Targets for Boeing

Analysts are issuing very low targets for BA, the funny part was that up the very last moment, these same analysts were stating it was a buy. Only when the 737-situation spiralled out of control, did they come out in mass and blackball the stock and by that time it was too late. The top players had already banked their profits and as usual, the small guy was left holding the can. From a contrarian perspective given all the negativity surrounding the stock, it could make for a great long term buy.
BA Stock Today And Future Price Trends
Given the massive problems Boeing is facing one would expect that the technical outlook to border on gloom and doom, surprisingly that's not the case. On the long term monthly charts Boeing Stock today is trading in the extremely to insanely oversold ranges. From a purely technical perspective Boeing's stock appears to be a screaming buy.  To indicate the worst is behind, the stock would need to close above 165 on a monthly basis. A monthly close above 165 would probably lead to a test of the 204 to 210 ranges with a possible overshoot to 222.
However, until it can close above 204 on a monthly basis, all future rallies are expected to fail. 9 out of 10 times when a stock is trading in the insanely oversold ranges on the monthly charts, the stock tends to trend higher for the next six to nine months. Hence, the outlook for Boeing is neutral with a bullish tilt. In other words the odds of the stock trading to the 204 to 210 ranges are quite good.
Important Stock Market Update
One should therefore not be surprised by 1000 point moves in the Dow, for it's going to occur regularly.  Roughly two weeks ago, the Dow tacked on over 3600 points in less than three days. There is a strong chance that the Dow could still experience a 3000-point move in one day.
The "mother of all buy signals" is dangerously close at hand, another small downward move and our indicators will be in place to trigger this signal.   We will cover insider buying activity shortly, needless to say, they are quite bullish on the long term prospects of this market.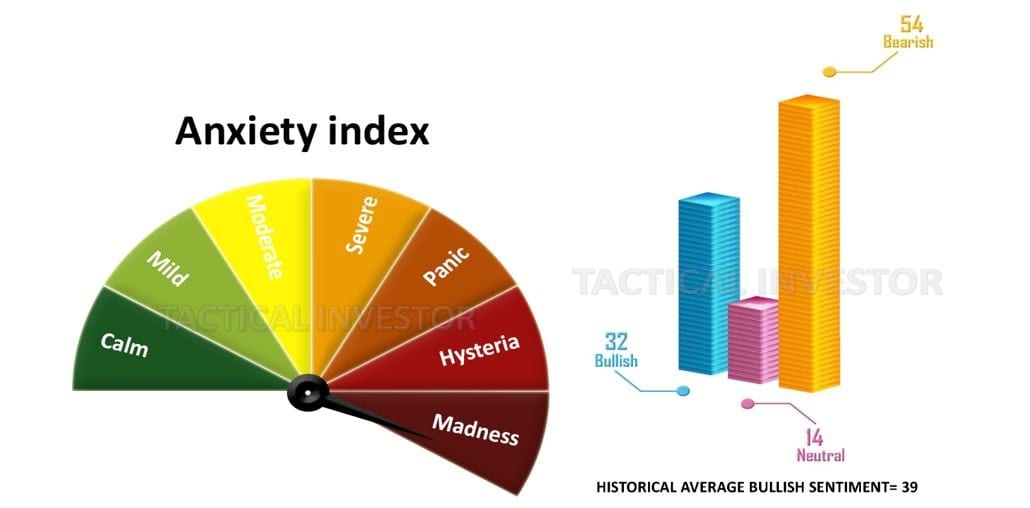 We are dangerously close to hitting the upper limit of the madness zone.  Bear in mind that before this pandemic, the gauge never even hit the extreme end of the hysteria zone. So, this is an unprecedented development. Given this massive move in the anxiety gauge, neutral readings would now need only to dip down to 10% to trigger the "father of all buy signals" provided our technical indicators move to the extremely oversold ranges, and the Trend indicator remains positive (bullish). Insider buying and Bull Trend
Other Stories of Interest:
Where is Gold headed in 2016; Up, down or sideways (April 13)
Do Investors need to own Gold; The answer might surprise you (April 13)
Fiat Currency: silent but deadly weapons of Mass Destruction (April 12)
Data manipulation; The Fraudulent Economic Recovery (April 11)
US an Oligarchy, not a democracy concludes Princeton Study  (April 9)
Russian PAK-50 spectacular Arial Display Puts F-35 to Shame  (April 8)
Russia's Syrian Success A boon For weapons Sales (April 8)
Margin trading comeback could propel Chinese Markets Upwards (April 6)