nothing will be don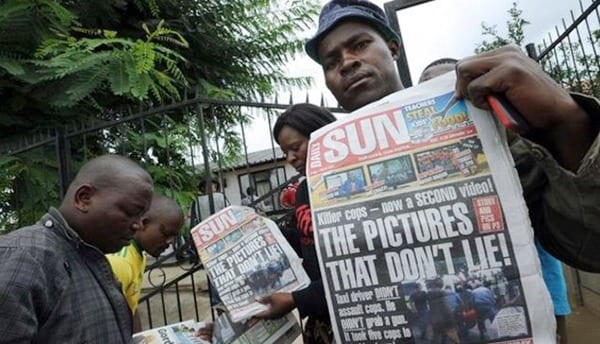 Editor: Philip Ragner | Tactical Investor
Sensationalism
There's an alternative world in which Desmond Tutu has passed away, a sex-tape featuring late singer Mandoza and a white woman has just been released, and men can easily circumcise themselves at home. It's the universe in which South Africa's fake news websites operates. Last year the country woke up to the fact that it's not just America dealing with fake news – but has anything actually changed since then? By REBECCA DAVIS.
Did you know that Health Minister Aaron Motsoaledi is advising South African men to perform DIY circumcisions? Are you aware that ANC Secretary-General Gwede Mantashe has submitted his resignation to President Jacob Zuma? Has anyone told you that antiretroviral drugs fell out of EFF leader Julius Malema's pocket during a meeting?
If not, you probably don't follow any of South Africa's fake news websites – though you may have been urged to click on their content at the suggestion of Facebook. All these stories are untrue, yet published – without reference to their fabrication – on a number of local websites which all seem to have sprung up within the last few years.
Fake News & Sensationalism
The story about Motsoaledi urging men to undertake their own snips had been viewed at least 2,500 times at last count – small fry by the standards of the mainstream media, but a fairly alarming quantity given the negative health implications.
"Fake news". It's a phrase that few people used before late last year. Full Story
Sensationalism and Yellow Journalism
In 2009, The Guardian reported an instance where a UK-based documentary team made up false stories about celebrities to see if tabloid journalists would fact-check such claims. The far-fetched stories included Amy Winehouse's hair catching fire and a member of the pop group Girls Aloud announcing her enthusiasm for quantum physics. Avril Lavigne and Russell Brand were also victims of this project. The documentary's director, Chris Atkins noted how all that was needed to be counted as a "credible" source was a name and a telephone number. He was offered up to £600 for the fake stories, which equates to about $943.
Here is a video of the documentary's director, Chris Atkins, explaining the hoax.
"I wanted to show that celebrity journalism is nonsense and this has infected all parts of journalism. I thought that quite a fun way to illustrate this was to see if we could invent some stories ‑ utterly fabricated stories ‑ and try to sell them to the newspapers," Atkins said.
The false stories in this hoax are just a small sample of the many falsities printed in tabloids. Just googling "tabloid lies" is enough to see just how common it is. For example, Jennifer Anniston dismissed reports of how "miserable" she is and In Touch Weekly falsely reported that Kim Kardashian couldn't fit in her wedding dress and used a fake picture on the cover. Full Story
Examples of Yellow Journalism
Prime Minister called a traitor – ABC News reported that Israel's Benjamin Netanyahu called Prime Minister Yitzhak Rabin a traitor; but, the report was false.
OJ Simpson – Live reporting of the chase and capture of Simpson sensationalized this tragic case after Simpson was accused of murdering his ex-wife.
Tiger Woods – The news media had a heyday with the story of his affairs, including interviewing sex addicts.
Heidi Fleiss – She was convicted of prostitution and tax evasion and became very well known due to the media coverage.
Botox mom – This story of a mom giving her daughter Botox and waxings to keep her looking young was a hoax. The Sun, a British tabloid, paid her $200 to say she did it.
Octamom – A former stripper gave birth to octuplets and became a media sensation.
Crazed woman chases Brad Pitt – The headline is an eye-catcher but she was really just running after him to take a picture Full Story
Other articles of interest
Feds Interest Rate stance equates to Rubbish-Economic recovery is illusory  (Dec 24)
Stock Market Bulls, Stock Market fools-Market Crash next or is this just an Illusion  (Dec 21)
Trump Effect Rally-Useless Dow Theory and Stock Market Crash  (Dec 17)
Gold fools-dollar bulls and the long-term outlook for both Markets (Dec 9)
Inflation the Silent Killer Tax that's destroying Middle-Class America (Dec 5)
Dominant Stock Market Trends under President Trump (Nov 22)
Bears State Crude Oil Destined to Crash-Utter Rubbish (Nov 18)
50 Trillion in Cash illustrates Mass Anxiety-Dow Industrials will soar not Crash  (Nov 16)
Trump's victory Does not Sink Global Markets Proving Experts are Jackasses (Nov 10)
Trump-The New Stock Market vix Factor (Nov 6)
Crude Oil Market-Higher prices or Market Crash (Oct 28)
American's fear the Stock Market-Understanding Market Sentiment key to winning  (Oct 24)
Foreign banks Dump whopping 356 billion in US Debt  (Oct 20)
Corporate Americas Share buyback Binge only force Keeping Stock Market Bull Alive (Oct 13)
Stock Market Earnings Recession Nothing to Fear-Market Still Trending higher (Oct 7)
Fed Directly limiting Market Downside Action-Expect Stock Market rally not Crash (Oct 6)
Dow theory no longer relevant-Better Alternative exists (Sept 30)