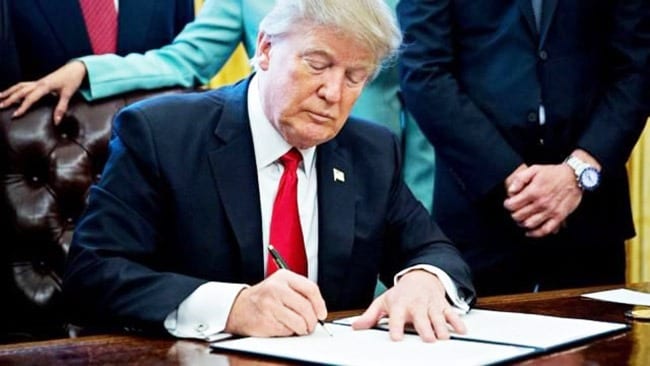 Editor: Draco Copper | Tactical Investor
Tackling Human Trafficking
Human trafficking is a sickening crime at odds with our very humanity. An estimated 25 million people are currently victims of human trafficking for both sex and labour.
The Department of Health and Human Services has established a new national training and technical assistance centre to strengthen our healthcare industry's anti-trafficking response. The Department of State has contributed $25 million to the Global Fund to End Modern Slavery, because of the critical need for cross-nation collaborative action to counter human trafficking.
Our Nation is and will forever be a place that values and protects human life and dignity. This month, let us redouble our efforts to ensure that modern-day slavery comes to its long-overdue end. Full Story
Trump Tackling Human Trafficking
"My Administration will focus on ending the absolutely horrific practice of human trafficking. And I am prepared to bring the full force and weight of our government, whatever we can do, in order to solve this horrific problem."
Human trafficking, also known as modern slavery, affects people from all backgrounds at home and abroad, placing millions into a sickening form of exploitation.
Per the International Labor Organization, there may be as many as 24.9 million victims of forced labour across the world, with millions going unidentified and unseen. Children are especially vulnerable to this evil practice, as they account for 25 per cent of modern slaves. Victims are compelled to perform labour or commercial sex acts through the use of fraud, force, or coercion, reducing the value of human lives to that of mere commodities.
The United States is a source, transit, and destination country for men, women, and children – both United States citizens and foreign nationals – victimized by human trafficking. PROTECTING THE INNOCENT: President Donald J. Trump is taking a stand against human trafficking, dedicating our Government's full resources towards fighting this repulsive crime. Full Story
Other Stories of Interest
Is the Bitcoin Bull Market dead or just taking a breather? (Mar 8)
Is this the end for Bitcoin or is this a buying opportunity? (Jan 24)
Stock Market Insanity Trend is Gathering Momentum   (Jan 10)
Is value investing Dead   (Jan 9)
Irrational markets and Foolish Investor: perfect recipe for disaster   (Jan 5)
Stock market Crash Myths and Realities  (Jan 3)
Bull-Bear Markets & Arrogance   (Jan 1)
Will The Stock Market Crash In 2018  (Dec 11)
Has US Dollar Finally Hit Bottom    (Dec 6)
BitCoin Has Done What Precious Metals Never Could  (Dec 4)
Experts Making Stock Market Crash Forecasts usually know nothing  (Nov 17)
1987 stock market crash anniversary discussions- nothing but rubbish ( Oct 24)