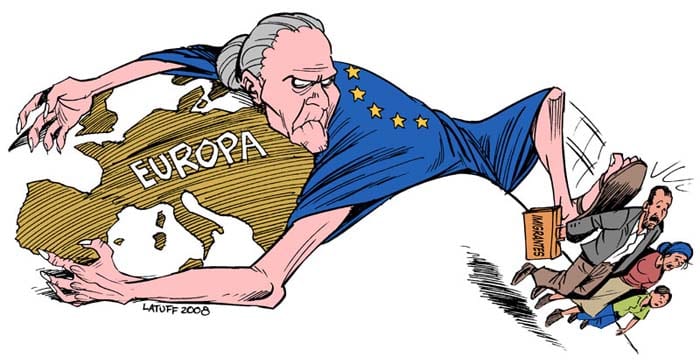 Denmark places anti-migrant adverts in Lebanon newspapers warning that benefits will be cut by 50% and asylum
Denmark has placed adverts in several Lebanese newspapers warning would-be migrants about new and tighter restrictions on those seeking asylum in the country. The adverts appeared in at least three Arabic-language newspapers and one English-language daily in Lebanon on Monday.
They caution: 'Denmark has decided to tighten the regulations concerning refugees in some areas.'
The adverts note that social benefits for newly-arrived refugees are being reduced 'by up to 50 percent' and that family reunification for those with temporary residence permits is not allowed for the first year after they arrive. Spelling it out: An anti-migrant advert by the Danish government is seen (bottom left) in the Lebanese Alssafir newspaper warning that benefits for newly arrived refugees are being cut by 50 percent
Denmark advises would-be migrants that they will be required to speak & understand Danish to obtain a permanent residency.
'All rejected asylum seekers must be returned quickly from Denmark,' it adds. There is a special return centre for rejected asylum seekers to ensure (they)… leave Denmark as quickly as possible.' Full Story
The Danes becoming tough on asylum seekers is one of the 3-4 waves that will hit Europe. Each wave will be more severe than the previous one.  A point could be reached where the government aggressively starts to hunt and gather all those that are illegally in the country and deport them the very same day they are caught.  The clash of civilisations is fully underway now, and this means that each subsequent clash will be violent in nature.  
https://www.youtube.com/watch?v=82VF2MUDqv4
U.S. Is Helpless Against Some Russia's Military Hardware
Russian Helicopters company has begun developing an advanced high-speed combat helicopter. The fact that the helicopter (PSV) was under development was reported earlier, but it wasn't specified whether it would be an offensive chopper or used exclusively as military transportation means. The Moscow-based company's deputy CEO for sales, Grigory Kozlov, gave official details about the military chopper on Wednesday.
It was reported on Monday that the PSV is expected to enter commercial production by the year of 2022, according to Commander-in-Chief of the Russian Air Force Viktor Bondarev. The combat helicopter can accelerate up to 500 kilometers (311 miles) per hour.
"At present, projects on the Mi-28NM, Ka-52K, Mi-26T2 [helicopters] are being realized, and work on an advanced high-speed combat helicopter has started," Kozlov told Russian state-owned RIA Novosti. The company manufacturer of the PSV is one of the key design and manufacturing companies. Founded in 2007, the company has five chopper plants, two design departments as well as enterprises for the production and maintenance of aircraft parts, a repair plant and a service company that provides technical support of sold aircraft.
Russia's T-14 Armata main battle tank will be invisible
The PSV military chopper is yet another indication that Russian President Vladimir Putin is dead serious about making his country one of the greatest military powers in the world, with an ultimate aim to make it the greatest.Earlier this year, Russia showcased its cutting-edge T-14 Armata main battle tank – easily the largest main battle tank manufacturer in the world. The company-manufacturer of the tank, Uralvagonzavod, claims this deadliest new weapon is invisible to enemy radars.  Full story
This may or may not be true.   The only thing that matters now is that Russia has enough weaponry to be a real threat and challenge to the US. Secondly, the US is not going to go out of its way to engage Russia; the conflict would not be one sided. Russia is not Libya, Iraq, Syria or Afghanistan. They can hit back just as hard.  
https://www.youtube.com/watch?v=PKx9CkSZobI
Buses take migrants west to Austria; Hungarian crackdown crumbles
BUDAPEST (Reuters) – Long lines of buses left Budapest on Saturday packed with migrants bound for Austria, which said it had agreed with Germany to let them in as Hungary gave in to crowds, including Syrian refugees, that had set out on foot for western Europe. Hungary's right-wing government said around 100 buses would pick up thousands of migrants camped in front of Budapest's main railway terminus and another 1,200 striding down the main highway to Vienna led by a one-legged Syrian refugee and chanting "Germany, Germany!"
Austria said they would be granted entry, regardless of European Union rules. Smiling migrants boarded the buses, waving goodbye to Hungarian volunteers and aid workers. "Because of today's emergency situation on the Hungarian border, Austria and Germany agree in this case to a continuation of the refugees' journey into their countries," Austrian Chancellor Werner Faymann said on his Facebook page.  The Hungarian government cited safety concerns for the decision to lay on buses, after days of cancelled trains and confrontation with riot police refusing to let the migrants pass.
But it appeared to mark an admission that the government had lost control in the face of overwhelming numbers of migrants determined to reach western Europe having fled war and poverty in the Middle East, Africa and Asia. For days, Hungary has cancelled all trains going west to Austria and Germany, saying it is obliged under EU rules to register all asylum seekers, who should remain there until their requests are processed. Many have refused, determined to get to the richer and more generous countries of northern and western Europe, mainly Germany.
Several thousand have been camped outside the Budapest train station, but on Friday a crowd that swelled to over 1,000 broke away, streaming through the capital, over a bridge and out onto the main highway from Budapest to Vienna, escorted by police struggling to keep the road open. Clutching pictures of German Chancellor Angela Merkel, they broke through a police barricade. Others, in Bicske to the west of Budapest, sprinted down railway tracks, escaping a packed train held back by police for two days, while in the south they broke down barriers and wrestled with helmeted riot officers at an overcrowded border camp near Serbia. Full Story
If you read the comments below the story, you can see that individuals across the globe are embracing the ideology that if you are not like me; you are against me. There is going to be a massive war in Europe as the natives openly and violently start to resist what the government is trying to implement. Syrians are rather open minded Muslims in general.  In Syria, the minority groups of Orthodox Christians are actually protected in contrast to being persecuted, which is the path of choice in the Middle- East.  However, native Europeans have reached the point of no return so at this stage of the game. It comes down to if you are not like me, you are against me… End of story.  There are going to massive eruptions in Europe in the months and years to come.   
Other related stories of Interest: