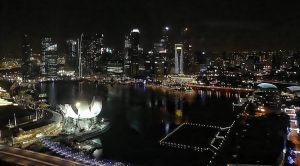 By Tom McGregor, CNTV Commentator
The Green card lure
China's State Council (Cabinet) believes the nation is shifting away from an export-driven market and towards a services-based economy. Accordingly, the country is expected to lean on higher consumption, while Chinese companies are encouraged to invest more in research and development (R&D).
Must Read: Fed's out to destroy Middle Class with Negative rates
To boost more hi-tech upgrades, enhance marketing campaigns and move forward on "best businesses" practices, companies in China are looking to hire more foreign talent.
Until recently, Beijing had imposed some of the toughest measures in the world for foreigners to apply for permanent residence permits (green cards).
Since 2004, China had issued 800 green cards annually on average, despite 2010 Census figures indicating that over 600,000 foreigners are residing in the country. For residents, holding a green card can make living here a whole lot easier.
 Green Card Benefits 
Foreign-born residents, who obtain permanent residence permits in China, can enjoy similar rights as Chinese citizens. They can stay here for life and just need to show a passport and green card when exiting or re-entering Chinese territory.
They have the rights to invest in businesses, own property and use social services. Other benefits include the rights to purchase train tickets, make hotel room reservations, apply for driver's licenses and enrol their children into Chinese schools.
Originally, only foreigners, who were employed by government agencies or professors and research assistants at State-owned universities and science laboratories, were eligible to apply. But the State Council announced an easing of application procedures last Thursday.
Overseas students studying in China, foreigners who have lived and worked in the country for three or more years with good tax records, and senior executives based here can now sign up for permanent residence permits.
Luring talent from abroad
Beijing's efforts to offer more flexible, pragmatic and market-oriented regulations for issuing green cards do appear to be the right approach, but companies still face challenges.
China has to confront common misperceptions from the outside world. Western media outlets often highlight the negatives of the country to grab larger audiences. China is frequently depicted as too polluted, and struggling with poor food and public health safety conditions.
Yes, China has some problems, but it's not as bad as the Western media would have you believe. If such articles were 100 per cent accurate, few people would be living here. Besides, China continues to witness higher than global average gross domestic product (GDP) annual growth rates.
Meanwhile, many developed nations are enduring economic stagnation and anaemic labour markets. Foreigners can find plenty of lucrative job opportunities in China.
Inspiring innovations with global flavour
"In the past three decades, China had been attracting foreign capital and in the next three decades it should shift to hiring foreign talent," Wang Huiyao, director of the Center for China & Globalization, a Beijing-based think tank, told the South China Morning Post.
China's most successful hi-tech companies – Huawei, Tencent and Baidu – intend to hire the most highly qualified software and hardware technical experts from around the world. They seek to develop more innovative products to capture a larger global market share.
Chinese tech firms are willing to pay higher salaries to entice more foreign-born technicians to join them. They recognize the overwhelming value of building stronger R&D hubs by hiring innovative people from across the globe.
Poised for sustainable growth
China may no longer experience double-digit GDP annual growth rates, but its economy is standing strong and foreign talent can find good-paying jobs here.
Of course, no nation is perfect and China is not the exception to that rule. However, the country remains on the rise and global job seekers would be foolish to ignore potential job opportunities in the world's second-largest economy.
Let's not forget that many developed countries continue to be mired in recessionary times at the moment.
Other articles of interest:
Fed's out to destroy Middle Class with negative rates (Feb 27)
Can India surpass China: Crowd psychology & India's brain drain says no (Feb 24)
Market Crash: Best time to buy stocks (Feb 23)
China's Rural Transformation creating Boom Towns (Feb 21)
Top 10 investment resources for Novice Investors  (Feb 20)
Masses struggle while Fed Pays Banks 7 billion to do nothing (Feb 17)
Where is Gold Heading: Sinclair States 50,000 per ounce  (Feb 16)
One chart illustrates economic recovery 100% fiction  (Feb 7)
Currency wars Intensify: BOJ stuns markets with negative rates  (Feb 5)
Ticking Time Bomb: Student debt increasing 2800 every second (Feb 3)
Vitamins & Dietary supplements laced with dangerous Ingredients  (Feb 3)
Sanctions Payback: Russia wants firms to default on Western Loans (Feb 2)