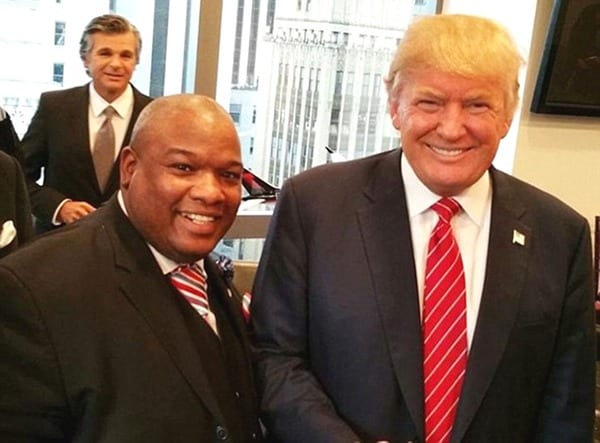 Editor: Johnathan Meyers | Tactical Investor
Donald Trump Economy
Before we get to the article at hand,  we think you might find the following article to of interest:
Many stocks are trending upwards while key technical indicators move from the overbought to the oversold ranges. If this took place on the daily charts it could be ignored, but, these developments are taking place in the slow-moving monthly charts, and it suggests that a new trend might be about to take hold. Then you have stocks that trend endlessly in the overbought ranges with no sign of letting up, but the stock continues to trend higher and higher. If this trend takes hold, then a plethora of technical analysts will face the ultimate challenge: "Adapt or die". Stock market Insanity Trend is Gathering Momentum
Donald Trump Economy benefitting African Americans
Responding to charges of racism by a former Trump administration aide, White House press secretary Sarah Huckabee Sanders vastly overstated President Trump's record on black job creation.
Sanders claimed Trump has created three times as many jobs for black people as the Obama administration did in eight years.
According to the official count from the Bureau of Labor Statistics, however, most black employment gains occurred during the Obama administration.
During a weeklong job training program, Keith Mitchell, Jr., L, and Isaiah Hall, 21, excitedly look over the class lists of IT certification programs at Metropolitan Community College in North Omaha on Wednesday, May 2, 2018, in Omaha, NE. The two of them – one a resident of a homeless shelter and the other a young man living with his great grandmother, would bond over common interests during the week.
Responding to charges of racism by former Trump administration aide Omarosa Manigault Newman, White House press secretary Sarah Huckabee Sanders vastly overstated President Donald Trump's record on job creation for black Americans.
"This president since he took office created 700,000 new jobs for African-Americans," Sanders told reporters Tuesday. "After eight years of President Obama in office, he only created 195,000 jobs for African-Americans. President Trump in his first year and a half has already tripled what President Obama did in eight years." Full Story
Other Articles of Interest
Stock Market Insanity Trend is Gathering Momentum   (Jan 10)
Is value investing Dead   (Jan 9)
Irrational markets and Foolish Investor: perfect recipe for disaster   (Jan 5)
Stock market Crash Myths and Realities  (Jan 3)
Bull-Bear Markets & Arrogance   (Jan 1)
Will The Stock Market Crash In 2018  (Dec 11)
Has US Dollar Finally Hit Bottom    (Dec 6)
BitCoin Has Done What Precious Metals Never Could  (Dec 4)
Experts Making Stock Market Crash Forecasts usually know nothing  (Nov 17)
1987 stock market crash anniversary discussions- nothing but rubbish ( Oct 24)
Dow 22K Predicted In July 2017; Next Target Dow 30k? (Oct 15)
Anxiety and Greed Index Don't Support Stock Market Crash  (Oct 14)
Fed States Inflation is not an issue?  (Oct 13)
Is Bitcoin a Bubble or Good Investment?  (Oct 9)