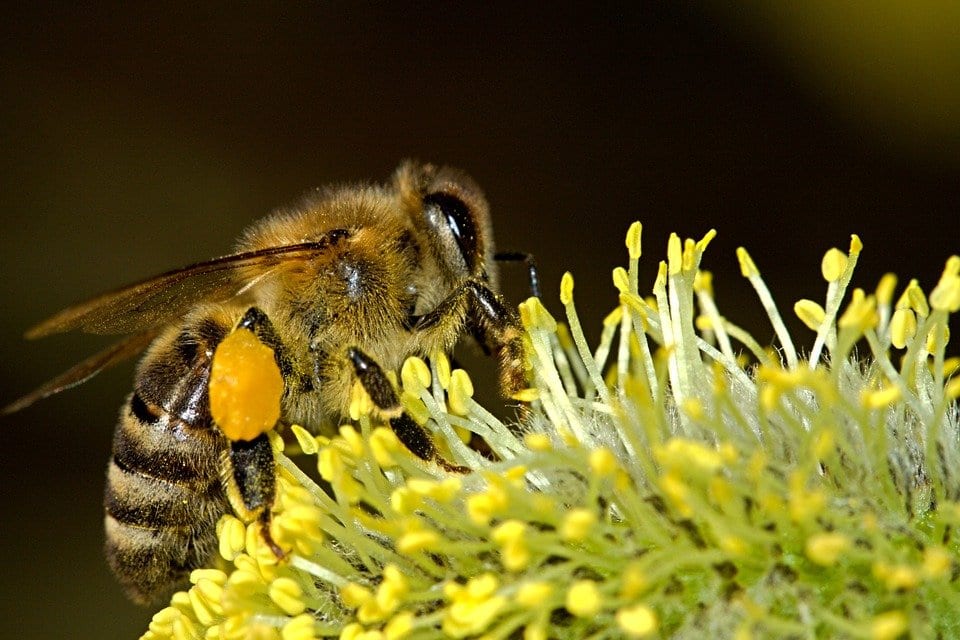 Are Robot Bees the future?
One day, gardeners might not just hear the buzz of bees among their flowers, but the whirr of robots, too. Scientists in Japan say they've managed to turn an unassuming drone into a remote-controlled pollinator by attaching horsehairs coated with a special, sticky gel to its underbelly.
The system, described in the journal Chem, is nowhere near ready to be sent to agricultural fields, but it could help pave the way to developing automated pollination techniques at a time when bee colonies are suffering precipitous declines.
In flowering plants, sex often involves a threesome. Flowers looking to get the pollen from their male parts into another bloom's female parts need an envoy to carry it from one to the other. Those third players are animals known as pollinators — a diverse group of critters that includes bees, butterflies, birds and bats, among others.
Animal pollinators are needed for the reproduction of 90% of flowering plants and one third of human food crops, according to the U.S. Department of Agriculture's Natural Resources Conservation Service. Latimes
RoboBees: Autonomous Flying Microrobots
Insect-inspired robots with potential uses in crop pollination, search and rescue missions, surveillance, as well as high-resolution weather, climate, and environmental monitoring
Inspired by the biology of a bee, researchers at the Wyss Institute are developing RoboBees, manmade systems that could perform myriad roles in agriculture or disaster relief. A RoboBee measures about half the size of a paper clip, weighs less that one-tenth of a gram, and flies using "artificial muscles" compromised of materials that contract when a voltage is applied. Additional modifications allow some models of RoboBee to transition from swimming underwater to flying, as well as "perch" on surfaces using static electricity.
The masterminding of the RoboBee was motivated by the idea to develop autonomous micro-aerial vehicles capable of self-contained, self-directed flight and of achieving coordinated behavior in large groups. To that end, the RoboBee development is broadly divided into three main components: the Body, Brain, and Colony. Body development consists of constructing robotic insects able to fly on their own with the help of a compact and seamlessly integrated power source; brain development is concerned with "smart" sensors and control electronics that mimic the eyes and antennae of a bee, and can sense and respond dynamically to the environment; the Colony's focus is about coordinating the behavior of many independent robots so they act as an effective unit. Harvard
Near Esparto, in the beautiful Capay Valley region of central California, 1,400 young almond trees flourish in a century-old orchard overlooking the hills. Since November, they've stood in perfect rows without a hint of foliage — resting, naked and dormant, for the upcoming growing season. Their branches now swell with bright pastel blooms in preparation for pollination.
Like most almond growers, Brian Paddock, owner of Capay Hills Orchard, relies on bees to provide this important aspect of crop development. "No bees, no almonds. It's that simple," he says.
Often considered pests, frightful little creatures with a nasty sting, bees play a critical role in agriculture and the pollination of countless crops. Without them, many varieties of fruits and vegetables would come to an end. It's an agricultural doomsday scenario that has Paddock worried.
Bee deaths have been on the rise, with losses outpacing colonies' ability to regenerate. Last year, the U.S. lost 44 percent of all honeybee colonies — a species essential to commercial pollination in this country. NPR
Autonomous Robot Bees Are Being Patented by… Walmart?
Walmart has just filed a patent for autonomous, robot bees. Yes, that Walmart — and no, you didn't slip into another, stranger dimension. The mega-corporation's patent specifically covers "pollination drones." These tiny robots could act just like bees, pollinating crops autonomously.
The robot bees would operate using sensors and cameras to help them navigate to crops. Flying around autonomously, these drones could potentially pollinate as effectively as the real thing.
An artist's representation of what robot bees may look like.
Oddly enough, this is not the only farming patent that Walmart has filed recently. According to CB Insights, this is only one of six Walmart patents for farming drones that would do everything from monitor crop damage to spray pesticides. Incorporating autonomous robots into farming could cut costs and increase agriculture efficiency.
The thing that's so puzzling about this move is: why Walmart?
The retailer hasn't publicly commented on the patents yet, so the reasons behind Walmart's sudden interest in farming drones has to be left up to interpretation. Futurism
Other Stories of interest
Political Polarization: Trump-Brexit win Polarisation Grips Financial advisers (March 31)
War Between the U.S. & China will Destroy World Economy (March 24)
Should you fear Stock Market Crashes -Video  (March 24)
Why you should not be worried about a stock Market Crash Video (March 19)
The scary Stock market crash that experts are overhyping  (March 15)
Stock Market Crash 2017 or Continuation of Bull Market Video (March 15)
Fanaticism-Stock Market Crash 2017 or Continuation of Bull Market (March 15)
Will Trump's economic Policies trigger Crash or Drive Bull Higher- Video (Feb 29)
Could Trump's economic Policies Propel Hated Stock Market Bull Higher (Feb 27)
Stock Market Crashes-Is Panic Warranted (Feb 25)
Stock Market Crash 2017 Video -reality or All Hype (Feb 19)
Stock Market Crash 2017-reality or all Hype (Feb 16)