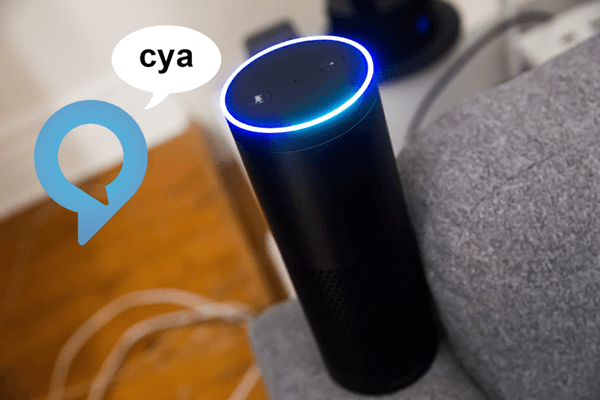 Editor: Vlad Rothstein | Tactical Investor
Random Thoughts
Who cares? To which most will respond what, how can you say that? To which the observer will respond, remember the point is to polarise the crowd. The objective here is not to provide real revelations to the masses but to agitate them. When the crowd is agitated, you can fleece them, and they will not even notice what is going on.  On a separate note, there is no conclusive evidence to support these allegations. Observer Vs regular perspective regarding Russia's alleged hacking of US elections
Alexa APP Software could bring in Massive amounts of Revenue for Amazon 
Amazon calls the little digital errands that Alexa does "skills." This can mean anything from reading the news to turning off a lamp in the living room. Amazon created some of the skills, but a growing number of them are created by third-party developers. In the Alexa app, there are now more than 100 third-party skills. Some are more useful than others; I don't need Alexa to tell me dumb jokes or make weird sounds, but I do want her to know how to call me an Uber.
Amazon has also opened the platform to connected home device makers, who can also create skills through single-purpose apps, for example. Two days ago, Amazon launched an API that developers can use to instruct Alexa in how to control their products. So any smart lighting company could teach Alexa to understand and execute an "Alexa, dim the kitchen lights" voice command from the user. The API can also let Alexa control switches and smart plugs and adjust smart thermostats. It's likely that control of home security systems will be added to that list as well. Fast Company
Amazon's voice assistant Alexa could be a $10 billion 'mega-hit' by 2020
Amazon's voice assistant Alexa – which is installed in its Echo smart speaker – could bring the U.S. e-commerce giant $10 billion of revenues by 2020 and be a "mega-hit", according to a note published by RBC Capital Markets on Thursday.
The investment bank has dubbed the technology "voice-activated internet (VAI)" and said it represents a "material opportunity" for both Amazon and Google, which has its own technology called Google Assistant.
But many investors are trying to figure out how this technology will make money for these firms. RBC suggest that it could be a huge business for Amazon driven by sales of devices that contain Alexa, voice-driven shopping and platform revenues. The result is that the device sales and shopping could generate $10 billion in total revenue.
Alexa device sales: By 2020, RBC thinks Amazon could have 500 million active customers globally. Assuming 40 percent adoption rate in the U.S. and 25 percent internationally, this would mean 60 million Alexa devices sold that year. Assuming a two year-replacement cycle, and $85 average selling price, this would generate $5 billion in revenue in 2020.   Full Story
AWS, now a $10B business, fuels record quarter for company
Wall Street expected Amazon to post earnings per share of $0.58, but the company ended the quarter with a record-high $1.07 EPS, nearly doubling the estimate. That's up from a $0.12 net loss in the year-ago quarter.
The profit growth — Amazon posted profit for the fourth consecutive quarter — can certainly be credited in large part to Amazon Web Services, which reeled in $2.57 billion during Q1 2016, up from $2.4 billion in the previous quarter and $1.57 billion a year ago, a 64 percent year-over-year growth. Analysts expected AWS to make $2.53 billion last quarter. Operating income for AWS in Q1 was $604 million, up from $195 million last year
"We think it's very early, and there's plenty of room in this industry for multiple winners," Olsavsky said. "We like where we are. We have a leadership position and we will certainly try to build on it."
"Once again, Amazon Web Services exhibited significant growth, with revenues up $1 billion, however the more impressive metric is margin, which roughly doubled to 23.5%, generating over $600 million, or roughly 60%, of Amazon's total operating income," O'Shea said in a statement.
t posted $2.4 billion in revenue for Q4 2015, which was up 69 percent year-over-year, versus the 64 percent YOY growth in Q1 2016 — Olsavsky cautioned that people shouldn't "draw too many conclusions on long-term margins."
"Margins will be bumpy and are affected by levels of investing, price reduction, and cost efficiency," he said. Full Story
Other Articles of Interest
Fake news is nothing new-it was worse a century ago (March 20)
The scary Stock market crash that experts are overhyping (March 15)
Brexit Could Hit 30K U.K. Finance Jobs (Mar 13)
UK economy resilient at end of 2016-manufacturing jumps (Mar 10)
7 Challenges Private Markets Face in 2017 (Mar 05)
Stock Market Crash 2017-reality or all Hype (Feb 28)
Fear equates to Stock Market Buying Opportunity (Feb 25)
Is there such a thing as Internet Abuse disorder?  (Feb 09)
Trump wants to Cut UN Funding-what are your thoughts on the subject (Feb 1)
The power of Trend investing-catch the mega trend before the masses (Jan  23)