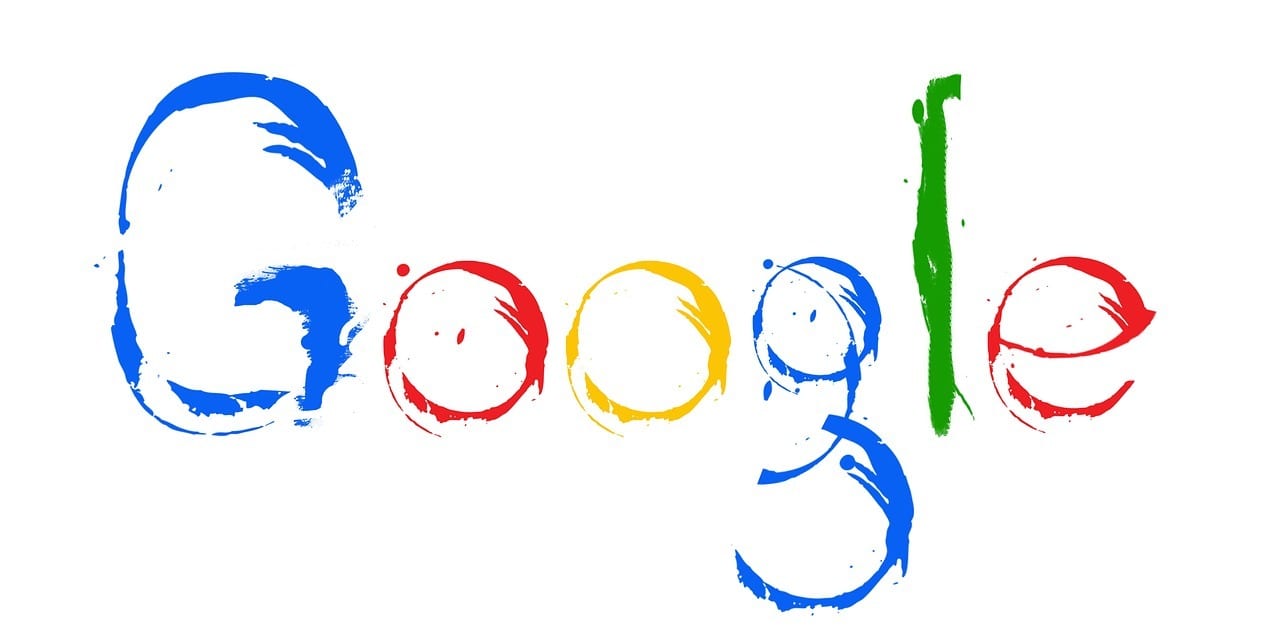 Google Finance:  Price Projections For 2020
Before we examine where GOOGL will be trending in 2020 and beyond, let's quickly look at what Google does.
Alphabet is a holding company, with Google, the Internet media giant, as a wholly-owned subsidiary. Google generates 99% of Alphabet revenue, of which more than 85% is from online ads. Google's other revenue is from sales of apps and content on Google Play and YouTube, as well as cloud service fees and other licensing revenue. Sales of hardware such as Chromebooks, the Pixel smartphone, and smart homes products, which include Nest and Google Home, also contribute to other revenue. Alphabet's moonshot investments are in its other bets segment, where it bets on technology to enhance health (Verily), faster Internet access to homes (Google Fiber), self-driving cars (Waymo), and more. Alphabet's operating margin has been 25%-30%, with Google at 30% Morning Star
Google Finance:  EPS Trend Projections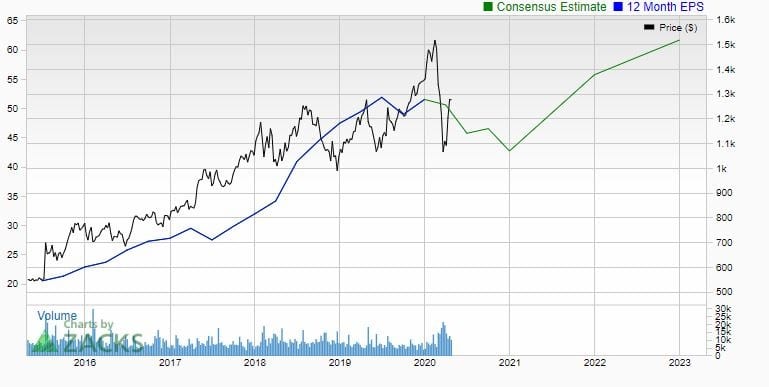 Google's EPS is trending upwards, so any strong pullback should be viewed through a bullish lens. It is one of the dominant players in the field of AI and as such investors that share our sentiment will want to have exposure to the main players in this field.
Google Stock Price Targets
There is a fortress of resistance in the $1290 ranges. A monthly close above this level will set the pace for Google to trade all the way to the 1500 ranges before running into any resistance. It could even overshoot as high as 1650 before pulling back.  We envision that Google will be trading north of 2900 in under 24 months. Hence, the suggested strategy would be to embrace all strong pullbacks.
Google Finance News and Other Relevant Data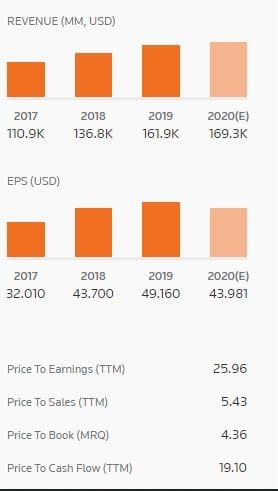 TensorFlow is a library of files that allows researchers and computer scientists to build systems that break down data, like photos or voice recordings, and have the computer make future decisions based on that information.
This is the basis of machine learning: computers understanding data and then using it to make decisions. When scaled to be very complex, machine learning is a stab at making computers smarter. That's the broader, and more ill-defined field of artificial intelligence. TensorFlow is extraordinary complex, because of its precision and speed in digesting and outputting data, and can unequivocally be placed in the realm of artificial intelligence tools.
Here are the nitty-gritty details: the TensorFlow system uses data flow graphs. In this system, data with multiple dimensions (values) are passed along from mathematical computation to mathematical computation. Those complex bits of data are called tensors. The math-y bits are called nodes, and the way the data changes from node to node tells the overall system relationships in the data. These tensors flow through the graph of nodes, and that's where the name TensorFlow comes from.  popsci.com
Other articles of interest:
Insider Buying And The Coronavirus Pandemic  (April 24)
Market Correction 2020; Long Term Trend Still Intact  (April 15)
Stock Trends & The Corona Virus Factor  (March 14)
Misdirection And Upcoming Trends For 2020 And Beyond   (March 13)
Trading The Markets & Investor Sentiment  (March 3)
Brain Control: Absolute Control Via Pleasure     (Jan 20)
Indoctrination: The Good, The Bad and the Ugly    (Jan 15)
Dow Transports Validating Higher Stock Market Prices  (Dec 30)
Global Trading Volume is Declining & It's A Non Event  (Dec 20)
Dogs Of The Dow Jones Industrial Average  (Dec 10)
Trump Stock Market: Will Impeachment Hearings Derail This Bull   (Nov 21)
Negative Thinking: How It Influences The Masses  (Nov 15)
Leading Economic Indicators: Finally in Syn With The Stock Market?   (Oct 28)
Dow Stock Market Outlook: Time To Dance or Collapse (Oct 25)
What Is Fiat Money: USD Is Prime Example Of Fiat (Oct 13)
Yield Curve Fears As Treasury Yield Curve Inverts (Oct 12)
Current Stock Market Trends: Embrace Strong Deviations  (Oct 2)
Market Insights: October Stock Market Crash Update  (Oct 1)
BTC Update: Will Bitcoin Continue Trending Higher  (Sept 17)
Stock Market Forecast For Next 3 months: Up Or Down? (Sept 16)
Stock Market Crash Date: If Only The Experts Knew When (Aug 26)
Nickel Has Put In A long Term Bottom; What's Next?  (July 31)
AMD vs Intel: Who Will Dominate the Landscape going forward (June 28)