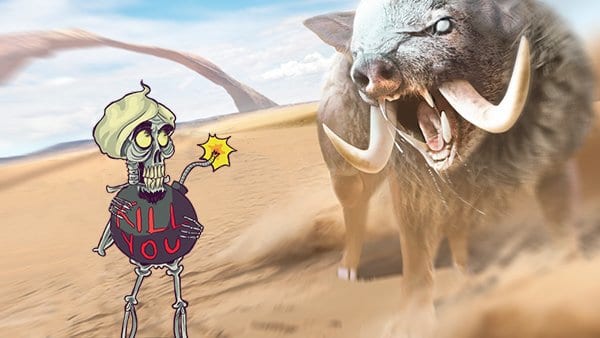 Editor: Philip Ragner | Tactical Investor
Random thoughts
Anyone can see how polarised the world is today.  What we stated has come to pass with alarming swiftness, and it is only going to get worse, but that is a story for another day, or perhaps we will delve into later on in this issue. For now, what you need to understand is polarisation is the perfect breeding ground for insanity. Insanity thrives under such conditions; many individuals will be trapped in an illusory world that for all intents and purposes will appear real to them. Political Polarization: Trump-Brexit win Polarisation Grips Financial advisers
Pigs Kill ISIS fighters and these Brave Iraqi is killing the Real ISIS pigs 
"It is likely their movement disturbed a herd of wild pigs, which inhabit the area as well as the nearby cornfields. The area is dense with reeds, which are good for hiding in," anti-ISIS leader and local tribal chief Sheikh Anwar al-Assi told The Times.
The pork-tenderized militants had recently committed 25 execution-style killings in Hawija, a nearby village known as an ISIS stronghold, al-Assi said.
Wild boars are no damn joke, as anyone who's ever frolicked in the Florida Everglades, Georgia lowlands, or Texas hills can tell you. Get a numerous-enough herd of big-enough pigs, and the nasty snorters can turn you into a processed pork product with a quickness.Full Story
Wild boars maul Isil fighters to death in Iraq
The jihadists' bodies were found badly mangled by refugees fleeing through farmland as they tried to get away from Isil territory in al-Rashad, southwest of the city.
Isil fighters responded to the deaths by going on a killing spree of wild boars in the area, said Brigadier Azad Jelal, the deputy head of the Kurdish intelligence service in Kikurk.
"Three fighters from Isil were near the Peshmerga checkpoint in al-Rashad. They met some feral boars and the boars killed the three fighters," he told The Telegraph.
"Some refugees saw the bodies on the edge of a farm when they were fleeing and they told us. A few days later Isil started to kill pigs around the area."  Full Story
Muslims forced to drink alcohol and eat pork in China's 're-education' camps
Muslims were detained for re-education by China's government and made to eat pork and drink alcohol, according to a former internment camp inmate.
Omir Bekali, one among perhaps a million people reportedly arrested and held in mass re-education camps, said he was detained without trial or access to a lawyer and forced to disavow his beliefs while praising the Communist Party.
Mr Bekali, a Kazakh citizen, said he contemplated suicide after 20 days in the facility – which itself followed seven months in a prison.
Since spring last year authorities in Xinjiang region have confined tens or even hundreds of thousands of Muslims in the camps, including some foreign nationals. One estimate put the figure at a million or more.
A US commission called it the "the largest mass incarceration of a minority population in the world today" while a leading historian called it "cultural cleansing".
"The psychological pressure is enormous, when you have to criticise yourself, denounce your thinking – your own ethnic group," said Mr Bekali, who broke down in tears as he described the camp. "I still think about it every night, until the sun rises. I can't sleep. The thoughts are with me all the time."  Fulll Story
Other Articles of Interest
Technica analysis of Stock Trends; Why both Technical Analysis & Fundamentals fail (April 8)
Stock Market Trends-Is the Stock Market Heading for a Crash? (April 4)
Political Polarisation: Trump-Brexit win Polarisation Grips Financial advisers (March 31)
War Between the U.S. & China will Destroy World Economy (March 24)
Should you fear Stock Market Crashes -Video  (March 24)
There is nothing to worry about a stock market crash (video) (March 19)
The scary Stock market crash that experts are overhyping  (March 15)
Stock Market Crash 2017 or Continuation of Bull Market Video (March 15)
Fanaticism-Stock Market Crash 2017 or Continuation of Bull Market (March 15)