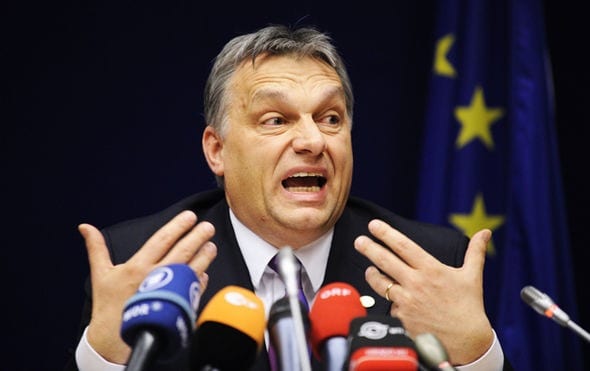 George Soros; Good Bad Or Ugly
George Soros: Good, Bad or Ugly
Orban was replying to Soros' speech Thursday at the Brussels Economic Forum where he spoke about the challenges faced by the European Union, including conflicts over the rule of law in Poland and Hungary. "I am full of admiration for the courageous way the Hungarian people have resisted the deception and corruption of the mafia state the Orban regime has established," Soros said, describing the "mafia state" as the current equivalent of a totalitarian regime — "one which maintains a facade of democracy but the rulers use their control of the media, the judiciary and the other levers of influence, to enrich and maintain themselves in power." Full Story
The war on Soros continues to rage, and we expect in time that more nations will join the war.  When Soros gets interested in something, chaos is sure to follow. However, individuals like this are about to experience a massive setback, and this trend will last for years to come.
Even Israel sees  Soros as a Potential Threat
Soros has never done a good deed; his entire mission is to destroy the sovereignty of nations. He seems to delight in misery and pain. The US should stand up to this vile man.
Israel's foreign ministry has issued a statement denouncing U.S. billionaire George Soros, a move that appeared designed to align Israel more closely with Hungary ahead of a visit to Budapest next week by Prime Minister Benjamin Netanyahu.
Soros, a Hungarian-born Jew who has spent a large part of his fortune funding pro-democracy and human rights groups, has repeatedly been targeted by Hungary's right-wing government, in particular over his support for more open immigration.
In the latest case, Prime Minister Viktor Orban has backed a campaign in which Soros is singled out as an enemy of the state. "Let's not allow Soros to have the last laugh," say billboards next to a picture of the 86-year-old investor, a campaign that Jewish groups and others say foments anti-Semitism. Full Story
Other Stories of Interest 
Dow Could Trade to 30K But not before This Happens  (July 11)
Fake news & Weak Economy Can't Stop Stock Market Bull  (July 6)
Technica Analysis of Stock Trends; Why both Technical Analysis & Fundamentals fail (April 8)
Stock Market Trends-Is the Stock Market Heading for a Crash? (April 4)