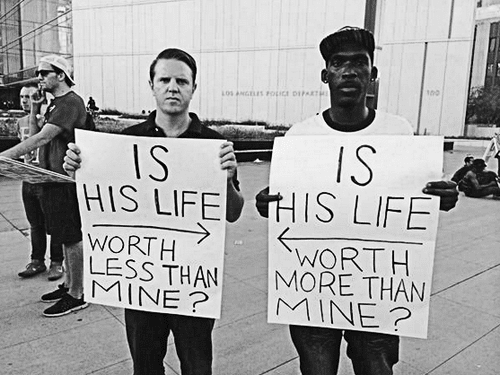 Editor: Vladimir Bajic | Tactical Investor
Alarming' racism in US
A UN committee charged with tackling racism has issued an "early warning" over conditions in the US and urged the Trump administration to "unequivocally and unconditionally" reject discrimination.
The United States has been warned under the procedure in the past when Cerd raised the issue of land rights conflicts with the Western Shoshone indigenous peoples in 2006.
"We are alarmed by the racist demonstrations, with overtly racist slogans, chants and salutes by white nationalists, neo-Nazis, and the Ku Klux Klan, promoting white supremacy and inciting racial discrimination and hatred," said Anastasia Crickley, Chair of the committee.
"It is a sad day when the president of the United States has so thoroughly failed to denounce white supremacism that UN experts must warn the US about the dangers of racism," Brooks said.
"Unfortunately, Trump's racist and xenophobic campaign, and his lukewarm condemnation of white supremacists, has heightened racial tensions in America to the point that it's raising alarms in the global community."
"The Trump administration should take the Cerd's early warning very seriously and rescind its decision to eviscerate the mandates and budgets of US civil rights institutions; end its attempt to exclude white nationalism from the federal government's Countering Violent Extremism programs; and end immigration and refugee policies based on anti-Muslim, anti-immigrant sentiment." Full Story
Articles of interest
Worst Stock Market Crash of our lifetime; is this a possibility? (Aug 23)
Did the Fed Screw up in raising rates; is inflation even an issue  (Aug 10)
Electric Car Threat To Big Oil Wildly Overstated? (July 28)
1987 stock market crash: could it happen again? (July 13)
Dow Could Trade to 30K But not before This Happens  (July 11)
Fake news & Weak Economy Can't Stop Stock Market Bull  (July 6)