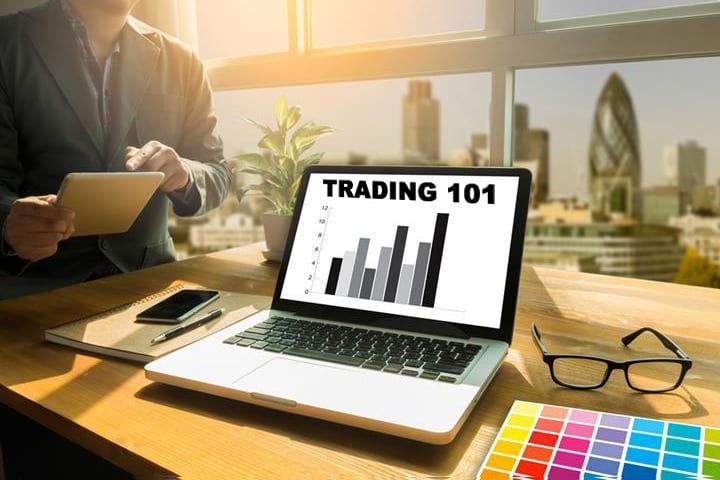 Trading The Markets 101
In some ways, today's stock market is like MUSK; the guy is erratic and TSLA's erratic stock price action clearly validates this point.  He was caught smoking weed on camera, and he called Vernon Unsworth a "pedo guy"; in 2018 he stated he wanted to take Tesla private and was sued by the SEC for securities fraud.  Last but not least, Tesla is still losing money selling cars. Hence, the logical conclusion would be that one should short the stock, and if you did that, you would have lost your shirt, pants and your knickers.
In 2020, bears lost north of $8 billion as a result of their shorts. The recent parabolic spike in Tesla's stocks price was due to a massive short squeeze. On the same token, this market should have crashed long ago, and those that bet against it have paid dearly. The moral of the story is simple; when it comes to the market, the focus should be on the psychological state of the masses and not on logic.  In Tesla's case, if one applied Mass Psychology, one would have noticed that the stock has a cult-like following and secondly, the bad news was not having a massive impact on the price of the stock. Sure the stock let out a large dose of steam, but that is natural for a stock that has been on a tear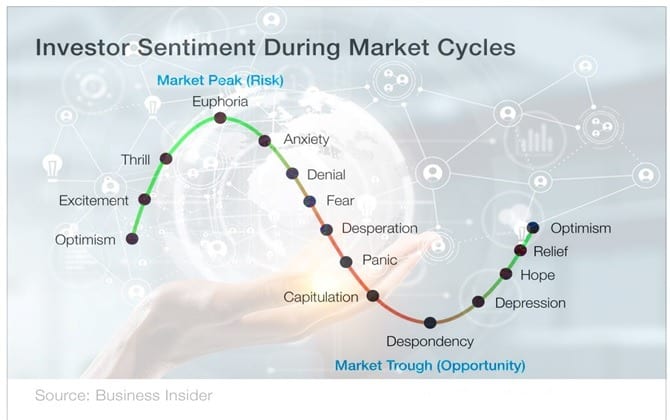 Investor sentiment and Market Cycles
This chart quite accurately captures the state of the mass mindset; however, the funny part is that very few put this information to use, including the individuals/organisations that create these lovely charts.
According to the Wall Street Journal, there is a record 3.4 trillion in cash sitting on the sidelines.  This money will eventually find its way into the market and push markets higher, but the more important factor to pay attention to is that the crowd is still far from bullish.  Looking at the sentiment below; the only consistency we can find is that there is no consistency. Bullish sentiment has not remained above 60% for 3 weeks in a row for years on end. In fact, we can't recall seeing the sentiment above 60% for three weeks in a row since the inception of this bull market and that is a very telling development indeed.
This sentiment data was tabulated before Friday's sell-off; therefore it appears that the crowd was already spooked before Friday's sell-off further cementing the view that a sharp pullback has to be viewed as a blessing in disguise. Market Update Jan 31, 2020
If you compare the current sentiment data to that in the last update, bearish readings remain unchanged but bullish readings rose a bit. Now does that make any sense; the crowd panicked and then turned bullish and the markets surged to new highs and the bears still dominate. This type of action clearly pinpoints that the main dominant theme is that the masses are still uncertain.
Media Hysteria over the Coronavirus: what gives?
According to Worldometers
Quick facts:
Every year an estimated 290,000 to 650,000 people die in the world due to complications from seasonal influenza (flu) viruses.
This figure corresponds to 795 to 1,781 deaths per day due to the seasonal flu.
Sources and info:
Why the hysteria when so far roughly 3K individuals have succumbed to the coronavirus? What gives? Weaponised news, that's what gives.
Conclusion
If you are an investor with a long term view then all sharp corrections should be viewed through a bullish lens as history indicates that markets revert to the mean.  This massive sell-off is driven by fear and when the fear subsides the markets will resume their upward trend. The trend as per our Trend Indicator is still positive, so Tactical Investors should view all sharp pullbacks through a bullish lens.
Other Articles of Interest
Coronavirus Update: A Whole lot of noise about nothing (Feb 29)
Volatility Index Readings & Stock Market Trends  (Feb 22)
Brain Control: Absolute Control Via Pleasure   (Jan 20)
Indoctrination: The Good, The Bad and the Ugly  (Jan 15)
Dow Utilities And The Tactical Investor Dow Theory    (Dec 31)
Dollar to Ruble: Russia Surplus Increasing Due To Sanctions (Dec 25)
Size Of Russian Economy: On A PPP Basis It's Ranked At Number 5  (Dec 8)
End Of Bull Market: Masses Worry Higher Rates Will Kill This Bull   (Nov 28)
Is The Bull Market Over? Mass Sentiment States It's Not(Nov 27)
Stock Market Under Trump: What's the Next Stop  (Nov 22)
Bitcoin Price Update: Has Bitcoin Bottomed?  (Nov 20)