Inflation Is High: Is it an Issue?
Now that copper has closed above $3.00 on a monthly basis, should we start to worry about inflation?  We would prefer to look at it from a different angle; higher copper prices in the past were associated with an improving economy and higher stock prices. For a long time, this indicator like the Baltic dry index diverged.   By changing the angle of observance one could state that there is yet another ingredient in place calling for higher stock market prices.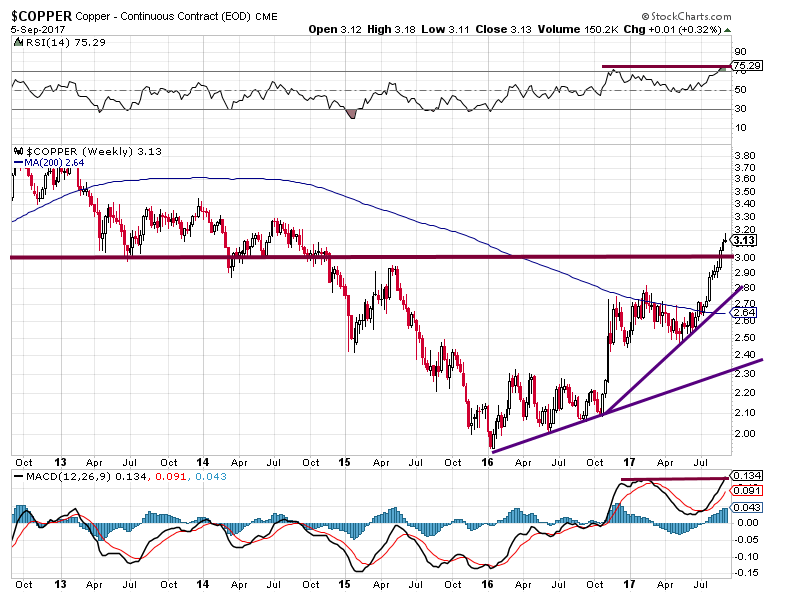 Don't focus on the inflationary factor, as we are not operating in normal times. The Fed opened Pandora's box so expect the unexpected. The velocity of M2 money stock continues to trend downwards. Inflation will remain a non-issue until it starts to trend upwards. We also have a plethora of deflationary factors to consider, grocery wars that will escalate now with Amazon's purchase of Whole Foods, automation and AI, etc.
AI is going to destroy jobs that need skill such as Fund Managers, Credit Analysts, Engineers; any job that is regarded as a skilled job will be under fire. On the other hand, jobs that are deemed menial such as cleaning, Gardening, etc AI will not be able to replace fast. The problem is that these jobs are low paying jobs, while the former are high paying jobs.  The chart below illustrates the coming wage wars quite nicely.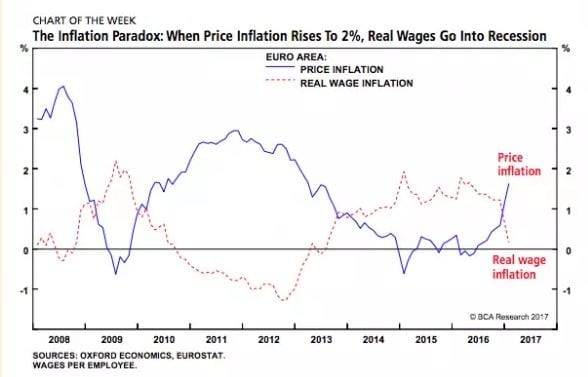 Data from the Robotics Industries Association (RIA), one of the largest robotic automation advocacy organizations in North America, reveals just how prevalent robots are likely to be in the workplace of tomorrow. During the first half of 2016 alone, North American robotics technology vendors sold 14,583 robots worth $817m to companies around the world. The RIA further estimates that more than 265,000 robots are currently deployed at factories across the country, placing the US third worldwide in terms of robotics deployments behind only China and Japan. The Guardian

Greenspan raised rates from 1% in 2004 to 5.25% in 2006 and long term rates hardly budged.  The Fed today is in no position to act as aggressively and on a worldwide basis, central bankers are preparing for deflation as opposed to inflation.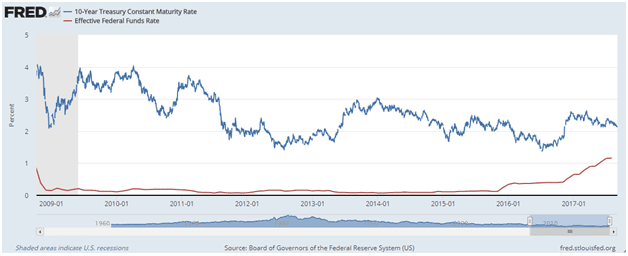 Long term rates are trending upwards, but the Fed has already changed its tune and appears to be taking a more dovish stance.  In a twist, the bond market did not trade to new lows after the last rate hike. In fact, it put in a higher low and has been trending upwards. It's acting as the last rate hike never took place.

Lastly, the velocity of M2 stock continues its downward march, and until it reverses course, inflation is unlikely to be an issue.
Other Articles of Interest
BIIB stock Price: Is it time to buy
Stock Market Forecast for Next 3 months
Next Stock Market Crash Prediction
Dow theory no longer relevant-Better Alternative exists
Rate of Inflation not an issue according to Bond Market (Sept 2)
Worst Stock Market Crash of our lifetime; is this a possibility? (Aug 23)
Did the Fed Screw up in raising rates; is inflation even an issue  (Aug 10)
Dow Could Trade to 30K But not before This Happens  (July 11)