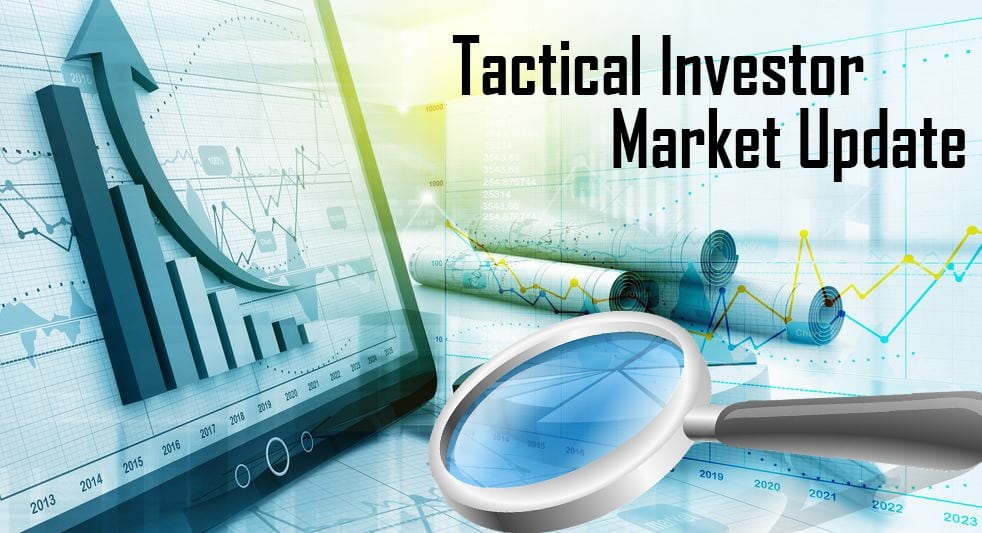 Tactical Investor Services
There are two tactical investor services currently: the Market Update service and the ETF trend trader service.
First of all, please note that it can take up to three business days to process a new subscription depending on our workload.  Secondly, please make sure that the email address on your PayPal account is current and or valid, as updates will be sent to the email address registered on your PayPal account. If you would like to use a different email address please let us know at Tacticalinvestor at gmail.com
The Market update Service 
The main focus of the Market Update is to be on the right side of the market.  This  objective is achieved by following these four simple steps
These four tools have kept us on the right side of the market since 2000.   From the Dot.com bubble to the most insane bull market of all time that started in 2009.
 We go to great lengths to spot new upcoming trends.  In every issue, the trend, the direction and the structure of the market are examined.
The Market update focuses on any market that has the potential to deliver solid gains.  Stocks, Gold, Silver, Palladium, dollar, bonds, key international markets such as China, Russia, Europe, etc
The market update includes a guide that explains in simple terms the proprietary technical Indicators we employ.
2-5 news plays are issued in each update.  Plays will be issued from the following categories.
Limited Time Bonuses
ETF Trend Trader Service, valued at $29.99 a month.
We have been offering this service as a bonus for over 15 months and this offer will end soon.  The results to date are excellent. In 2019 our biggest winner was TQQQ which we closed out for a gain of 52% in under 6 months. However, in 2020, we closed out several ETF's with gains in excess of 60% and the biggest winner for 2020 generated gains of 134%.  In 2021, the majority of the ETF plays are in the black and as of May we already have several winners with gains in excess of 30%. We closed out another position in TQQQ for a gain of 81% towards the end of Jan 2021.
100's of ETFs will be examined and only the most promising ones will make the cut.  With our proprietary  Trend Indicator, we will get into ETF's that are on the verge of experiencing a trend change.  Our intention is simple; ride the trend to the end.
 Trading Manual valued at over $49.99 for free
In fact, this manual will probably be worth ten times more, as it will teach how to utilize a simple system that will determine the optimal times to get in our out of any stock/Market. When used with our trend indicator the results  were absolutely stunning
The manual will provide step by step instructions in an easy to understand format.  Even a child would find it easy to implement the system contained in this manual.  Now for the best part;  you won't have to pay for data or charting services.  Everything you need to put this system to use is free.  And, all future updates to this manual will be provided for free.
Lastly, you will be provided with the opportunity to signup for the Market Update Private forum. This service is invaluable as it's active and subscribers that have been with us north of 10 years are active members on this Forum. In addition, Sol Palha is an active contributor to this forum. Some of the bonus plays mentioned in the Forum have doubled in price and the majority of the plays discussed by Sol have trended higher.  This is a great place for novice traders to rapidly gain insights from seasoned traders.
Security Centre
Another bonus feature of the Market Update service is the security centre.  There is a plethora of information here that helps individuals to reclaim and maintain their privacy.  Imagine being able to surf the net without being tracked. Do not be fooled by many services that claim to provide this service. Most of the services purposely leak out aspects of your IP address. This is known as IP leak, and most of these services charge quite a high fee.
The service we will recommend is completely anonymous with no IP leak whatsoever.    For full details on what is provided in the security centre, please click here. In our opinion, this is priceless as you are provided you with means to totally reclaim your privacy and keep it that way.   Best of all 95% of the suggestions will cost you, nothing and the remaining 5% carry a very moderate cost.  Signup for the Market Update Service
Tactical Investor ETF Trend Trader Service
This service contains the Market Commentary and Market analysis portion from the Market update service. However, the focus here is on ETF's only, whereas the Market Update focuses on Large-cap, medium cap, small-cap stocks, options, currency and commodity's markets.   In essence, the Market Update covers almost every market out there, while the ETF trend Trader focuses only on ETF's.  We are offering a special yearly rate of 299.00 which is 20% of the regular list price.
If you would like to take advantage of the yearly rate simply click on the drop-down menu below and selection option 2, to get the yearly rate  at 299.00
ETF Trend Trader Monthly Rate
ETF  Trend Trader Yearly Rate
billed at 299.00 annually for a savings of $61.00 (or 16.5%)
Cancelling Tactical Investor services subscription 
Our cancellation policy is very simple and can be found at the bottom of the signup page 
P.S. Three updates are sent out every Month: during times of turbulence as many updates as deemed necessary are sent out as was the case from Nov 2018 to Jan  2019. Please note that it takes up to 3 business days to process a new subscription, However, whenever possible we do our best to process them at a faster pace.
If you do not hear from us within three business days, your internet provider or email service is blocking us, or our emails are being directed to the spam folder. Please email us at tacticalsubscriptions at Gmail.com (replace the word at with @, this is being done to prevent bots from harvesting our email address) and provide us with a backup email address. Gmail, yahoo, protonmail, gmx.com are generally the easiest to work with.
* Please note that a subscription will remain active until cancelled; in other words, it will renew indefinitely until cancelled. We only set the terms of the subscriptions, but PayPal controls the billing. However, as stated above the cancellation process is extremely easy and can be done within 2-3 minutes as outlined further below. All cancellations are processed on a pro-rated basis.
P.P.S. Paypal has also updated their terms of service: if you don't plan on rolling over to a yearly subscription after the trial subscription runs out. We suggest that you cancel your subscription as soon as possible because if you are charged we will be unable to reverse the fees that PP charges us. They are no longer refunding the fees, so the fees will amount to roughly $21.00. Please also note that PayPal will continue billing you until the subscription is cancelled. We do not control this aspect, its automatic, however, cancelling a subscription is just as easy as signing up for one. Cancelling your subscription is simple and takes less than three minutes; this link will walk you through the process How to cancel your subscription with ease