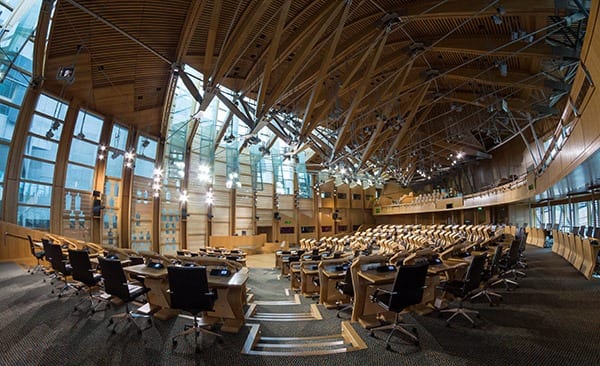 Editor: Vladimir Bajic | Tactical Investor
EU Withdrawal Bill rejected by Scottish Parliament
MSPs have set themselves at odds with Westminster by backing a Scottish government motion that makes clear that Holyrood "does not consent to the EU Withdrawal Bill".
The move could trigger a constitutional crisis, as it would be the first time the UK government has pushed through laws against the will of Scotland, if Ms May decides to press ahead with the legislation
Scottish government Brexit minister Mike Russell previously said the bill "rides roughshod over devolution", as it could see some powers returned to Whitehall, rather than Holyrood, after the UK leaves the EU.
Speaking after the vote, he said: "The UK Government wants to take a power to restrict the competence of this Parliament.
"And it wants to be able to exercise this power even in the face of an explicit decision by this Parliament that it should not.

"The Scottish Parliament has now said overwhelmingly that this attempt to undermine devolution is unacceptable."

"I still hope that they will take a positive decision, that they will take a step back and look at the proposal that we have put forward in relation to the specific arrangement which is just to keep 24 areas which affect the whole of the UK exactly as they are at the moment, so that the day after we leave the EU nothing will have changed.Full Story
Scottish Parliament 'will not approve any Brexit bills
Mike Russell, Scotland's Brexit Minister, said the Scottish Government no longer trusted UK ministers following a breakdown in relations over the handling of the EU Withdrawal Bill.
He added that he "couldn't conceive of circumstances" where MSPs would vote to give approval for further legislation related to leaving the EU, such as trade, agriculture and fisheries.
MPs approved parts of the Bill related to devolution after less than 20 minutes of debate last week, despite the Scottish Parliament voting against granting formal consent for the legislation.
Under the Sewel Convention, Westminster does not normally legislate on devolved matters without Holyrood's approval.
Nicola Sturgeon, the First Minister, said the convention had been "ripped up", while Mr Russell told MSPs earlier this week that "urgent discussions" must now take place with Westminster over the issue.
"For example, on the Sewel Convention, we need to have the interpretation of that written down in statute and made legally binding, because what we've presently got is a situation where the UK Government makes the rules and then breaks them themselves, and there are no sanctions."

"The ball is very much in their (the UK Government's) court; we have said there are things we cannot now do because they have broken the system. They need to look at that and they need to work constructively with us."

He added: "The nationalists don't care about making Brexit work for Scotland, or indeed the wellbeing of devolution. They simply want to break-up Britain, and this is the latest ploy in that process.

"If anyone is proving untrustworthy, it's the SNP government." Full Story
Other articles of interest
Far right parties gaining momentum worldwide (Feb 25)
Fear equates to Stock Market Buying Opportunity (Feb 25)
Great books on life and Investing: Short, sweet & simple  (Feb 25)
Observer's perspective on Religion-Short & Sweet  (Feb 24)
Why do financial services flood subscribers with unnecessary emails ( Feb 10)
Modi's party unfairly targets Bollywood Star Khan for criticising them ( Feb 10)
Brain dead expert states Millennials should prepare for Dow 50K ( Feb 10)
Worldwide IQ scores dropping but Stupidity rising rapidly ( Feb 10)
Radical Pakistani Anjem Choudary locked up in U.K for supporting ISIS ( Feb 10)
China Warns America against Allowing Taiwanese President into country ( Feb 10)
America's 21st Century Energy Story ( Feb 10)
Alt Right movement gaining momentum across Europe & America  ( Feb 9)
Observer Vs regular perspective regarding Russia's alleged hacking of US elections  (Jan 25)