Global Warming Myth: Some Scientists Seem To Think So
Updated Sept 2023
 Critiques of Government Climate Change Report by Climate Scientists
According to climate scientists, the latest government climate change report has been criticized for politicizing science and disregarding accurate data and historical context. These scientists argue that the report's conclusions are overly extreme and fail to account for influential factors.
For instance, one projection in the report suggests that using coal and other fossil fuels will result in a 10% decline in U.S. GDP by the end of the century. However, some scientists find these predictions unreliable since they extend beyond the lifespan of those making the projections.
Similarly, the report predicts that greenhouse gas effects will increase U.S. temperatures by 3 to 12 degrees, resulting in increased wildfires, hurricanes, and other climate-related disasters. Significant peer-reviewed studies have not supported these unprecedented figures.
Furthermore, the report fails to consider the impact of the fracking revolution, conveniently overlooking the significant reduction in U.S. CO2 emissions achieved through the switch to natural gas. This oversight undermines the credibility of the report.
Dr Ken Haapala, President of the Science and Environmental Policy Project, criticizes the Fourth National Climate Assessment for lacking hard evidence and relying on vague assertions. He argues that the report does not meet the standards of the Information Quality Act and suggests that each page should be labelled as speculative rather than based on hard evidence.'Based on speculation, not hard evidence.'
Random views on The Global Warming Myth?
Our position is clear: It's wise to approach the evidence presented by governments and corporations with scepticism, as it may be more valuable to discard it entirely. These powerful entities hold significant influence, making it futile to oppose them directly. However, it's crucial not to blindly accept the misinformation they disseminate under the guise of science.
The majority has succumbed to this prevailing trend, and resistance seems futile until they awaken from their slumber. As a consequence of these information wars, certain industries, such as the coal sector, have faced significant challenges. Yet, within every disaster lies an opportunity, and in due course, the coal sector may present promising long-term investment prospects. It is, therefore, prudent to identify potential candidates within this sector.
The developing world shows no signs of abandoning coal as an affordable and abundant energy source. Modern coal-fired power plants are considerably cleaner and more efficient than their outdated and polluting predecessors. Countries like China, India, and numerous other developing nations continue to embrace coal-fired power plants, challenging the prevailing notion of global warming. Notably, the chart below demonstrates that approximately 2,700 new coal-fired power plants could potentially be operational.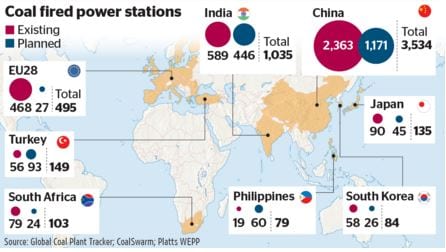 Massive Carbon Quota Scam: Trial Begins for Masterminds Behind the "Fraud of the Century
In what has been labelled the "fraud of the century," a staggering 1.6 billion euros were swindled between 2008 and 2009 in a major carbon quota market scam. On Monday, a trial commenced in Paris, with 36 individuals facing charges related to orchestrating the largest operation within this fraudulent scheme.
Among those standing before the judges is Christiane Melgrani, an intriguing figure who once served as a maths teacher and managed a piano bar. Leading the Marseille-based gang, the outspoken 59-year-old, known as "La Marseillaise," has a controversial past that includes previous convictions for drug trafficking and sales tax fraud within the telephone industry.
In the current trial, Melgrani faces accusations of embezzling a staggering 385 million euros between April 2008 and March 2009 through the European Union's carbon-trading scheme. She is believed to have played a key role in establishing and operating numerous shell companies, which were utilized for money laundering purposes based in Marseille.
As the trial unfolds, the world watches with bated breath, hoping for justice to be served and for the perpetrators to be held accountable for their actions in this audacious carbon quota scam. Full Story
Revealing the Truth: Unmasking Justin Trudeau's Carbon Tax  Hustle
In what can only be described as a colossal betrayal, Justin Trudeau's Carbon Tax scheme has emerged as the most audacious scam in Canadian history. This elaborate ploy drains hard-earned money from the pockets of working and middle-class Canadians and exposes a glaring contradiction in Trudeau's climate change messaging.
On the one hand, Trudeau vehemently asserts that climate change poses an existential threat to Canada, using it as a justification for imposing the carbon tax. Yet, a closer examination reveals a sinister truth: while ordinary citizens shoulder the burden, well-connected corporations enjoy favourable exemptions and privileges.
One cannot ignore the hypocrisy of Trudeau's approach. How can he claim that the carbon tax is imperative in the fight against climate change while simultaneously granting exemptions to major companies under the guise of "competitiveness fears"?
The evidence speaks volumes. In a stunning move, the Trudeau government granted substantial exemptions to large industrial emitters in August 2018. Astonishingly, firms producing significant pollution levels were given a free pass until their emissions reached a staggering 80% of the industry average. To add insult to injury, select industries facing so-called "high" competitive risks, such as cement, iron and steel, lime, and nitrogen fertilizers, received even more leniency with a limit of 90%.
It's undeniably ironic that the struggling Canadian energy industry, grappling with relentless foreign competition, was denied similar exemptions based on the same "competitive risks".
The truth is now out in the open, exposing the layers of deception within Trudeau's carbon tax scheme. It is a flagrant betrayal of the Canadian people, as hardworking citizens bear the brunt of this insidious tax while influential corporations enjoy special treatment. The time has come for Canadians to see through the smoke and mirrors, demanding transparency and accountability from their leaders. Full Story
Affirming the Reality of Global Warming: New Data Findings
According to an article in The Wall Street Journal, some climate scientists argue that government climate reports exaggerate the certainty and severity of climate change predictions. For example, atmospheric scientist John Christy criticized the latest National Climate Assessment report for relying too heavily on climate models that have tended to overpredict warming in the bulk atmosphere. Christy states, "Climate science is not exact enough to make claims about future states of climate."
An analysis in Forbes by climate scientist Roger Pielke Jr. contends that the latest National Climate Assessment presents an overly pessimistic view of climate change impacts on the US economy. Pielke argues the report ignores research showing no increased damage from US hurricanes and makes extreme projections of GDP losses out to 2100 that cannot be reliably predicted.
At the Cato Institute, climate scientists Patrick Michaels and Ryan Maue co-authored a policy analysis critiquing the National Climate Assessment for "systematically misleading" statements on climate extremes. They argue the report exaggerates links between global warming and phenomena like droughts, floods, and hurricanes based on flawed science.
Overall, some climate scientists have argued that government climate reports promote alarmist conclusions not sufficiently supported by data, underestimate uncertainty in climate projections, and gloss over details contradicting catastrophic scenarios. However, other scientists strongly defend government assessments as accurately portraying climate change risks based on peer-reviewed literature. The critiques highlight ongoing debates within the climate science community.
 Other stories of interest: