Unveiling the Shadows: Contemporary Realities of Religious Persecution
This index has risen at a mind-numbing rate over the years. To give you an idea of how far this index has risen since we started it almost 11 years ago, consider this; from Feb 2005 to Jan 2006, the Index moved from 300-501. The current reading is 5750. When Israel attacked Lebanon, we stated that the situation was hot, and that was back in 2006. This index has been dead on predicting violence, religious intolerance and the general surge of violent behaviour the world has experienced.  If we could have invested money in this index, all our subscribers would be millionaires by now, the same applies to the adult index below.
What is it telling us now?
We are in the maximum overdrive zone.  Nations have very little tolerance for those that try to stamp on their heads, especially governments they no longer respect.  This is a reminder for the U.S, that Russia and China no longer respect it or fear it. We one of the few voices that went on record to state that Russia would overtly go out of its way to challenge and attack the U.S, especially after the Ukraine incident.  We also went on to state that China would follow In Russia's footsteps and then these two would team up to openly challenge the US.  No matter what anyone states, the U.S does not have the firepower to take on both Russia and China.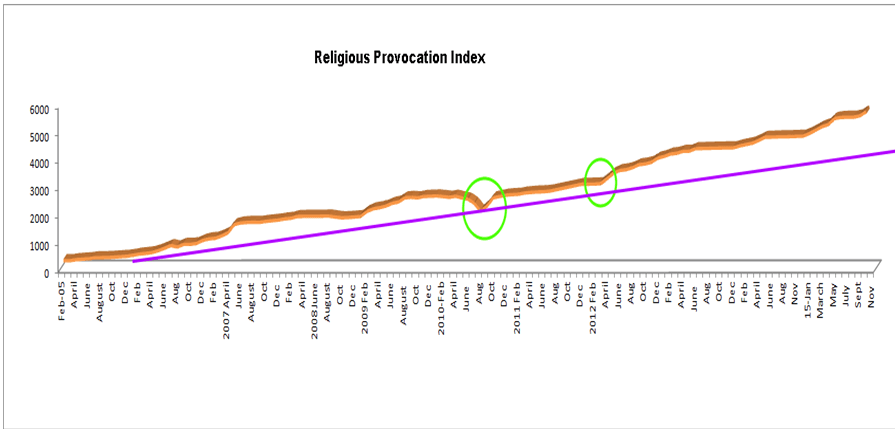 Facing the Fire: The Harrowing Landscape of Religious Persecution Today
An international Christian organization is warning that the persecution of Christians worldwide is set to rise in 2019, calling on the United States to do more to help.
Release International, a U.K.-based charity that helps supports persecuted Christians around the world and a partner organization of Voice of the Martyrs, warns that this year, particularly in China, India, and Nigeria, persecution against Christians is rising.
"These are countries that have long been on the list but we're seeing an upward curve, an alarming rise in persecution," Andrew Boyd, Release International spokesman, told Fox News.
"Release has been doing this work for 50 years," Boyd added. "I have no doubt that persecution is increasing and it is alarming and the contexts are different. You have militant Islam in Nigeria; China, which is communism; India, which is militant Hinduism; North Korea which is a weird blend of communism and Emporer worship. There is an increasing intolerance and it's being played out in violence and we know it because of the reports that are coming from our partners on the ground." Full Story
Unveiling the Darkness: Religious Hatred and the Disturbing Trend of Intolerance
Matthias Basedau's findings shed light on the increasing prevalence of conflicts with a religious dimension across the globe, including sub-Saharan Africa. This region, like many others, is susceptible to conflicts due to its prevalent weak state institutions. Furthermore, religious conflicts often spill over from North Africa and the Middle East, either directly from countries like Libya or Algeria or indirectly by propagating more extremist interpretations of Islam. However, it is essential to note that religion is just one aspect of these conflicts, as they can also stem from ethnic tensions or struggles for power and resources. There are no conflicts solely based on religion.
Basedau's study also highlights that countries with diverse populations and religious communities are particularly vulnerable to religious conflicts. Interestingly, religious violence is present even in religiously homogeneous countries like Somalia, which experiences significant instability. This phenomenon can be attributed to the direct influence of active radical groups in North Africa, such as Al-Qaeda in the Islamic Maghreb (AQIM), or offshoots of the Islamic State. These groups aim to establish branches in other countries and have supported rebel movements in Mali, Nigeria, and Somalia. Meanwhile, other Middle Eastern states exert an indirect influence.
The underlying motive behind this influence is the spread of a radical interpretation of Islam. Sub-Saharan Africa traditionally embraced a more moderate form of Islam, such as Sufism. However, countries like Saudi Arabia and Qatar have been propagating ideologies like Wahhabism, or similar variants, which indirectly contribute to developing radical ideologies that can lead to violence. Nevertheless, the extent and mechanisms of this influence remain somewhat unclear.  Full Story
Religious Hostility: A Global Trend with No End in Sight
Social hostility, such as attacks on minority faiths or pressure to conform to certain norms, was strong in one-third of the 198 countries and territories surveyed in 2012, especially in the Middle East and North Africa, it said on Tuesday.
Religious-related terrorism and sectarian violence occurred in one-fifth of those countries in that year, while states imposed legal limits on worship, preaching or religious wear in almost 30 per cent of them, Pew said.
"Religious Persecution increased in every major region of the world except the Americas," Pew said in its report, the latest such survey in a series based on data back to 2007.
The Washington-based centre, which is non-partisan and takes no policy position in its reports, gave no reason for the rise in hostility against Christians, Muslims, Jews and an "other" category, including Sikhs, Baha'is and atheists.
According to the report's extensive data, Hindus, Buddhists, and folk religions saw lower levels of hostility and little change in the past six years.  As some restrictive countries such as China, Indonesia, Russia, and Egypt also have large populations, Pew estimated that 76 per cent of the total global population faces some sort of official or informal restriction on their faith. A report last week by the Christian group Open Doors said documented cases of Christians killed for their faith last year had doubled to 2,123 around the world, with Syria accounting for more than the entire global total in 2012.  Full Story
Other Articles of Interest
the Level Of Investments In A Markets Indicates
How to win the stock market game
Next stock market crash predictions