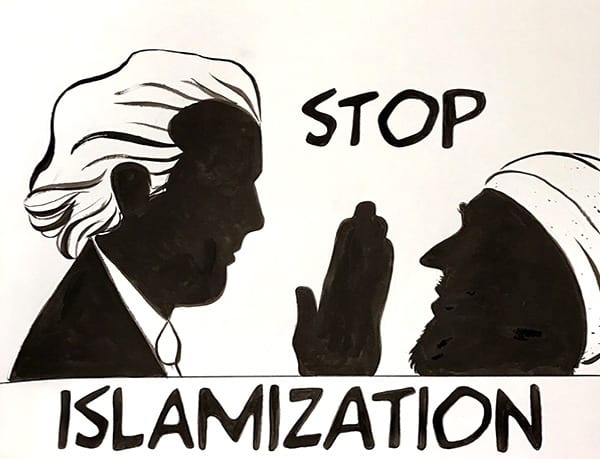 On Sunday, King retweeted a political cartoon featuring Geert Wilders, a Dutch politician whose anti-Muslim rhetoric and blown-out hairstyle have drawn plenty of comparisons to Donald Trump. The cartoon depicts Wilders, chairman of the far-right Party for Freedom and a member of the Dutch parliament, plugging a hole in the wall protecting "Western Civilization" as a flood of water bearing the star-and-crescent symbol of Islam comes crashing over the top.
"Wilders understands that culture and demographics are our destiny," King wrote on Twitter. "We can't restore our civilization with somebody else's babies."  Full Story
The rhetoric continues and it will continue because the trend favouring polarisation has just started and it's at the very early stage, so the worst is yet to come.  Notice the trend is what produces the news and not the other way around. If the trend were negative for this phenomenon, guys like this would not even make the news.  Never accept the most obvious conclusion, especially if it comes from the media or the mouth of a politician. Examine the situation from several angles before rendering a verdict.
Other articles of interest:
Buy When the Blood in the Streets is flowing Freely  (Sept 13)
Dow 21K Predicted In August 2016 (Sept  9)
Minimum wage hike ignores impact of AI; companies will opt for Robots  (Sept 8)
Should You Be Worried About Inflation Rate In 2017? (Sept 6)
Wage Deflation here to stay: Robots Replacing Workers (Sept 5)
Price of Copper Signalling Inflation or higher Stock Market Prices (Sept 4)
Rate of Inflation not an issue according to Bond Market (Sept 2)
Worst Stock Market Crash of our lifetime; is this a possibility? (Aug 23)
Did the Fed Screw up in raising rates; is inflation even an issue  (Aug 10)
Electric Car Threat To Big Oil Wildly Overstated? (July 28)