Price of Copper a bullish Development for the Stock market
Many pundits associate higher copper prices with inflation. This is the wrong metric to look at; higher copper prices are usually associated with an improving economy.
Copper has traded past a key resistance point ($3.00) and it has managed to close above this important level on a monthly basis.  The long term outlook for copper is now bullish and will remain so as long as it does not close below 2.80 on a monthly basis.   Copper is facing resistance in the 3.20-3.25 ranges and as it is now trading in the extremely overbought ranges. As copper is now trading in the extremely overbought ranges, it is more likely to let out some steam before trading past this zone.  A healthy consolidation will provide copper with the force necessary to challenge the 3.20 ranges and trade as high as $3.80 with a possible overshoot to $4.00, provided it does not close below $2.80 on a monthly basis.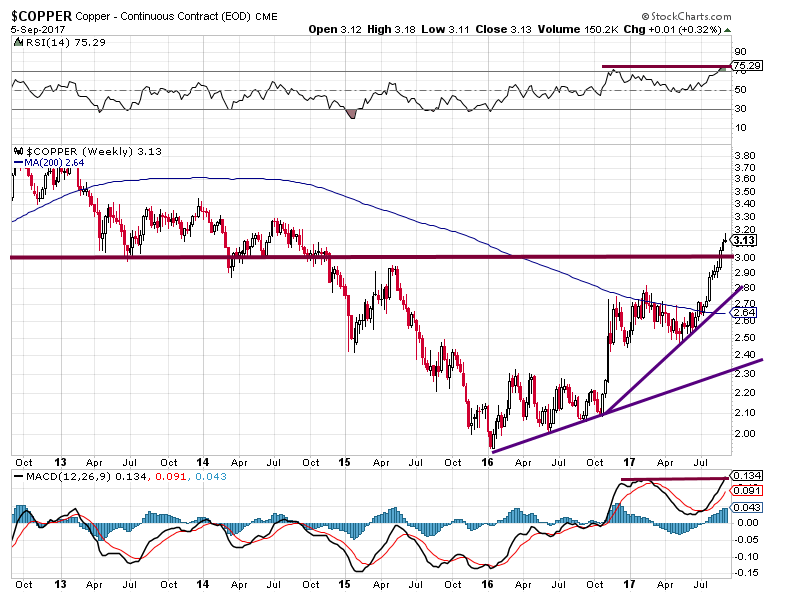 Now that copper has traded past $3.00 on a monthly basis,  the Fed deserves another pat on the back for they have managed to further cement the illusion that this economic recovery is real. Copper is seen as a barometer for economic growth, so pulling off a Houdini here is probably going propel a lot of former naysayers to embrace this economic recovery.
Mass Sentiment is still Negative so Stock Market likely to Correct only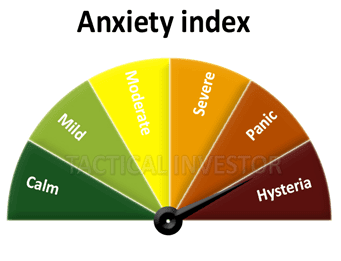 Combining this data with the action in the Copper markets leads us to believe that the stock market is more likely to experience a correction than an outright crash. Higher copper prices are usually indicative of higher stock market prices.  Therefore, the copper markets are confirming that the long term trend is still intact.
What about the Inflation issue?
The chart below puts an end to that argument for now. If inflation were an issue, the velocity of M2 money stock would be trending upwards. Until it starts to trend upwards, inflation is not an issue and the focus should be on higher stock market prices.

Tactical Investor Aug 29, 2019 Update on The Price of Copper 
Don't focus on the noise; focus on the trend as it's your friend and everything else is your foe.  The fact that the price of copper is rising could be a good sign as it would indicate that for the first time in many years the economic recovery might have some legs behind it. Until recently, both copper and the baltic dry index refused to confirm that this so-called economic recovery was real.
Copper is a leading economic indicator, and the MACD's are about to experience a bullish crossover on the monthly charts. The trend is positive, and more importantly, copper is trending upwards, which bodes well for the overall stock market.  Up until 2018, copper refused to confirm this bull market, so this is a very interesting development. As copper is potentially signalling that this market could run much higher than anyone is currently expecting and or projecting.
It also clearly indicates that the next crash is going to break a lot of backs, but it will pave the way for the mother of all buying opportunities. As the markets are not yet in danger of blowing up (the preferred word at TI is Back Breaking correction), we see no need to discuss this issue in detail.
Other Articles of Interest
Rate of Inflation, not an issue according to Bond Market (Sept 2)
Worst Stock Market Crash of our lifetime; is this a possibility? (Aug 23)
Did the Fed Screw up in raising rates; is inflation even an issue  (Aug 10)
Electric Car Threat To Big Oil Wildly Overstated? (July 28)
1987 stock market crash: could it happen again? (July 13)
Dow Could Trade to 30K But not before This Happens  (July 11)
Fake news & Weak Economy Can't Stop Stock Market Bull  (July 6)