[color-box color="yellow"]  Traders and speculators are trying to predict a bottom for oil prices got hammered in 2015, and so far they have fared even worse in 2016.  The weekly close below $32 neutralized any bullish signals oil might have been trying to generate in 2015.  From the fundamental side, there appears to be no relief in sight.  However, Mass Psychology states that a bottom could be close at hand as gloom and doom articles are soaring and the oil camp is in chaos.  [/color-box]
Fundamentals are pointing to lower prices for Crude in 2016
Russia pumped a record 534 million tons of crude oil in 2016, and the country's oil and gas condensate production increased by 1.4% year-on-year.  Bloomberg noted that Russia's oil production was poised to challenge its post-soviet record in the last of week of 2015 and surge to 10.86 million barrels per day. On the same token, Saudi Arabia instead of cutting production has been pumping oil close to its maximum capacity.  From the supply side, there are no positive factors that would contribute to a sustainable upward trend for oil.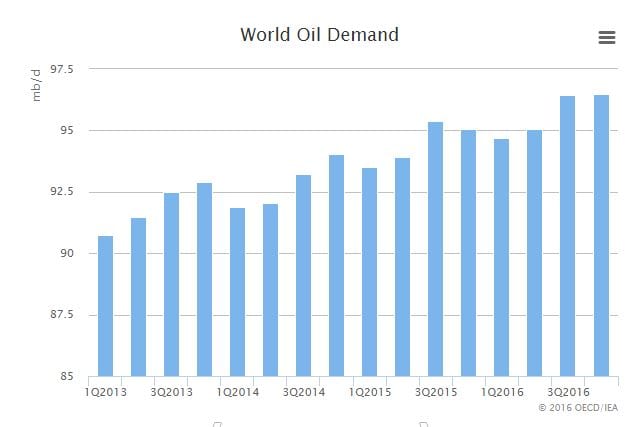 [color-box color="blue"] Th IEA states that oil demand for 2016 is expected to remain almost unchanged from 2015. In 2015, it stood at 96.43 million barrels per day (Mb/d) and in 2016, it is expected to be 96.49 Mb/d. [/color-box]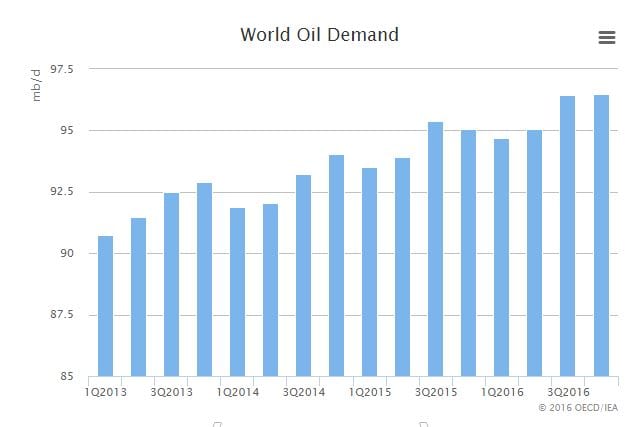 [color-box color="#81d742″]The remarkable part is that the IEA expects supplies to drop from 96.97 Mb/d to 96.88 Mb/d; the IEA is notorious for missing the mark by a wide margin.  The current projections most likely do not accurately reflect the new supply of Iranian oil set to hit the markets. Russia has point blank stated they will not cut production. In fact, they stated the only time they would stop producing is if the price of oil trades to zero.The insane house of Saud that helped create this mess is also pumping oil at full capacity. [/color-box]
Key Points to Remember  about the Oil Market
 The oil market tanked suddenly, and this occurred while the Top Analysts were making calls for higher prices
At the same time, the nut jobs from the Peak oil camp were also stating that prices could only trend higher.  What happened to the peak oil theory by the way? Instead of oil production peaking, we seem to be awash with oil. And the Peak Oil experts have vanished into the woodwork.
Just as the oil market collapsed when everybody was proclaiming higher prices, oil will probably stabilize sometime in 2016 as everyone expects it to keep crashing.
As it has broken through several levels of support, it will need to trend sideways for an extended period before it has any hope of breaking out.
Technical outlook for crude oil prices in 2016
Oil has closed below the psychological level of $30 on a weekly basis; this could drive oil all the way down to $20.00. The more likely levels though fall in the $23-$25 ranges. As long as oil does not close below $23.00 on a weekly basis, oil will start putting in a slow bottoming formation.
Once oil puts In a bottom and for this to occur oil cannot close below 23 on a weekly basis. Otherwise, all bets are off.  Oil will need to put in a slow channel formation, and oil prices will be limited to a range of $24.00-$36.00; only a monthly close above $40 will widen the trading range.  Oil's trading range will then shift to $36.00-$58.00 ranges, with the possibility of overshooting to $65.00.
 Once a bottom is in, do not expect miracles from oil,  trading will be restricted to a tight range of $24.00-$36.00 for some time.   Only a monthly close above $40 will signal that the trading range is going to shift to a slightly higher zone of $36.00-$58.00 with a possible overshoot to $65.00.
[color-box color="blue"]The bloodshed is not over yet. Hence, conservative players should hold onto their gunpowder until the outlook stabilizes. Many oil companies are going to go belly-up as their debt becomes unserviceable creating great opportunities in this sector.
Speculators (the keyword being speculators)  can open positions in this sector directly via ETF's such as UCO, OIL, and USO,  wait untill oil, at least, trades down to $25 or better before deploying any funds into this sector.  [/color-box]
[maxbutton id="1″]
Other articles of interst
Chinese markets short term mess, long term great buy  (Dec 22)
Extreme leverage & Greed caused Chinese stock market crash  (Dec 21)
Putin States Turkey licked American private parts  (Dec 20)
Stupidity & leverage caused China Financial crash  (Dec 20)
Illegally boost earnings without doing any work  (Dec 19)
Americans Favor coffee over owning stocks  (Dec 17)
Sexy stocks beat boring bonds: suggested strategy (Dec 10)