TSM Stock Price: Reflecting Innovation and Revenue
Updated Aug 21, 2023
Taiwan Semiconductor ManufacturingLimited (TSM), the world's largest dedicated independent (pure-play) semiconductor foundry, is a titan in the global technology sector. Headquartered in Hsinchu, Taiwan, TSM is renowned for its pioneering role in producing integrated circuits and semiconductors, integral components in various electronic devices.
TSM's business model is unique and highly effective. Unlike integrated device manufacturers who design, manufacture, and sell their own devices, TSM focuses solely on manufacturing. This foundry model allows TSM to partner with numerous tech companies, providing them with the means to produce their designs without the need for their own costly manufacturing facilities. This approach has proven highly successful, with TSM's clients including some of the biggest names in the tech industry.
In terms of revenue, TSM is a powerhouse. The company generated approximately $45.51 billion in 2022, a testament to its dominant position in the semiconductor industry. This robust revenue generation is reflected in the TSM stock price, which has consistently grown over the years.
Looking ahead, TSM continues to innovate and expand its product offerings. The company is working on advanced 3nm technology, which promises to deliver even more efficient and powerful semiconductors. This new product line is expected to solidify TSM's position in the market further and could potentially positively impact the TSM stock price.
Taiwan Semiconductor's unique business model, robust revenue generation, and continuous innovation make it a key player in the global tech industry. The TSM stock price is a testament to the company's success and its promising future.
TSM Insider transactions


There is no activity regarding insider transactions, so we are not going to obtain any helpful information from this metric. Let's move to the EPS trend projections for the next few years.
TSM Stock EPS Projections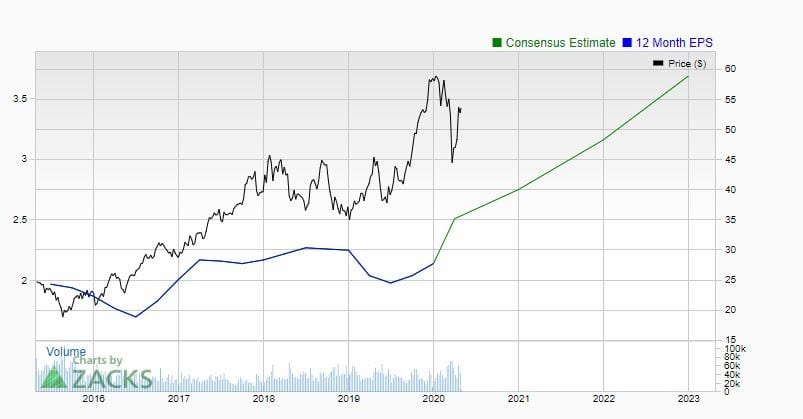 As they say, the trend is your friend, and TSM's EPS is in a nice healthy uptrend. Hence, traders should view strong pullbacks as opportunities. We would use pullbacks in the 30% plus ranges to open new longs, and risk-takers could consider getting into long-term options.
TSM Stock Price Forecast

From a technical perspective, the stock is currently in a consolidation phase, gathering momentum for an upward trend. This adjustment period is natural, especially following the AI hype mini bubble that inflated valuations across the sector. Should the stock dip into the 81-84 range, it could present an excellent opportunity for a long-term investment. Even within the 89 to 90 range, it remains a viable entry point for a sound long-term investment.
If the stock can achieve a monthly close at or above 109, it may set the stage for testing the 141 to 148 range. The potential exists for it to ascend further, reaching as high as 190 to 210 before reaching its peak. Looking ahead, this stock is worth considering for strategic portfolio growth, making use of substantial pullbacks to enhance one's position.
TSM Latest News
Taiwan Semiconductor Manufacturing Company (TSMC) has been at the forefront of semiconductor technology, consistently pushing the boundaries of what's possible with its advanced manufacturing processes. Their latest chips, the 5nm, 3nm, and 1nm, are a testament to their commitment to innovation and technological advancement.
The 5nm process, which was introduced in 2020, has been a significant leap forward in terms of power efficiency and performance. It has been used in a variety of high-performance applications, including the Apple A14 Bionic and M1 chips, which power the latest iPhones and Macs, respectively. The 5nm process offers 15% speed improvement and 30% power reduction compared to the previous 7nm process.
The 3nm process, which is expected to go into volume production in 2022, promises even greater improvements. It is projected to provide a 10-15% speed improvement and a 25-30% power reduction compared to the 5nm process. This will enable the creation of even more powerful and energy-efficient devices.
However, the most exciting development is the 1nm process. TSMC has recently announced that they have successfully produced a functional chip using this process, marking a significant milestone in semiconductor technology. The 1nm process is expected to provide substantial improvements in terms of both performance and power efficiency. While specific details about the 1nm process are still under wraps, it is expected to be used in a variety of applications, from high-performance computing to AI and machine learning.
In terms of future products, TSMC is already planning for the next generation of semiconductor technology. They have announced plans for a 2nm process, which is currently in the research and development stage. This process is expected to provide even greater performance and power efficiency improvements.
Furthermore, TSMC is also investing in advanced packaging technologies, such as 3D Fabric technology, which allows for the stacking of chips, leading to higher performance and lower power consumption. This technology is expected to be used in various applications, from high-performance computing to AI and machine learning.
In conclusion, TSMC's latest chips, the 5nm, 3nm, and 1nm, represent significant advancements in semiconductor technology. With their commitment to innovation and technological progress, we can expect to see even more exciting developments from TSMC in the future.
Captivating Article Worthy of Exploration