TSM Stock Price
Taiwan Semiconductor Manufacturing Company Limited engages in manufacturing, selling, packaging, testing, and computer-aided design of integrated circuits and other semiconductor devices. The company manufactures masks and electronic spare parts; researches, develops, designs, manufactures, sells, packages, and tests colour filters; and offers customer and engineering support services. It is also involved in investing activities. The company serves customers in the computer, communications, consumer, and industrial/standard segments in North America, Europe, Japan, China, South Korea, Asia Pacific, the Middle East, and Africa. Taiwan Semiconductor Manufacturing Company Limited was founded in 1987 and is headquartered in Hsinchu, Taiwan. Yahoo Finance
TSM Insider transactions

There is no activity in regards to insider transactions, so we are not going to obtain any useful information from this metric. Let's move over to the EPS trend projections for the next few years.
TSM Stock EPS Projections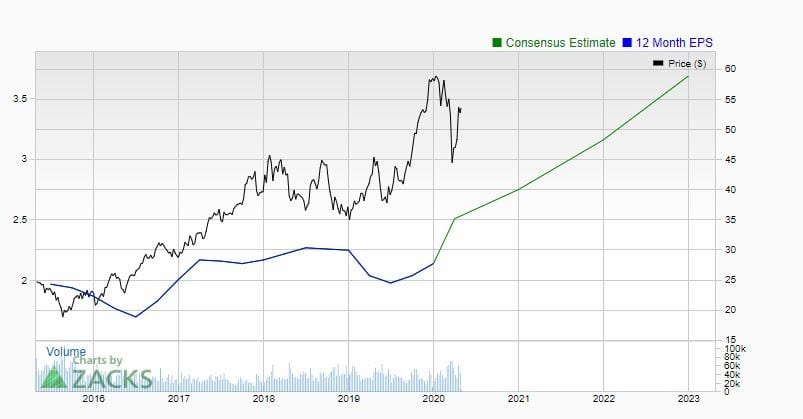 The trend is your friend as they say and TSM's EPS is in a nice healthy uptrend. Hence, traders should view strong pullbacks as opportunities. We would use pullbacks in the 30% plus ranges as to open new longs and risk-takers could consider getting into long term options.
TSM Stock Price Forecast For 2020

From a technical basis, the stock is trading in the neutral ranges. This implies that the stock is neither overbought nor oversold. The best time to get into stock is when it's trading in the extremely oversold ranges.  The ideal place to open new positions would be in the 42 to 45 ranges and if it happens to dip to the 36 to 39 ranges, we would deploy another lot of funds into it.   If it can close above 51 on a monthly basis, it will be in a position to put in a series of new highs and trade as high as 75.00 before running into a brick wall.
TSM Latest News
TSMC's 5nm technology is the second available EUV process technology. It showed promising imaging capability with expected good wafer yield. Our 5nm technology entered risk production in March 2019 and target for volume production in 2020. Meanwhile, TSMC plans to announce N5P technology one year after 5nm technology announcement. Full Story
TSMC Will Offer Special Voltage Mode With 5nm
Due to EUV enabling a smaller node, 5nm offers a massive 45% improvement in density. This is on par with previous die shrinks that were much bigger in scale. Unfortunately, the rest of the news is not as good.  The new process 5nm is only 20% more power efficient and 15% improved performance compared to 7nm. Even with the massive investment, the gains are somewhat minimal. Interestingly, a new Extremely Low Threshold Voltage option will allow chips an extra 25% frequency boost but there are few details.
As previously reported, TSMC is spinning up a new fab to handle 5nm. The new fab 18 will be working out all the kinks in EUV mass production. For now, EUV is still not ready for mass production but it is getting close. Later this year, 7nm should start production, with 7nm+ in 2019 and 5nm 2020. Even with all the troubles with EUV, the industry has never been closer to reaching their goal. However, the future for the next decade and where silicon will go remains unclear. TSMC has plans for 3nm but we'll have to see if they pan out. Full Story
Other articles of interest:
American's fear the Stock Market-Understanding Market Sentiment key to winning  (Oct 24)
Foreign banks Dump whopping 356 billion in US Debt  (Oct 20)
Corporate Americas Share Buyback binge only force Keeping Stock Market Bull Alive (Oct 13)
Stock Market Earnings Recession Nothing to Fear-Market Still Trending higher (Oct 7)
Fed Directly limiting Market Downside Action-Expect Stock Market rally not Crash (Oct 6)
Dow theory no longer relevant-Better Alternative exists  (Sept 30)
Mass Psychology states Trump win Equals stock market buying opportunity (Sept 29)
Information warfare-brainwashing tricks Government Employs (Sept 28)
Nature created the masses to serve as cannon fodder (Sept 20)
Experts Sell Gilead Sciences-Sentiment Analysis states time to buy (Sept 20)