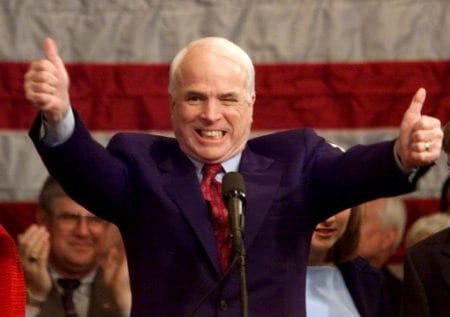 Editor: Johnathan Meyers| Tactical Investor
Smear dossier to FBI Handed By McCain
Sworn Donald Trump enemy John McCain admitted Wednesday that he passed the dossier of claims of a Russian blackmail plot against the president-elect – calling it 'what any citizen should do'.
McCain – a longstanding anti-Trump Republican who had disassociated himself from the candidate's campaign weeks before the election – cast himself as an innocent and concerned member of the public as he justified his move.
He claimed he had no idea whether it was accurate or not – but that he believed the FBI should have it because it was 'sensitive'.
'I did what any citizen should do. I received sensitive information and handed it to the FBI,' he told CNN – the network which broke the story that the document existed. It was then published in full by Buzzfeed.
'That's why I gave it to the FBI. I don't know if it is credible or not but the information I thought deserved to be delivered to the FBI, the appropriate agency of government.'
He added: 'It doesn't trouble me because I don't know if it is accurate or not. I have no way of corroborating that.
'The individual gave me the information. I looked at it. After receiving that information I took it to the FBI.'
He added that he was now aware from media reports that the FBI was apparently already in possession of the information. ' Full Story
This video is also quite interesting-Vietnam vets expose John Mccain. It seems that every second word out of this traitors mouth is on par with sewage. This is the same way the world of finance conducts its business.  It promises everything and delivers nothing
Other stories of interest
Stock Market Bull destined to charge higher or is it time to bail out  (Jan 13, 2017)
Feds Interest Rate stance equates to Rubbish-Economic recovery is illusory  (Dec 24)
Stock Market Bulls, Stock Market fools-Market Crash next or is this just an Illusion  (Dec 21)
Trump Effect Rally-Useless Dow Theory and Stock Market Crash  (Dec 17)
Gold fools-dollar bulls and the long-term outlook for both Markets (Dec 9)
Inflation the Silent Killer Tax that's destroying Middle-Class America (Dec 5)
Dominant Stock Market Trends under President Trump (Nov 22)
Bears State Crude Oil Destined to Crash-Utter Rubbish (Nov 18)
50 Trillion in Cash illustrates Mass Anxiety-Dow Industrials will soar not Crash  (Nov 16)
Trump's victory Does not Sink Global Markets Proving Experts are Jackasses (Nov 10)
Trump-The New Stock Market vix Factor (Nov 6)
Crude Oil Market-Higher prices or Market Crash (Oct 28)
American's fear the Stock Market-Understanding Market Sentiment key to winning  (Oct 24)