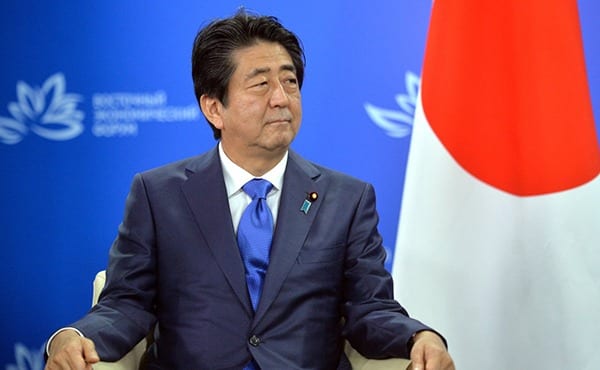 By Tom McGregor, CNTV Panview Commentator
Just two months ago, Japanese Prime Minister Shinzo Abe stood below 30 percent in popularity polls and faced a tidal wave of scandals over alleged cronyism. But times have changed and Abe is now enjoying the stronger support and poised to call for snap elections to run for re-election and win in October. Tom McGregor takes a closer look.
Tsunami of Change
But then along came North Korean Kim Jong-un and his provocations by launching ICBM missiles that crossed over Japanese territorial waters. Although nobody was hit, such actions served as a wake-up call for all Japanese.
The North Korean nuclear tests had proven that Japan could witness its doom and Japanese voters have gotten more inclined to give Abe the benefit of the doubt as he takes a tougher stand against Pyongyang.
Additionally, Abe was one of the first heads of state to meet Donald Trump face-to-face, shortly after his election last November. The prime minister's gesture delivered swift rewards since the export-driven country has avoided a trade war so far against a populist US President.
Bumps on the Way
Abe was sworn into the prime minister's office in 2012 and learned lessons a from his earlier experiences as Japan's leader from 2006 to 2007 when he resigned under a cloud of disgrace.
Lesson learned: Don't worry about low popularity numbers since outside events can make you popular again.
Abe's reversal of fortunes seems stunning. The Guardian newspaper reported last July that his administration was rocked by scandals and many were expecting him to resign.
His lifelong friends — Moritomo Gakuen and Kotaro Kake — stood accused of receiving a cut-price land deal from the finance ministry to open a new veterinarian department at a private university.
The prime minister denied any direct involvement, but he struggled to disprove perceptions of cronyism. In July, the newspaper Mainichi published a poll showing Abe's popularity at 26 percent.
Opposition Parties in Disarray
Abe and the ruling Liberal Democrat Party (LDP) had endured turmoil in recent months, but the nation's opposition parties, including the main rival Democrat Party, are in much worse shape.
The DP had recently elected Saeji Maehara to lead the Party, but that ignited a revolt among party members, who resigned in protest. Such actions forced Saeji Maehara to seek alliances with the Social Democratic Party (SDP) and Liberal Party (LP) to fight a united front in the Diet against the LDP and their partner Komeito Party.
Nonetheless, opposition parties lack unity and extreme opinions from coalitions add to deeper problems. For example, Japan's Communist Party has no chance of electoral success, given their sympathies for the North Korean regime.
And even in July, DP could only garner 6.7 percent support in voters' popularity polls.
Ripe Time to Strike
Accordingly, the time is right for Abe to dissolve the lower house when they gather for the special session on Sept. 28.
"No one will vote for the DP," Asahi Shimbun quotes one of Abe's cabinet ministers as saying. "There will also be not enough time to start a new party. The LDP will suffer the least damage now."
Abe is visiting the United States to attend the United Nations General Assembly on Sept. 18-22. After he returns to Tokyo, many expect him to announce snap elections.
He must call for elections now or risk failure if he waits until next year in autumn, when his term in office comes to an end in September 2018.
Scoring victory before Trump's visit
If Abe wins in snap elections in October that would serve as a ceremonial tribute for closer Japan-US ties. Abe has offered his hand in friendship to Trump, despite other world leaders acting more antagonistic to the US President.
President Trump is scheduled to visit Japan in early November and many anticipate the meeting between Trump and Abe will dramatically alter the geopolitical landscape in the Asia-Pacific region.
Japan remains a close friend to the US and Abe needs Washington now more than ever since North Korea continues to test it's ICBM missiles, placing Japanese citizens in a clear and present danger.
Other articles of interest:
Buy When the Blood in the Streets is flowing Freely  (Sept 13)
Dow 21K Predicted In August 2016 (Sept  9)
Minimum wage hike ignores impact of AI; companies will opt for Robots  (Sept 8)
Should You Be Worried About Inflation Rate In 2017? (Sept 6)
Wage Deflation here to stay: Robots Replacing Workers (Sept 5)
Price of Copper Signalling Inflation or higher Stock Market Prices (Sept 4)
Rate of Inflation not an issue according to Bond Market (Sept 2)
Worst Stock Market Crash of our lifetime; is this a possibility? (Aug 23)
Did the Fed Screw up in raising rates; is inflation even an issue  (Aug 10)
Electric Car Threat To Big Oil Wildly Overstated? (July 28)