Investor sentiment and Market Cycles
Before we get into the Fed Is Hostage To Wall Street story, let's look at investor sentiment and market cycles.
This chart quite accurately captures the state of the mass mindset; however, the funny part is that very few put this information to use, including the individuals/organisations that create these lovely charts.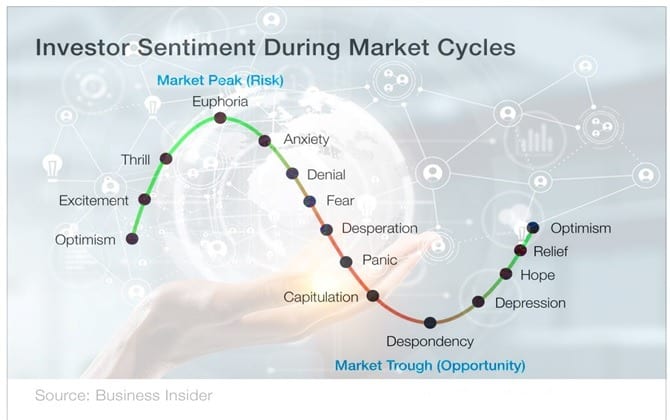 According to the Wall Street Journal, there is a record 3.4 trillion in cash sitting on the sidelines.  This money will eventually find its way into the market and push markets higher, but the more important factor to pay attention to is that the crowd is still far from bullish.  Looking at the sentiment below; the only consistency we can find is that there is no consistency. Bullish sentiment has not remained above 60% for 3 weeks in a row for years on end. In fact, we can't recall seeing the sentiment above 60% for three weeks in a
Fed Is Hostage To Wall Street and Coronavirus has made things worse
Since December of 2008, the Federal Reserve has held its interest rate benchmark at zero or almost zero. On December 16 of last year, the Fed's Open Market Committee (FOMC) raised its benchmark rate, the Federal Funds Rate, for the first time in seven years by a mere quarter of a percentage point to between 0.25 per cent and 0.50 per cent from its former 0.0 to 0.25 per cent.
Wall Street quickly telegraphed its ransom note to the Fed about further rate hikes. By January 20, the Dow Jones Industrial Average had experienced its worst start of the new year since 1897, tanking 10.03 per cent, according to a Tweet from Howard Silverblatt, the S&P Dow Jones Indices Senior Index Analyst. Full Story
Now with coronavirus pandemic, the Fed was forced to lower rates at an incredibly rapid pace; it lowered rates by 150 basis points in less than 8 weeks. And it's flooding the economy with massive amounts of money, not to mention the direct support it's providing to the stock market. All in all, this is going to create a speculative bubble that will shock the masses and the dot.com bubble will pale in comparison; this is Tulipmania 2 in the making.
Other Articles Of Interest
Could Trump be Good for most hated Stock Market Bull (Aug 19)
Corrupt Mexican President & Psychological Data manipulation (Aug 12)
Investors Chasing Yields Forces Vanguard Dividend Fund Closure (Aug 9)
Terrorist Attacks, Religious Wars & Financial Markets (Aug 5)
Japan's Abe Mulling Another Round of Stimulus (Aug 1)
Investment Common Sense lacking & Jackasses Predicting Stock Market Demise (Jul 26)
Brexit Hidden Theme Continuation of Currency War Game (Jul 25)
Why Is Apple Investing Chinese Uber Didi-running scared (May 21)
Copper & Baltic Dry Index Useless leading Economic Indicators, Better alternative is available (May 20)