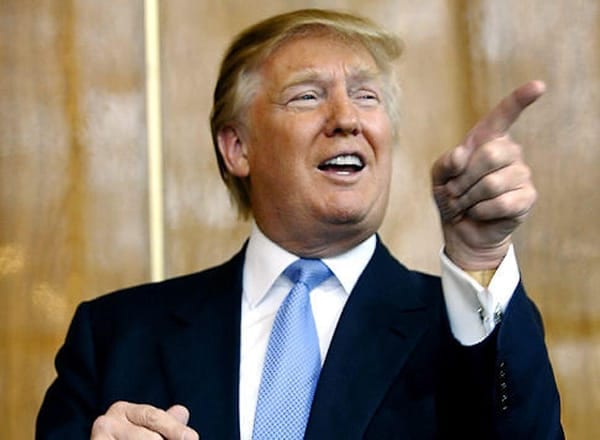 Editor: Draco Cooper | Tactical Investor
Science Knows Why People Love Donald Trump
They are hypothesizing that his very open distaste for political correctness is at the core of his popularity, and while he "flip flops" as much as the next politician, we're fooled into believing him because what he says is so far outside what is expected. That is a type of dependability: We can count on him to say whatever he is thinking or feeling with little regard of how it will be perceived. That dependability is vital when considering "ambiguity intolerance,"

What is most interesting is that while people may be turned off by the content of Trump's statements, they are so at ease with his persona of "truth telling" that what he is saying seems to matter less than the fact that he's saying it. That means that we as a public can think that Trump is sexist, racist, or whatever the inflammatory comment du jour is, and still be more comfortable with him as a candidate because he appears to not be lying or hiding his feelings.
This is due to how we perceive "non-normative" statements. A statement that strikes us as against the grain will cause us to feel we know the person better. For example, if I'm at the concert of a country star and I say "You know, I really prefer the Bee Gees," you would be inclined to think I'm telling the truth (and I am). Why would someone surrounded by people of one opinion state their own radically different (and unpopular) opinion if it were not true? That's the genius of Trump. He seems trustworthy simply by making non-normative statements. To borrow a line from Anchorman, "I'm not mad; I'm impressed!" There is an air of authenticity that feels like the antidote to the pandering politician. We may not agree with him, but at least we know he actually believes what he's saying. Right? Full Story
How Trump won the White House
Donald Trump, the bombastic reality-TV-star-turned-politician, won by harnessing deep discontent with Washington and deep-seated loathing of his opponent, Democrat Hillary Clinton.
In so doing, he upended every scrap of conventional wisdom. With zero political experience, Trump dismissed the trappings of a routine candidacy. He insulted people. He warred openly with his own Republican Party. And he eschewed politically safe talk for calls to "build the wall" and "drain the swamp," tapping into a deep vein of American populism.
"People entirely underestimated the hunger for change and a true outsider," said Brian Ballard, Trump's Florida finance chairman.
Trump's victory calls into question the elaborate party system, Ballard said, given Trump's ability to "bring millions of new voices to the political process."
Trump's win also could raise the value of celebrity over government experience and give rise to other boldface names who believe they have a shot at holding elected office. Already there has been speculation about Mark Cuban, the Clinton supporter and billionaire owner of the Dallas Mavericks.
"Our culture allows a celebrity style to flourish quickly," said Scott Jennings, who ran Republican presidential nominee Mitt Romney's 2012 Ohio campaign. "They've got the instant name recognition. They can move faster because of it, and that's what Trump did."
The results could also force another search for so-called "undercover" or "shy" voters, who wouldn't tell pollsters that they backed Trump. His campaign argued for months that his campaign was churning out new voters and pollsters were missing some of his supporters, though data analysts said they found no proof.
"She was potentially the worst possible nominee in history," Jennings said.
"That's where the race shifted to a referendum on Hillary Clinton and people's worries about her honesty and trustworthiness," said Republican strategist Kevin Madden, who served as a senior adviser to Romney. The FBI disclosure enabled Trump to revisit Clinton fatigue when it came to scandal and investigation.
Like Dave Katz, a veteran who manages a Tampa Tire Plus store, who said he'd ruled out Clinton after four Americans were killed during the 2012 attacks in Benghazi, Libya.
"I would love if she had just come out and said, 'I made some serious mistakes,' " Katz said. "She really didn't come out and say it … . She didn't own it. She didn't own the mistakes. Don't dance around it. If she would have owned up to it, I would (have) felt a little positive." Full Story
Other articles of interest
Stock Market Bull destined to charge higher or is it time to bail out  (Jan 13, 2017)
Feds Interest Rate stance equates to Rubbish-Economic recovery is illusory  (Dec 24)
Stock Market Bulls, Stock Market fools-Market Crash next or is this just an Illusion  (Dec 21)
Trump Effect Rally-Useless Dow Theory and Stock Market Crash  (Dec 17)
Gold fools-dollar bulls and the long-term outlook for both Markets (Dec 9)
Inflation the Silent Killer Tax that's destroying Middle-Class America (Dec 5)
Dominant Stock Market Trends under President Trump (Nov 22)
Bears State Crude Oil Destined to Crash-Utter Rubbish (Nov 18)
50 Trillion in Cash illustrates Mass Anxiety-Dow Industrials will soar not Crash  (Nov 16)
Trump's victory Does not Sink Global Markets Proving Experts are Jackasses (Nov 10)
Trump-The New Stock Market vix Factor (Nov 6)
Crude Oil Market-Higher prices or Market Crash (Oct 28)
American's fear the Stock Market-Understanding Market Sentiment key to winning  (Oct 24)